Six Sigma, continuous improvement add up to Baldrige success for Honeywell unit
Published:
26 Oct 2010 18:35:14 PST
by Mark Edmund
In 50 Words or Less:
Honeywell Federal Manufacturing&Technologies (FM&T), a long-time federal government contractor, has embedded quality and continuous improvement in everything it does.

Specifically, FM&T's Six Sigma Plus Continuous Improvement Model drives learning and innovation.

For its efforts, FM&T was the only manufacturer to receive a Baldrige award in 2009.
Without a doubt, quality at Honeywell Federal Manufacturing&Technologies (FM&T) is built in, not bolted on. Given the sensitive and serious nature of FM&T's business, there can be no other way.
"A lot of organizations try to bolt [quality] on, forcing it to make it work," said Barb Rich, manager of operational excellence at FM&T. "We're using it to improve so it's actually built in. There's a difference in thought process. If it's built in, it will be sustained."
FM&T, one of Honeywell International's 11 business units, is the primary contractor that manages and operates facilities at the Department of Energy's National Nuclear Security Administration (NNSA) in Kansas City, MO, and six NNSA locations around Kirtland Air Force Base in New Mexico.
For more than 60 years, FM&T has worked with the U.S. government—first with the Department of Energy starting in 1949 and then NNSA beginning in 1999—creating and supporting intricate and complex non-nuclear components for nuclear weapons and other military applications. FM&T employees touch more than 90 advanced technologies and more than 40 product lines—ranging from semiconductors to semi trailers to systems for the Trident submarine.
Along with safety and security, FM&T knows its formula for success involves synching its systems and structures with quality, continuous improvement, ingenuity and innovation to complete projects and delight customers. It's a formula that's worked since its partnership with the federal government began.
"It's so ingrained in the way we work," Rich said. "We live and breathe it, and the results show."
Judges for the Malcolm Baldrige National Quality Award could tell FM&T was serious about its commitment to quality and continuous improvement, so they selected FM&T as one of five recipients for the prestigious award in 2009—the only manufacturer to pick up the award last year and one of three from the latest class of Baldrige recipients that happen to be based in the state of Missouri.
"It's not just one area. It's everyone. Everyone is involved" in quality, Rich said, noting that FM&T employs about 2,700 people at the facilities in Missouri and another 200 in New Mexico. "We've got that mind-set of everyone moving in the same direction."
First and foremost—feedback
Like so many other Baldrige recipients would say, FM&T didn't set out to receive the prestigious award. Of course, being recognized for quality and business excellence on a national stage is a great honor, but FM&T had a different motive in applying for the Baldrige award and, before that, the Missouri Quality Award (MQA).
"It's for the feedback," Rich said. "Whether we get the hardware or not, we wanted the feedback."
FM&T first applied for the MQA in the late 1990s. Like many other state quality awards, the MQA is based on the Baldrige criteria. Rich admitted the award application and process were "pretty intense" and quite challenging. FM&T passed the MQA muster in 1999 and again in 2007, but it didn't stop there.
Seeing how obvious it was that quality had become a part of their culture and how Baldrige would be a perfect match, it made sense to take an additional step and reach for the next third-party assessment that would drive them even further, according to Rich.
She said FM&T's experiences in applying for the MQA proved to be good training ground for preparing for the Baldrige evaluation experience. "But the real challenge was trying to tell your story in less than 50 pages," she said.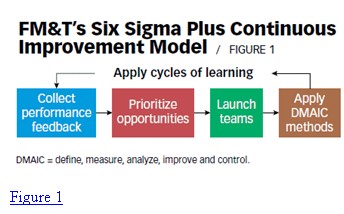 Learning and innovating
Among the quality and continuous improvement programs FM&T highlighted for Baldrige examiners was its Six Sigma Plus Continuous Improvement Model. The model integrates customer and business requirements into all design projects. Along the way, individuals and teams find themselves in cycles of learning and improving all sorts of work processes. Figure 1 illustrates the model.
"We all have a continuous improvement mind-set—a drive to make it better every year," Rich said. "This isn't just this year's flavor.
"We are so used to continuous improvement," Rich said. One of the examiners noted that FM&T's cycles of learning could easily be viewed as cycles of innovation: First, create new value for customers, then achieve outstanding, breakthrough results, and finally, make meaningful, lasting changes.
"It's just what we did. We just considered it learning," Rich said.
Specifically, FM&T's use of its Six Sigma Plus Continuous Improvement Model resulted in:
Between $23.5 million and $27 million worth of
annual cost savings from increased productivity and innovations during the past three fiscal years.

At least 20% of improved energy conservation from 2006 to 2009.

$65 million of supply chain savings in 2009, a significant increase from about $2 million in savings in 2007.

NNSA partnership
Any partnership that's endured since the 1940s must be solid. The long-time FM&T-NNSA alliance is no different. "We live and work every day with our customer," Rich said. "We are truly partners."
Case in point: Overall customer satisfaction remained at or above 95% for the past four years, FM&T documented in its Baldrige application. Best-in-class customer satisfaction levels during that same period range from 78% to 85%.
The percentage of customers willing to continue work with FM&T is measured by quarter and has been maintained at 96% for the past four quarters. The best-in-class level for that same period is 95%
The two sides know the success of one only strengthens the other. As in any true partnership, Rich said the two build off each other. For instance, when FM&T became ISO 9001 certified, NNSA decided to take that step, too, and earned the certification a few years later. "As we continuously improve, they will continuously improve," she said.
Naturally, NNSA had nothing but praise for FM&T and the work it has accomplished during the longstanding partnership.
"We are very proud of the work done at the Kansas City plant with our Honeywell FM&T partners," NNSA Administrator Tom D'Agostino said in a prepared statement. "This award symbolizes our enterprisewide commitment to operational efficiency and excellence, none of which would be possible without the hard work of our employees."
Moving ahead
In a few years, the NNSA will move its employees and operations to a new $673 million, 1.5-million-square-foot facility complex in Kansas City—called the Kansas City Responsive Infrastructure, Manufacturing and Coursing. It's considered one of the largest construction projects in Kansas City's history.
FM&T is expected to be there to manage and operate the plant's facilities. The Navy built the current plant—called the Bannister Federal Complex—on land that was once home to the Kansas City Speedway during World War II to assemble engines for Navy fighter planes.
Earlier this year, FM&T received a no-bid contract extension, which is a vote of confidence in FM&T's attitude and abilities to continue to serve NNSA during the agency's next chapter.
"We're all looking forward to it [the move to the new complex] with eyes wide open," Rich said, looking forward to the many opportunities to build, create and improve on FM&T's already solid base with NNSA. "The company is pretty powerful when we all get on the same page."
Opportunities abound
Quality-focused organizations will tell you the quality journey is never over. FM&T is no different. The welcomed feedback on the pages of the report from Baldrige officials included several opportunities for FM&T to improve. For instance, judges suggested FM&T add and use more comparative data and information to strengthen its business decisions, Rich said.
She said the Baldrige feedback also got her and others thinking about the challenge of making measurement data more meaningful.
"It's one thing to measure your performance, but it's another thing to measure the effectiveness of what you do," Rich said.
While focusing on the opportunities is important, Rich said she doesn't want to get tunnel vision and lose sight of FM&T's strengths, such as continuous improvement and innovation. After all, that's how FM&T got here in the first place, she explained.
That's what will help FM&T return to Baldrige success—if it chooses to apply again and pursue the feedback and, of course, the award.
"It's always a possibility," Rich said on the decision to pursue another Baldrige award. "It's a nice problem to have."