Successful change occurs when support is earned and execution is emphasized
Published:
26 Oct 2010 18:27:15 PST
by Anshuman Tiwari and Siva Nandiwada
In 50 Words or Less:
Organizations can bring about change without sacrificing growth by using the Baldrige criteria as a framework.

To achieve that end, an IT services company used a modified approach to conventional change management.

The lessons it learned can be used at any organization to ensure a successful change initiative.
Implementing change is a challenge. Implementing change while continuing to drive growth and profitability is even more difficult. But given the current market conditions, when growth and profitability are at a premium, the need to accelerate positive change has become even more critical.
For the past several years, Infosys—an IT services company based in Bangalore, India—overcame those challenges by using the Malcolm Baldrige National Quality Award model for improving management processes. As with most change situations, Infosys knew what it had to do and where it wanted to go. What wasn't clear was how to achieve positive business results while managing change at the same time.
One business unit decided to experiment with established change management practices and came up with a few interesting practical lessons. These lessons are even more relevant to Baldrige deployments when there is a compelling need to accelerate change.
Based on collective experience with more than 50 Baldrige deployment programs and a study of existing literature, Infosys synthesized the common challenges in change management, from concept to implementation (see sidebar, "Change Obstacles"). A survey was distributed via a structured questionnaire to more than 30 senior leaders who actively drive change to determine the biggest challenges they face. Here are the results in order:
Lack of leadership commitment.

Lack of alignment to organizational goal and vision.

Lack of planning.

Lack of focus on execution.

Lack of resources to drive execution.

Lack of systems or tools and techniques to manage the change life cycle.
The loudest and clearest message from the qualitative comments was that while lack of leadership commitment is the key challenge most programs face, the solution should not involve leadership's making speeches or enhancing its commitment. The solution is increasing the focus on results and executing the program more effectively.
The following list of common issues that arise with change management, from concept to implementation, is based on Infosys' analysis of more than 50 Baldrige deployment programs and a study of related literature:
Lack of leadership commitment. This is a no-brainer. Any quality professional will tell you leadership commitment is the key to any change program.
Lack of alignment to organizational goal and vision. It is often said that nothing motivates more than a sense of purpose. For most, this sense of purpose comes from alignment to organizational goals. People are often told only what they should be doing to change, not why. If you can't visualize how your contribution will impact the organization and your work, you won't be motivated to change.
Lack of planning. Every Baldrige examiner would likely agree that creating plans is critical to a change management program. At Infosys, several issues cropped up in the planning phase—from an absence of plans to plans that were too detailed and unrealistic to execute. Many plans don't define the change or set direction.
For example, a company providing services to global manufacturing clients deployed the Baldrige framework. During the interactions between this company and Infosys, it was discovered that after more than six months, the company still hadn't finalized a list of key action items.
In another case, the long list of action plans included everything from distributing the report to establishing a leadership development plan. Without appropriate prioritization of tasks, people will do what is convenient and not what is important.
Proper project planning and management is a challenge in most Baldrige programs. The lack of balance between planning too much and not planning enough is evident. Many times, plans don't identify the right stakeholders and define a role for each of them.
Lack of focus on execution. In a few cases, deployments have failed because of a lack of focus on execution. Key reasons include a lack of the right leaders and managers to drive execution and a lack of timely reviews to correct or refine plans. Timely reviews can make or break a change program. Without them, the pace of the program is a casualty.1
Lack of resources to drive execution. Who should lead the change program? Who should be involved, and at what stage? Many companies fail to answer these questions and, as a result, train a lot of people, hoping that some of them will be useful. Having a vast pool of trained people has no real link to the program's success. Without clear goals and knowing what to do with training, you may be training people for the competition to poach.
Lack of systems, tools and techniques to manage the change life cycle. While change is organic in nature, you can't leave it to manage itself. Just as a doctor is required to monitor and manage your health, a change process needs systems and tools. In more than 50 Baldrige programs studied by Infosys, many of the unsuccessful programs didn't employ dashboards or similar tools to monitor and track progress.
Lack of time to adjust to the change. While senior leadership will want change to happen faster, several Baldrige programs fail to achieve their potential because of the insistence on a faster pace, which overburdens the people involved. A key challenge in such a change journey is to estimate the social impact of change on people. —A.T. and S.N.
---
Reference
Harold L. Sirkin, Perry Keenan and Alan Jackson, "The Hard Side of Change Management,& Harvard Business Review, October 2005.
The conventional approach to change management involves first obtaining leadership commitment, executing action items and, finally, achieving business goals (see Figure 1). Infosys uses a different tack and is convinced that genuine leadership commitment comes later in the process. Aligning improvement action items to goals and focusing on results from the start are keys to an improved approach (see Figure 2).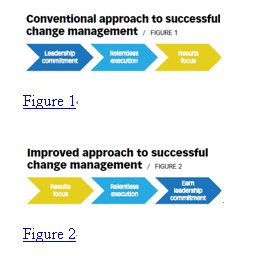 Earning leadership commitment
Some authors argue that lack of visible leadership commitment is one of the root causes for the failure of many Baldrige implementations.1 When Infosys analyzed the more successful change exercises, it realized that while all had leadership commitment, something else set them apart: the timing of leadership commitment. These initiatives did not start with significant commitment. Instead, commitment kicked in after a few quick wins or signs of early progress.
As part of a benchmarking initiative, for example, the core team worked on collating industry benchmarks for key parameters and demonstrating business strategy relevance. This proved to leadership that focused efforts toward implementing the Baldrige model can provide significant value.
In another initiative that involved communicating the business unit's vision, several innovative mechanisms were adopted to create high levels of awareness about the business unit and also about leadership. These small steps helped secure stronger commitment and direct involvement from leadership for subsequent activities.
From these two examples, Infosys learned that leadership commitment is not given; it must be earned. When it looked deeper, it found that visible leadership commitment was more or less the same across most initiatives in the early stages. It was the initiatives showing quick wins or signs of early progress that got more attention thereafter. Because results were demonstrated quickly in the benchmarking and communication initiatives, those teams received support for more difficult initiatives, such as leadership development, in subsequent phases.
Early in Infosys' Baldrige deployment, business units waited for leadership commitment. Most of 2006 was invested in aligning all change initiatives to begin with leadership support. This had modest results. In 2007, the approach changed from waiting for management commitment to earning it.
The key elements of earning leadership commitment were:
Involving more second-layer leaders instead of first-layer leaders in the change program by giving them executive roles in improvement efforts.

Identifying and closing quick-win items to create interest within senior management.

Demonstrating the reach and effect of the Baldrige change program in senior management meetings.

Reviewing progress in monthly meetings and focusing on changes in results metrics.
Identifying the right sponsor and change agents is key to success. The experiences in 2006 proved that just because a person has more experience or is the most knowledgeable doesn't mean he or she is the best choice for playing a key role in bringing about change.
If the operational leaders demonstrate visible commitment on behalf of senior leadership, people in the trenches will be more motivated to participate in the change. Visible commitment goes beyond stated commitment. It must be transparent to all stakeholders, especially the ones in the trenches. In large change programs, it's vital to maintain a buzz about the change and a consistency in the message.
The visible part of commitment is more important than support from leadership, which is largely invisible. The visible nature of such commitment convinces those affected by the change that it is for everyone's good.
Most good leaders do this by speaking about the change at every opportunity, including the change message in their letters or e-mails, encouraging and publicly recognizing the people working on the change, sending an occasional e-mail about the status of the change, enforcing mandatory participation in regular calls and referring to progress in key stakeholders meetings.
Focus on execution
At Infosys, a focus on execution was more important than the planning phase. In the first cycle of implementation in 2006, the company identified more than 15 initiatives across six categories. Each initiative owner formed subteams to develop plans and goals. Initiatives that had simple plans—with two or three key actions for improving the process or results—were created in less than a week's time. These initiatives had the highest chances of completion on time with good results.
The initiatives that did not achieve the intended results in the stipulated time had long lead times for planning—up to three months—for a variety of reasons:
The owners were attempting to "boil the ocean"—trying to achieve the most ideal solution possible.

The owners believed in developing plans to the smallest detail possible to make them foolproof.

The owners didn't have a comprehensive understanding of the issues at hand and were trying to understand the details so they could create thorough plans.
Table 1 summarizes the actions and associated results compared with time taken for planning.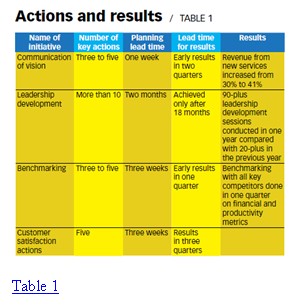 In 2007, Infosys insisted its overall Baldrige change management program have a one-slide plan consisting of the initiative name, owner of the initiative, key goals for the year, top three action items—along with milestone dates—and status of the actions (see Figure 3). Each initiative owner is asked to provide a one-slide plan that is reviewed periodically to track progress against goals and milestones. Some of the plans have been created in just a few hours.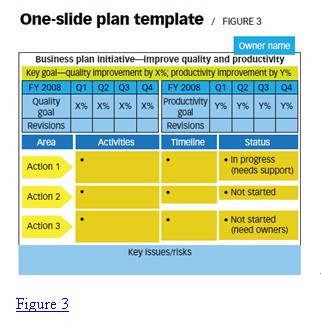 Each plan specifies the top three key action items to ensure a focus on the priority actions that have a direct impact on business results. Most of the team's energy is focused on executing the plan related to these three actions, rather than creating the plans.
Why three actions and not four or five? The fewer the actions, the higher the chances of success. At any given time, a leader can handle only one or two key actions on an initiative. Therefore, organizations can identify the number of actions based on the number of leaders available for each initiative to drive change.
Many companies attempt to train too many people on the Baldrige program as part of their change journey. There's nothing wrong with this strategy, but they shouldn't expect people who have only been trained on the Baldrige criteria to wake up the next day and be reformed.
Mass training has no real link to long-term change. A few well-selected people, regardless of where they fall in the hierarchy, can make all the difference. They are the change agents who should be trained. In the final analysis, it doesn't matter how many people are trained. In a change program, what matters is whether you trained the right people.
Results focus
The eight key elements of a focus on execution are:
Identifying the right leaders to own the initiatives.

Creating simple plans for tracking, monitoring and measuring the results.

Selecting a few leaders (a five or six-member team) to be part of the core team for change governance.

Reviewing plans weekly with the core team and the initiative owners.

Updating senior management monthly, showing red, yellow or green status of initiatives.

Focusing on the slow-progressing initiatives during weekly communication.

Setting up individual discussions with initiative owners to move status from yellow or red to green.

Measuring progress through tangible metrics and demonstrating quick wins or signs of early progress through execution. Focusing on execution resulted in significant returns in terms of speed and change longevity.
After studying more than 50 Baldrige assessments, Infosys observed that change program owners and other participants who bring about change need to be highly motivated at every stage. One of the factors that helped at Infosys was a strong focus on results from the beginning of the change cycle.
Stakeholders across a variety of functions—such as HR, operations and sales—were told about the impact of each initiative on their work, their goals and the organization's goals. Setting up an overall goal and individual goals for each action item is what made the program click for Infosys.
To ensure a change management program will focus on results:
During the planning phase, make sure each of the initiatives has a direct impact on business results. This needs to be done up front so those areas can be monitored periodically (monthly or quarterly).

Prioritize initiatives for ease of implementation and criticality of impact on business results. Of more than 30 initiatives identified for overall improvement at Infosys, the top 10 are prioritized based on impact on business results.

Monitor initiatives to check performance against planned goals.

Identify people who are focused on results, have an understanding of the Baldrige framework and can mobilize resources to execute actions.

Tie the performance goals of individuals to the business results identified in the initiatives.
Baldrige programs often tend to measure and reward activity. If you can't associate at least one organization-level measure or metric that will change because a key action was completed, you should question why that action was required. Focusing on results early in the change process makes the outcome clear to everyone. A lot of good activity is no substitute for poor results.
What are the challenges?
While priorities may differ among business units, the key issues remain the same. The approach used by Infosys will work in most situations. But in some cases, more caution is necessary:
Small organizations.

They tend to work as a network of individuals and are generally more nimble than larger ones. For smaller organizations, leadership commitment is essential to rolling out a change program, and leaders need to drive the change.

Unclear business goals.

A premise of Infosys' approach is that defined business goals exist and are clear to most staff. Absent that, aligning goals to improvement action items is useless.

Lack of execution culture.

If a company has a history of failed initiatives, chances are good that Baldrige will fail. Relentless execution requires an established infrastructure and culture.

Cynical leadership.

Some leadership teams have seen so many initiatives fail that they might think, "How is this different?" Such leadership is unlikely to support a change program even after initial results are good.
In the end, the Infosys business units took away three key lessons from their change management experiences:
Leadership commitment must be earned rather than given.

Focus must be on execution, the three key areas that have a direct impact on business results and limiting the planning cycle.

Focusing on results, demystifying the jargon and translating themes to actions that align individual goals and overall initiative goals help people get—and stay—on board with change initiatives.
The Infosys business units that used these three change management lessons enjoyed a definite edge in their Baldrige deployment programs.
---
References
Harold L. Sirkin, Perry Keenan and Alan Jackson, "The Hard Side of Change Management," Harvard Business Review, October 2005.
---
Bibliography
Abrahamson, Eric, Change Without Pain, Harvard Business Press, 2003.
Bossidy, Larry and Ram Charan, Confronting Reality, Crown Business, 2004.
Carter, Eric, "Successful Change Requires More Than Change Management," Journal for Quality and Participation, Vol. 31, No. 1, April 2008.
Gerstner, Louis V., Who Says Elephants Can't Dance?, HarperBusiness, 2002.
Greener, Tony and Mark Hughes, "Managing Change Before Change Management," Strategic Change, Vol. 15, No. 4, 2006.
Kotter, John P. and Leonard A. Schlesinger, "Choosing Strategies for Change," Harvard Business Review, July-August 2008.

Oakland

, J.S. and Stephen Tanner, "Successful Change Management," Total Quality Management, Vol. 19, No. 6, 2007.
Rigsby, Jeffrey and Guy Greco, Mastering Strategy, McGraw-Hill, 2002.
---
Anshuman Tiwari is lead—business excellence at ANZ Support Services in Bangalore, India. Prior to that, he was program manager at Infosys Technologies Ltd. in Bangalore. He earned a master's degree in operations management from the K.J. Somaiya Institute of Management Studies and Research in Mumbai, India. An ASQ senior member, Tiwari is an ASQ-certified manager of quality and organizational excellence.
---
Siva Nandiwada is unit planning and assurance manager at Infosys. He earned a master's degree from the Indian Institute of Management in Ahmedabad, India.

Source from: ASQ