After deploying lean Six Sigma, Textron decentralizes resources, gives business units more flexibility, control
Published:
26 Oct 2010 18:00:56 PST
by Lynn Kelley
In 50 Words or Less:
After implementing lean Six Sigma, Textron discovered it needed to change the way it viewed and used the method.

The company developed a way to transfer more ownership of lean Six Sigma to individual business units.

The level of engagement at the units subsequently increased.
To stay in front of the competition, successful organizations know they can never stand still. There are always ways to innovate and improve the way they do business.
To keep its lead against competitors, Textron, the Fortune 300 company that manufactures everything from corporate jets to golf carts, decided to implement lean Six Sigma in 2002.
For the maker of Bell helicopters and Cessna aircraft, deploying the quality program at Textron seemed pretty typical of what most businesses go through during large-scale implementations: Hire the consultant, buy the training materials, print the posters, create the action plan, assign people to be part of the "new way of doing things," downplay the cynical chorus, and just go for it.
Five years into its lean Six Sigma journey, however, Textron made a major effort to gather feedback from internal customers affected by the deployment. From the interviews, Textron realized deployment methods are different than maturity methods. In other words, the things an organization does to deploy an initiative should not continue after it has actually implemented the method and established it as the way of doing things.
In fact, if organizations keep acting as though they're in early deployment when they're in maturity, they can actually cripple their initiative. The internal customers of Textron's lean Six Sigma efforts didn't actually articulate this concept, but as the organization sifted through data from interviews it conducted, this conclusion became evident.
Deployment feedback
In the beginning of the lean Six Sigma deployment, it was critical to incorporate buy-in efforts with a strong-arm approach to ensure a successful launch. In 2002, with about 40,000 employees in 29 countries and 10 business units, Textron found it couldn't approach a wide-scale deployment in a laissez-faire manner.
Textron used a top-down deployment structure and the informal slogan, "ruthless consistency." In 2002, all business units were told to stop using their existing continuous improvement methods and switch to the lean Six Sigma deployment model called Textron Six Sigma (TSS). Everything, including training, certification requirements, job descriptions and a centralized project database, was standardized across the business units.
Fast-forward to 2007: The 10 TSS vice presidents fanned out to interview 116 top leaders at Textron and asked them to describe the best and worst of TSS.
That TSS was viewed as dogmatic and bureaucratic were the top two items on the worst list. Those views made sense early in the deployment, when Textron required people to do things differently (dogmatic) and created structures to ensure people did, indeed, do things differently (bureaucratic).
In 2007, however, TSS was long past the deployment phase in which top-down orders are needed. The merits of continuous improvement had won people over. In many business units, there were waiting lists for people who wanted to become Black Belts (BB), and there were long project pipelines.
In addition, the company had certified more than 7,000 Green Belts (GB), and at least 10% of the top three levels of leadership in many business units were certified as either BBs or Master Black Belts (MBB). Clearly, TSS was becoming engrained in the culture, and it was time to let go of the stringent requirements and allow the business units to own their deployment.
Transferring ownership
The third-worst thing leaders noted about TSS offered a clue on how to transfer TSS ownership to individual business units: Leaders observed that BBs were working on the wrong projects.
It wasn't as though BBs were visiting factories and saying, "That's the wrong thing to work on. I think I'll make it a BB project." Something had to be driving this observation. The answer came in further data analysis.
While conducting the 116 interviews, the TSS vice presidents read a list of the 18 things TSS was responsible for. The interviewees were asked to articulate their gut responses when listing each item. When GB training was mentioned, for example, comments ranged from "death by PowerPoint" to "good tools."
When TSS metrics, particularly related to the financial aspect of recording the savings per project, were mentioned, there were more negative responses than for almost any other item. Comments included "you're beyond that," "you don't have to prove your worth anymore" and "we know you add value," to "we don't believe your numbers anyway."
TSS leadership realized the practice of recording and requiring financial savings for certifications—combined with the idea that BBs were working on the wrong projects—was driving the wrong behaviors. BBs were choosing projects based on financial impact rather than what was most important for the customer and the business.
By the end of 2007, TSS eliminated the financial metrics requirement and allowed business units to choose up to three operating metrics they wanted TSS to support. This involved assigning BBs to key initiatives and holding TSS leadership—in partnership with the process owners—accountable for the outcome metrics.
The following year, for example, one of the business units chose to track an on-time delivery metric, which increased from 55 to 86% in one year.
The freedom to move away from tracking financial metrics didn't preclude other business units from choosing financial savings; it simply gave them flexibility. Therefore, another business unit chose to focus on the cost-reduction metric, which ended up at $7 million in savings at the end of 2008.
Government analogy
Next, TSS borrowed from the concept of federal and state layers of government and applied this structure to key activities. The default was to move activities toward state government.
Before 2007, for example, most decisions, directions and requirements were dictated by Textron corporate, or what could be viewed as the large federal government. By the end of 2007, TSS had transitioned much more power to the business units, comparable to the state governments. Only a few activities and responsibilities, such as standardized certification requirements and standardized training, remained at corporate.
In 2008, TSS vice presidents followed up and interviewed key members of the original leadership group and again asked them to rank the best and worst things about TSS. The top three items on the 2007 worst list (dogmatic, bureaucratic and working on the wrong projects) had disappeared. The new top items for improvement related to expanding TSS's reach to the shop floor and embedding BBs deeper into the organization.
Expanding reach
The original TSS deployment was geared toward the top levels of the organization. BBs were recruited primarily from salaried positions and often designated as high-potential employees.
The GB certification tracks (lean, variation reduction and design for Six Sigma) required one to two completed projects and one to two weeks of training that covered a wide array of tools. There was no formal certification path for the individual contributor or shop floor employee who needed to solve a multitude of problems quickly.
In response to the request for an expanded reach, TSS developed a rapid problem-solving (RPS) GB certification track covering nine tools and requiring the completion of six problem-solving activities within 12 months. The training could be completed in one to two days through a case study activity or remotely with online supplements.
RPS quickly moved through the company. True to the new state government concept approach, TSS leadership did not require individual business units to adopt RPS; however, TSS leadership has seen the demand for this training grow as people realize how powerful it is to engage the full workforce in regular problem-solving efforts.
Prior to 2008, all BBs were full-time resources who reported to either a MBB or a TSS vice president in each business unit. Some business units wanted to move BBs into direct-reporting relationships for a function (for example, engineering or operations) and allow them to perform work on other than pure BB projects.
TSS leaders determined the next step in its maturity was to embed continuous improvement into the culture. Leaders believed they had started in the right direction with the RPS. By giving the business functions their own BBs and accountability to use BBs to produce results, TSS leaders believed they would move the organization along on the maturity scale.
This direction was fraught with potential pitfalls and had to be approached carefully. TSS leadership started by benchmarking four companies that had decentralized their Six Sigma and lean resources. In talking with the companies' deployment leaders, TSS leaders found two companies had lost ground in their deployments, and the other two had increased the effectiveness of their deployment.
One of the companies that lost ground described how the deployment had "completely disappeared" in less than a year before anyone realized it. The other company said its deployment was still intact in a few business units where leadership had supported it, but it had diminished in less-supportive business units.
To mitigate the risk of losing ground, TSS leaders developed a two-pronged approach:
Maturity/deployment guide:

In decentralization, one size does not fit all. TSS leaders developed a decision matrix to help the business units make their decentralization plans. Table 1 shows the guide that was developed, and the sidebar, "

Using the Maturity/Deployment Guide

," offers more details about using the matrix.
When a business unit completed the matrix, determined its maturity level and developed its subsequent decentralization plan, a TSS executive met with the business unit president and TSS vice president to review the plan. After everyone agreed on the appropriate structure for the business unit, it was deployed.
The structures ranged from no decentralization with business units that were early in deployment (due to being recently acquired by Textron) to complete decentralization with only a small core team.
TSS health metric:

Who better knows whether TSS is in danger of disappearing than the BBs within the business units? Prior to making any structural changes, all 450 BBs were surveyed and gave baseline ratings for TSS effectiveness, leadership support of TSS, percentage of their time spent on continuous improvement, and whether they felt the TSS deployment was moving forward, backward or staying the same.
Once the BBs were decentralized, TSS continued to distribute the survey every two months during 2009. With an average response rate of 70%—one year after decentralization—the majority of BBs said they believed the company was moving ahead in its deployment, and the average score for leadership support actually increased. The brief questionnaire can be found in the sidebar "TSS Health Metric Survey."
Using The Maturity/Deployment Guide
The following are instructions Textron used in its maturity/deployment guide. Of course, your company's deployment may vary from these standards. In each row of the matrix, shown in Table 1, choose the category column that most closely describes your Textron Six Sigma (TSS) deployment. Add the total number of points, which determines the stage of your deployment, and then use the following guidelines to plan your decentralization:
Early deployment (five to eight points)—Centralize the TSS function with all Black Belts (BB) reporting to the TSS leader, who reports to the president. One percent of the total population should be BBs. BBs should be full time.

Mid-level maturity (nine to 12 points)—Can decentralize up to 60% of BBs. The decentralized BBs should be dedicated to TSS activities at least 50% of the time. The nondecentralized team (core team) should be full-time BBs. The Master Black Belts (MBB) on the core team should be able to provide mentoring for all BBs.

Culturally embedded (13 to 15 points)—Can decentralize up to 95% of BBs. The decentralized BBs should be dedicated to TSS activities at least 50% of the time. Mentoring of BBs and Green Belts may be done by repatriated BB managers/supervisors, as well as MBBs. —L.K.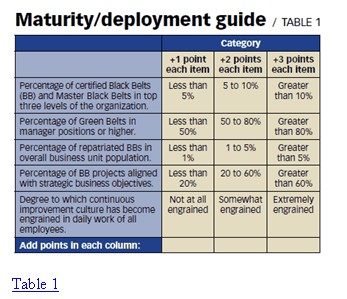 TSS Health Metric Survey
On a scale of one to seven (one being extremely ineffective and seven being extremely effective), please rate the level of effectiveness of Textron Six Sigma (TSS) in the areas in which you worked during the last two months (seven-point scale).

In your opinion, during the last two months did TSS deployment in your area:

Gain traction

Stay the same

Move backwards

During the last two months, while performing as a Black Belt/Master Black Belt (either full time or part time), what percentage of your time was spent doing continuous improvement activities (such as mentoring, projects and training)?

How supportive is the leadership in the area in which you work, of continuous improvement (one = not at all supportive and seven = extremely supportive)?
In Textron's eight-year continuous improvement journey, changes have been difficult, but each change resulted in the organization's rising to a higher maturity level with increased internal customer satisfaction.
Internal customer satisfaction with TSS is also tracked within each business unit. The internal customer satisfaction went from an average of 4.5 (neutral) in 2006 to 5 (slightly satisfied) at the end of 2007 and 5.8 (satisfied) at the end of 2008. In spite of layoffs and furloughs in some of the business units due to the changing economic climate, during 2009—after decentralization—TSS maintained an average of 5.8 on a 7-point scale (7 being extremely satisfied).
What's next?
Starting this year, a major strategic focus of Textron has been to process and reduce complexity. As a key partner in this activity, TSS has recently expanded beyond lean Six Sigma into a broader continuous improvement name and focus, while enhancing training to include simplification.
From its TSS experiences, Textron's biggest lesson learned was that methods used in deploying an initiative are very different from methods needed to sustain and mature the initiative. The company has learned to apply continuous improvement just as rigorously to its own TSS processes as to the other processes within its business units.
Textron's change agents have shown they can actually change themselves and their processes—as well as others.
---
Lynn Kelley is vice president of Six Sigma and quality at Textron, based in Providence, RI. She earned a doctorate in evaluation and research from Wayne State University in Detroit. Kelley's past ASQ certifications include quality manager and Six Sigma Black Belt. She is an ASQ member.