Our customers could recognize our products because we choose Alibaba.com as the online channel to promote the products
Published:
10 Oct 2018 20:08:00 PST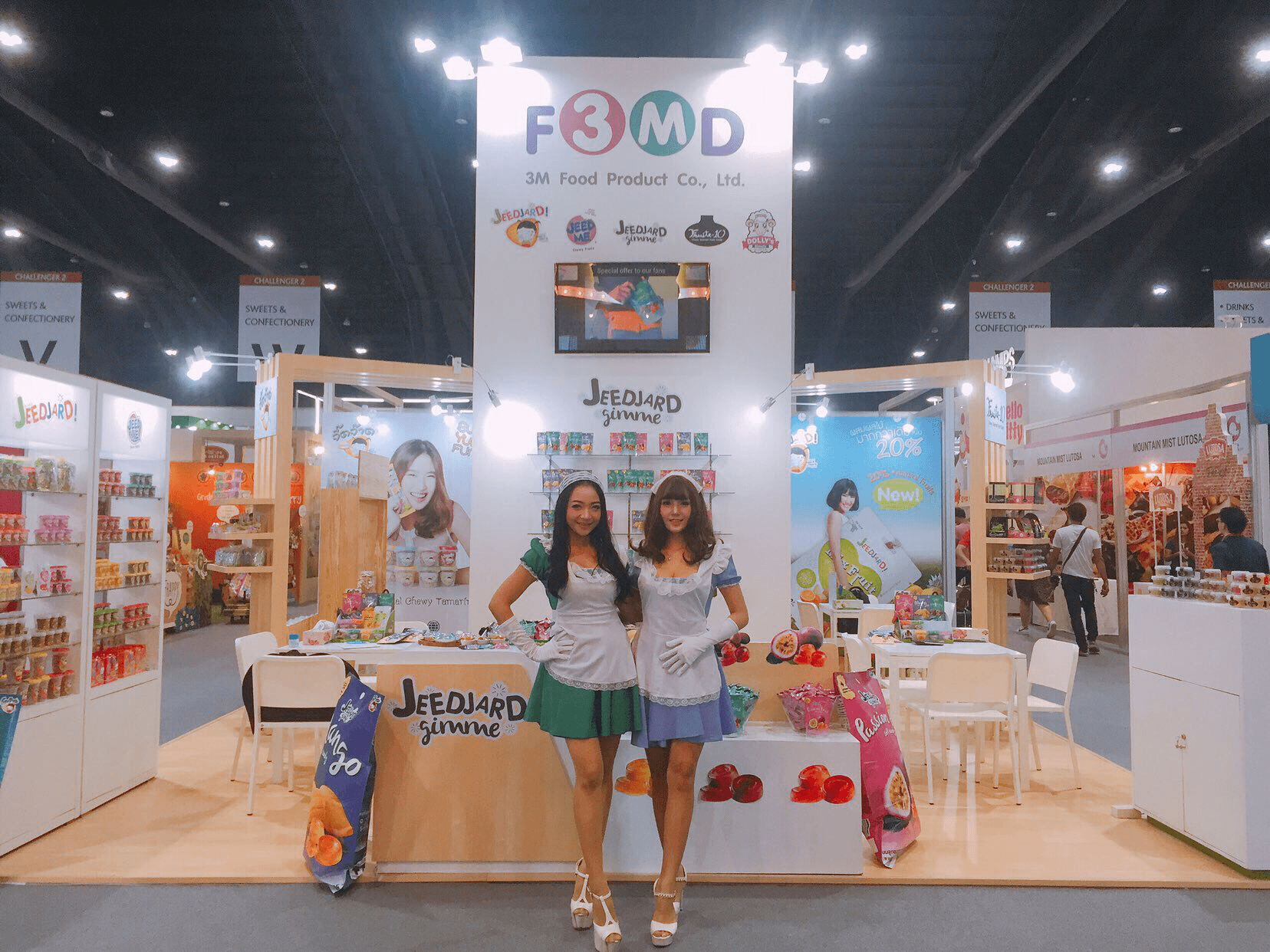 Member: Ms. Panicha Laohamonthonkul
Company: 3M Food Product Company Limited
Location: Thailand
Industry: Food & Beverages
Gold Supplier member since: 2011
Website: https://3mfoodproduct.trustpass.alibaba.com/


3M Food Product Company Limited is the one of Thailand's leading manufacturers and distributors of chewy Tamarind Candy , Soft fruits Candy , Chewy Assorted Fruits can and other snack and Beverage. Our company was established in 2003. It has been 15 years since then, our product lines have been expanded to not only producing Chewy Tamarind Candy under Brand "JEEDJARD" which is famous for Thailand people, but also the chewy assorted fruits candy , Soft Fruits Snack as so on. We have exported products to many countries such as China, Indonesia, Philippine, UK, South Africa and Europe.
In addition, we have assisted the Thailand SMEs, who produce the products which have good qualities and suitable for export, by offering to the customers to selling and expanding marketing channel under consolidation shipment. These will make the customers get more profits and various product categories to sell in their market.
Regarding our services on Alibaba.com, we have to demonstrate to our customers on various types of Thailand's products apart of company's factory product such as Chewy Tamarind candy, Assorted Fruits candy and Fruits snack. We also have snack, preserved fruits, beverage, biscuits and other confectionary products. We can serve both Factory's brand, Bulk and Private Brand according to customer requirement. We are the one stop service provided to customer on sourcing product, release the order to factory along with special detail, control product checking, arrange goods loading, prepare all required export document, so on. The customers shall be trust on us, the professional Thailand exporter on many product categories. In the near future, we plan to expand product categories by selecting a ready to eat products and Thailand Traditional sauces and curry.
As our One Stop Services, the customers can arrange the order of products in many various items with low minimum of quantities, or they can mix them together in 1x20'ft container. The customers will be comfortable on manage the product stock as well as shelf life, to be kept the products fresh instead of process shipment one factory per container.
All the product services offering to the customers shall be ensured that they have the qualities guarantee and every factories must acquire the certificates at least GMP, HACCP and Thailand FDA which mean the products are comfortable on consumption.
3M Food Product Company Limited has joined Alibaba.com not less than 10 years, and become the Gold member for 7th Years. We have growth together with Alibaba.com as we saw the important of selling on Alibaba. Our customers could recognize our products because we choose Alibaba.com as the online channel to promote the products. We received the good feedback by customers through the Alibaba.com and many enquiry messages that could made us have the opportunities to present our products as well as the services without paying neither promotion nor sponsoring ads.
We have given the Alibaba mini-site become one of our online product-catalogs which the customers can study and select the suitable products for their market. We have gathered all knowledges from the training sessions to develop our mini-site, especially to gain a higher ranking of our site, these made us received many purchase orders from the customers.
Consequently, we have been selected by Alibaba, as a Thailand Success Case guest, to visit Alibaba (Alibaba Dreamtrip) in Hangzhou, China and have been invited to be a speaker of Alibaba in Thailand, then be the first role of company in Thailand who received Alibaba Certified Lecturer.
As Alibaba.com is one of the leading e-commerce platforms, there are so many features that are available. When we have thought that the features are all explored and we have gone through all the available buttons, it will always increase more features which we have to learn more. However, there are 3 features which we would like to recommend other suppliers to implement in their accounts. Firstly, it is the feature call 'RFQ". It will show all the buyer enquiries such as the product details and type of products, which are great opportunities to present how our products can be answered the buyer need or requirement. Secondly, another relevant feature regarding keyword is the 'Hot Keyword". This feature allows suppliers to search for any keywords which the customers type in the search bar. Prior to knowing this, my product names were written based on the official product name that our company used, at this made our traffic has not be at a satisfactory level. Until recently, after implementing the use from 'Hot Keyword' feature to rename our posted products, the customer traffic has been improved dramatically and significantly. Lastly, this feature is used for analyzing the performance of our keywords individually, which is called 'keyword optimization' feature.
My experience with Alibaba.com has been a new learning curve. Many features on Alibaba.com, if used to their maximize capability, you can find that they are very effective and efficient tools. Not only there are useful features on the website, but there are also other tricks to be applied. One of my advices to other suppliers is the ability to modify the product names to be appeared on the search list. We think that naming your product right can help you increase your exposure and as a consequence, it can help increase your sale volume. Thus, we would suggest that you should firstly start with naming your product right before looking at other available features. This is one of the most important strategies suppliers have to focus on. Another advice which we would suggest to other suppliers is you need to assist the customers as much as possible. Due to the nature of ecommerce business, potential customers may still be skeptical about our business and what we do. Therefore, we have to ensure that we are here for the customers and assist them on whatever they need. For example, the customers may require further details of our products posted, then the thing we should do is to provide the information as promptly as possible and also providing exactly what the customer asked for. As a result, we will acquire more number of customers resulted from our action.
As a supplier, we have received so much assistance from the Alibaba.com team via various channels, no matter it be via the trade manager or the online training sessions. These assistance are very useful and helpful. We would very much appreciate that the team continue to support us. We found that the online training given by the team member was really useful, as we have truly increased the performance of my posts on Alibaba.com to a higher level.
"Get 22 times more inquiries than Free Members with a Gold Supplier Membership!"