"Thanks To Alibaba.com, We Are Now A Record Breaking Pasta Exporter."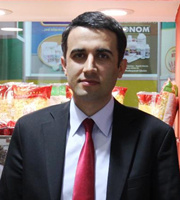 Member:
Mehmet Ulusoy
Company:
BESSAN MAKARNA GIDA SANAYİ VE TİCARET AŞ.
Location:
Gaziantep, Turkey
Industry:
Food&Beverage
Gold Supplier since:
2008
Website:
http://tr100364322.trustpass.alibaba.com/

Bessan Makarna, a group company of Besler Group, was founded in the 1940s. Bessan Makarna has been an Alibaba.com Gold member since 2008 and is both a manufacturer and an exporter. The main line of business is manufacturing pasta, olive oil, sunflower oil, flour, semolina and soap. With more than $ 100 million turnover in revenue, US, Japan, Canada, Hong Kong, South Korea, England, Taiwan, Middle East, Europe and Africa are the main export destinations among others.
Bessan grew rapidly after becoming a Gold member, reaching 280 employees from 180 in a very short period of time, while Besler Group now has 1200 employees in total. Bessan's goal was to create a work environment where the employees feel as the core member of each team, forming a greater team. This goal is mainly achieved through persistent human resources policies and trainings.
Bessan's future plans include international brand management and opening up to the world to become an international brand in different markets. This is also a preventive measure to protect the fluctuations of markets affected by the financial crises. Bessan aims to increase their brand value by responding product and market demands and the business proved that by responding to these demands, the business growth immediately followed.
Bessan is also a leader in other fields; Bessan is the first company in Turkey that manufactures and distributes packaged gluten free paste. Gluten free products are expensive and the demand for this product is high including patients with celiac disease. Bessan's produces high quality gluten free pasta with affordable prices as well as financially supporting celiac foundations with free stocks. The company has an increasing activity record with its social responsibility projects as well as supporting education foundations with gluten free stocks. Bessan plays an important role in 2 sister-school projects which have low financial status; the company provides the daily needs of the schools.
The company is influential in the food and beverages industry with its integrated facility manufacturing different kinds of high quality products. Mehmet Ulusoy, Sales and Marketing Executive of Bessan Makarna underlines the 'trust' at Alibaba.com which he identifies with the company's vision based on the trust they build with their buyers.
Bessan's activities are shared with all its stakeholders through communication activities. The company plays an active role in Turkish Pasta Industrialist's Institution and shares its experiences with stakeholders based on constant and continuous relationship. Bessan gives a great importance to social media; they set a different website for each brand and have a continuous communication with both customers and consumers via these websites.
Mehmet Ulusoy, recommends Alibaba.com because it's a global platform that connects buyers and suppliers in a world that trade became e-trade. He indicated that his company gets approximately 5 to15 inquiries a day and 70 per cent of these inquiries come from Alibaba.com. 50 per cent of these demands turn into real orders that compose the biggest part of Bessan's record breaking achievement; the company has the highest export numbers in the industry since 2 years.