She did not know it would be that challenging, but if given another chance she will do it all over again - only she will know how to go about it differently this time.
A year ago, Charlotte quit her job as a designer for a high-end jewelry chain in London to start her own business. Her dream since college has always been to create a brand-name line of handcrafted jewelry pieces designed by herself. Now she has the chance to turn her dream into reality, but she finds herself running into the wall that makes or breaks most entrepreneurial dreams.
Besides designing and making rings, bracelets, pendants and necklaces, she also needs to source a variety of accessories to complement her own collection. It involves locating suppliers, comparing samples and quotations, placing orders, shipping arrangements and payments. The thing in the process that annoys her most are frequent disputes with suppliers over the quality and the specifications of goods received, taking up her valuable time and energy that could be better spent on producing original designs for her growing collection. She has to find a way around the problem before her patience wears out, but like most startups she has nobody to turn to for help and can hardly delegate the work to the part-time saleslady employed at her shop.
Charlotte first learned about Alibaba.com at a Paris trade fair for the jewelry industry, where an exhibitor at one of the booths picked up his mobile phone to show her the products they listed on the website. The exhibitor gave her the link to the Alibaba.com mobile app, and she started downloading and installing it on her iPhone even before leaving the exhibition venue. Later during the taxi ride to the Eurostar Calais-Fréthun railway station, she took out her phone to check email messages but instead fiddled with the Alibaba mobile app. It included functions to help buyers on the go source products and locate suppliers, and she decided to sign up so as to try it out.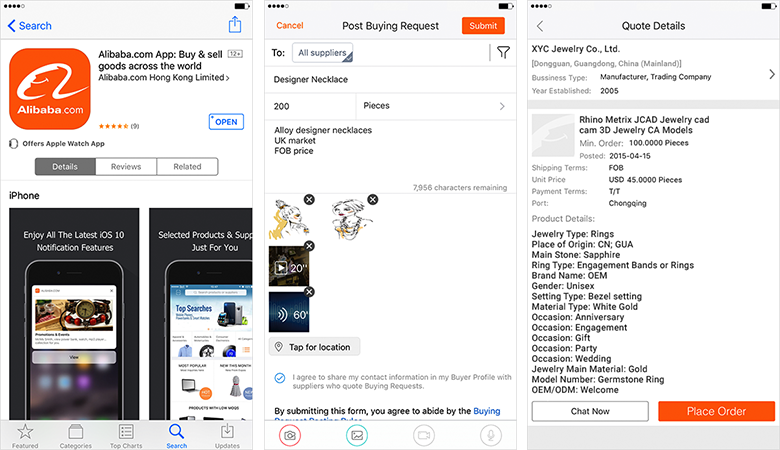 When her taxi arrived at the railway station fifteen minutes later, she had already activated her new online account and started looking up entries under the "jewelry" category. Then, something caught her attention: the app featured a "Buying Request" function which let her solicit quotations from prospective suppliers for unique, custom-made products that might be different from anything listed on the Website. Charlotte remembered the jewelry pieces with interesting designs she photographed earlier in the exhibition, and began filling out requests for their quotations. While waiting on the station's platform to board her train, she typed out detailed description for each item and opted to filter out small suppliers with annual sales volume under US$1 million. Then, she posted the requests with photographs of respective jewelry pieces attached. As the saying goes, "A picture is worth a thousand words."
Soon, Charlotte was on the train bound for London's Saint Pancras station and she settled down into her seat for the two-hour-plus journey through the Channel Tunnel. To avoid setting herself up for disappointment, she reminded herself not to expect receiving more than a few quotations within the next couple of weeks. Then, she put away her mobile phone and began to doze off, dreaming of her business becoming a sprawling global chain of jewelry stores. Just when big things began to happen, a beeping sound woke her up - it was a message alert from her mobile phone. She received a quotation for one of her buying requests! She could barely contain her surprise, and proceeded immediately to check the details of the new message. Then, more quotations started to pour in, and when her train reached London two hours later she already had feedbacks from close to twenty suppliers.
The experience brought about a paradigm shift for Charlotte, who has since relied on Alibaba.com to meet most of her purchasing needs. She has come a long way in a short time, and is well acquainted with the benefits of Alibaba's Trade Assurance Program. It is a free service introduced by Alibaba.com to help create trust between its buyers and suppliers, and offers her 100% payment protection when she orders from selected Trade Assurance suppliers. The coverage amounts of Trade Assurance can vary among participating suppliers, but they are often enough to cover her trial orders as well as her initial deposits. She always spells out the specifications of her products in great detail and registers her transactions through the Alibaba.com online order process, followed by payments to bank accounts specified by Alibaba. Trade Assurance allows her to receive a refund when her shipment is delayed beyond the specified shipping date, or when manufactured items are not compliant with the initial order quality requirements as per her purchase order.
Like entrepreneurs all over the world, Charlotte knows all too well the odds are not in her favor. As legends have it, the majority of startups will fail within the first year and then only a small percentage of the remainder can survive long enough to celebrate their third anniversary. There is a constant battle on her hands, and she is always worrying about her cash flow as well as her business operation. However, Alibaba offers the tools and services to help her focus on the more important things and the bigger picture. She is confident she now has a better shot at success.