True Scale of the World Economy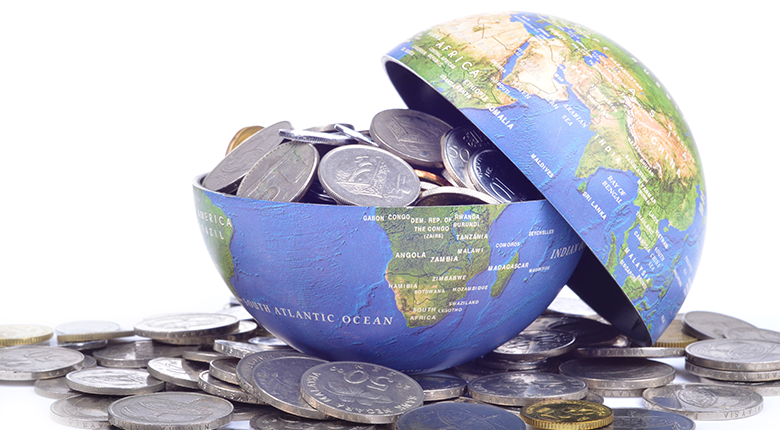 Just how big is the world economy? If you want to get a visual sense, check out the Center for International Development's website, which provides a thought-provoking visual depiction of what $15 trillion in annual world trade looks like. (World trade refers to the value of both exports and imports of a country.) To delve a little deeper into the world economy, here's a look at some of the major players.
Top Importers & Exporters
Overall, which countries are doing most of the importing? As of 2014, the United States heads the list, accounting for nearly 13 percent of global product imports. Close behind is China, at 10.4 percent of global product imports. After that the percentage drops dramatically, with Germany accounting for 6.5 percent, followed by Japan, the United Kingdom, France, Hong Kong, Netherlands, South Korea and Italy making up the top 10.
And which countries account for most of the world's exporting? China leads the pack, accounting for 12.6 percent of global exports. The United States claims 8.7 percent of global exports, with Germany nearly neck and neck at 8.1 percent. Japan, whose export numbers have been dwindling in the past few years, comes in fourth with 3.7 percent.
China
In 2013, China became the world's largest trading nation, surpassing the United States, when its annual trade passed the $4 trillion mark for the first time. China is an important trading partner with the European Union as well as the United States, Hong Kong and Japan. As of 2014, China's principal exports included electronic equipment, machinery, furniture, clothing, medical equipment and plastics.
Japan
Although Japan's export value has been on the decline in recent years, it is still one of the world's top exporters, second only to China among the Asian nations. Japan's top exports include vehicles, machines, electronic equipment, medical equipment, iron, steel, plastics and organic chemicals. Japan's top import partners are the United States, China and South Korea.
European Union
Because of its large size and commitment to free trade, the European Union (EU), which consists of 28 member nations, is not only the world's largest exporter of manufactured goods and services, it's also the biggest export market for some 80 countries around the world. All told, the European Union's members account for 16 percent of world imports and exports. Developing nations are an especially important part of the EU's economy: The EU imports more from developing countries than the U.S., Canada, Japan and China combined.
Among EU nations, however, Germany clearly leads the pack in terms of exporting. Exports made up a whopping 40 percent of total German economic output in 2014, and Germany ranked third in the world in global exporting, behind only China and the U.S. Among Germany's principal exports are vehicles, machines, electronic equipment, pharmaceuticals, plastics, medical equipment and aircraft.
United States
Exports have increased to about 9 percent of total U.S. economic output as of last year. Top exports from the U.S. include machines, electronic equipment, oil, vehicles, aircraft and medical equipment. The country's principal import partners are Canada, Mexico, China and Japan.
Canada
Canada boasts a wealth of natural resources and its principal exports tap into those riches, including oil, wood, aluminum, and gems, along with vehicles, machines and electronic equipment. Exporting is a major aspect of Canada's economy, accounting for some 30 percent of Canada's total economic output last year. The country's top import partners are the United States and China.
Mexico
Last year, exports made up about 18 percent of Mexico's total economic output. Its primary exports are vehicles, electronic equipment and machines; however, oil, medical equipment, furniture and plastics also make the top 10 list. Not surprisingly, Mexico's top import partners are the United States and Canada.
India
Although India's total exports are relatively low, accounting for just 1.7 percent of global exports, this nation boasts high growth in terms of exporting. Since 2010, India's exports have increased over 44 percent. Earlier this year, the IMF revised its predictions for India's forecasted GDP growth to 7.5 percent, up from 6.4 percent, for this year. The IMF expects India's GDP to grow faster than China's until 2020.
No matter what country you're seeking to import from or export to, Trade Assurance from Alibaba.com can make it easier to trade with confidence using safe payment solutions.
Learn more about Trade Assurance and get answers to your questions.