Source:
China Daily
Jordan army says IS group not down Jordanian warplane
Published:
25 Feb 2015 23:50:23 PST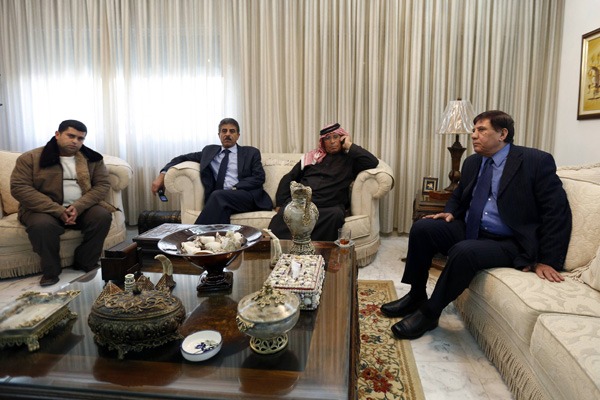 Safi al-Kasaesbeh (2nd R), father of Jordanian pilot Muath, who was captured by Islamic State after his plane came down near Raqqa in Syria on Wednesday, speaks on a telephone as he sits with relatives following the news of his son, in the house of a relative in Amman December 25, 2014. [Photo/Agencies]
AMMAN - Jordan on Thursday said initial indicators showed that the Islamic State (IS) did not down the Jordanian warplane over Al Raqqah in Syria, the state-run Petra news agency reported.
As it was impossible to reach the wreckage of the fighter jet and as its pilot was not present, it was difficult to identity the reason behind its fall, the report said, citing a statement by the Jordan Armed Forces.
The Jordan Armed Forces said on Wednesday the IS shot down a Jordanian plane and arrested its pilot in Syria.
The Syrian Observatory for Human Rights also reported that the IS militants have brought down a war jet that is believed to belong to the international anti-terror coalition near Syria's northern al-Raqqa province. The pilot's fate remains unknown.
Minister of State for Media Affairs Mohammad Momani said the government voiced solidarity with the family and tribe of the pilot captured by IS.
The pilot was part of a group of Jordanian fighter jets conducting a military mission against the IS terrorist organization.
Jordan said on Wednesday it would continue its war on terrorism and terrorist groups to defend Islam.
The US-led anti-terror coalition has been striking the IS positions in Syria since September, in which many Arab countries, including Jordan, Saudi Arabia and the United Arab Emirates, have participated.