Source:
China Daily
Iraq, Turkey step up cooperation on fight with terrorism
Published:
25 Feb 2015 23:50:23 PST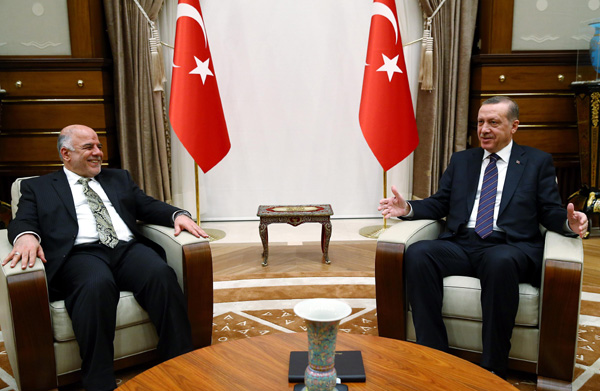 Iraqi Prime Minister Haider al-Abadi meets with Turkey's President Tayyip Erdogan (R) at the Presidential palace in Ankara December 25, 2014. [Photo/Agencies]

ANKARA - Iraqi Prime Minister Haider al-Abadi's visit to Turkey on Thursday aimed to strengthen recent efforts to normalize ties between the two neighbors that were long at odds over several issues, including Turkey's independent energy ties with Iraq's autonomous Kurdistan region.

Al-Abadi said Iraq wants to deepen bilateral ties in economy, politics, trade, security and military areas, adding that Baghdad wants to export Iraqi oil to world markets through Turkey.

"The improvement of our bilateral relations is not only to the interests of Turkey and Iraq but also in the interests of our region," he said.

This is the Iraqi prime minister's first visit to Turkey since he assumed the office in September. The visit was a follow-up to long-stalled High Level Council meetings that was established in 2009 as part of intergovernmental conference.

Al-Abadi was accompanied with several ministers during his visit to Turkey.

"The visit is important in terms of putting relations between the two neighbors back on track because there are common challenges that require close cooperation," Mehmet Seyfettin Erol,

professor of international relations at Ankara-based Gazi University, told Xinhua.

"Both countries need to work together against the Islamic State (IS) and other terrorist threats in the region," he underlined.

Turkish Foreign Minister Mevlut Cavusoglu said on Thursday that the tensions between Iraq and Turkey are now over following the establishment of the new inclusive Iraqi government.

The Turkish foreign minister blamed the problems to Abadi's predecessor Nouri al-Maliki whom he acused of running the country based on sectarian lines.

"Maliki's government always saw issues from a religious point of view," he said.

Cavusoglu described Abadi's government as inclusive with various ethnic and religious make-up.

|||

Baghdad's concerns over Turkey's independent energy deals with Iraq's Kurdistan regional government in the north also seemed to have lessened after Baghdad signed a deal with Erbil on Dec 2.

Cavusoglu said Turkey welcomed the deal, adding that "We want Iraq's unity and its revenues to be equally distributed among its people."

On Monday, Turkish Energy Minister Taner Yildiz revealed that Turkey is about to make new deals with new companies, which will be of great importance to Iraqi oil. But he did not elaborate further.

Turkey also eyes to boost non-oil trade with Iraq, the second largest export market for Turkey after Germany.

In a joint press conference in the Turkish capital of Ankara with the Iraqi counterpart, Turkish Prime Minister Davutoglu said "with the improvement of security conditions in Iraq, we believe our trade volume will increase."

"The investment of Turkish companies in Iraq over the years is around $21 billion and I believe we will do our best for the reconstruction of Iraq," he underlined.

Turkey and Iraq has currently a trade volume of some $12 billion and both leaders expressed to increase that to $30-40 billion in near future.

Both countries have also agreed on closer security, military and intelligence cooperation in the face of the threat posed by the IS militants that occupied parts of Iraq and Syria.

Iraq earlier requested more military and intelligence assistance from Turkey, including the delivery of weapons.

Davutoglu said Turkey is currently providing military training to Kurdish fighters called Peshmergas in northern Iraq against the IS militants.

"But we are open to any kind of ideas. We are ready to provide any kind of support we can give to Iraq," he told reporters.

"Our defense ministers and security institutions have held detailed talks today and will continue to work over this issue," he added.

"Turkey has faced two-front security threats, one is from the IS and other is from the banned Kurdish Workers' Party (PKK). The cooperation with Baghdad is key in battling these terror groups," said Mesut Cevikalp, Turkish analyst.

For his part, Abadi expressed his appreciation for Turkey's cooperation against the IS, reiterating that Iraqi security forces are in need of military training and intelligence assistance.

He said he submitted a list of demands from Turkey during the talks in Ankara, noting that Turkey and Iraq should work together to stem the sectarian conflicts in the region.