Source:
China Daily
UN Security Council calls for full, lasting ceasefire in Yemen
Published:
25 Feb 2015 23:50:23 PST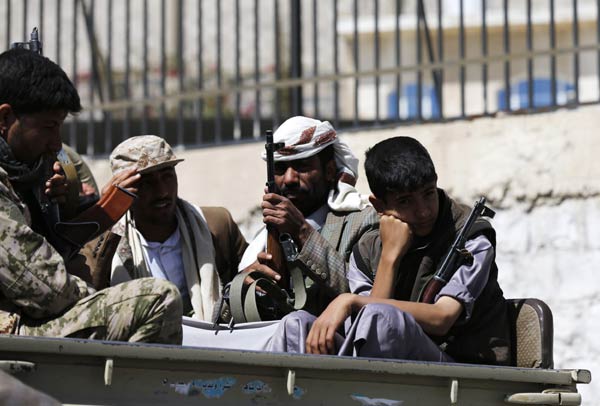 Houthi fighters ride in a truck outside a Presidential Guards barracks they took over on a mountain overlooking the Presidential Palace in Sanaa January 20, 2015. [Photo/Agencies]

UNITED NATIONS -- The UN Security Council on Tuesday called for a full and lasting ceasefire in Yemen, while voicing its support for President Abd-Rabbu Mansour Hadi amid worsening political and security crisis in the Arab country.

"The members of the Security Council condemned the recourse to violence in recent days, including the use of abduction, and urged all parties in Yemen to commit to the established processes of dialogue and consultation," said Cristian Barros Melet, Chile's Permanent Representative to the UN and President of the Council for the month of January, reading out a statement to the press after the Council's consultation on Yemen.

In particular, he added, the Council condemned the attack on Jan. 19 on the presidential palace in Sanaa and rejected such violent efforts to undermine or interfere with Yemen's legitimate government institutions.

The 15-nation body underlined that President Abd-Rabbu Mansour Hadi "is the legitimate authority," and emphasized that all parties and political actors in Yemen must stand with President Hadi, Prime Minister Bahah, and Yemen's Cabinet to "keep the country on track to stability and security."

"The members of the Security Council called upon all parties to implement a full and lasting ceasefire," and "to resolve their differences through dialogue and consultation, to reject acts of violence to achieve political goals, to refrain from provocation," Barros Melet said.

|||

The Council also welcomed the completion of a draft constitution, looked forward to the start of the public consultation on the draft, and called for all parties to rapidly engage in finalizing the constitution "in a constructive manner."

Despite the formation of a new government on Nov 7 aimed at ending a period of political turbulence and bringing about a full transition towards democracy, Yemen continues to be plagued by violence and mass demonstrations.

The Shiite Houthi group seized on Tuesday the presidential palace one day after it signed a ceasefire deal with the Yemeni government that ended deadly clashes.

Monday's clashes were triggered by the kidnapping of the director of the president office, Ahmed Awad bin Mubarak, by the Houthis, in a wrangle over the country's draft constitution.

According to the draft constitution, Yemen will be divided into six federal regions. However, the Houthi group demands that the country be divided into only two regions.