Source:
China Daily
Jordan military jets pound IS as king comforts pilot's family
Published:
25 Feb 2015 23:50:23 PST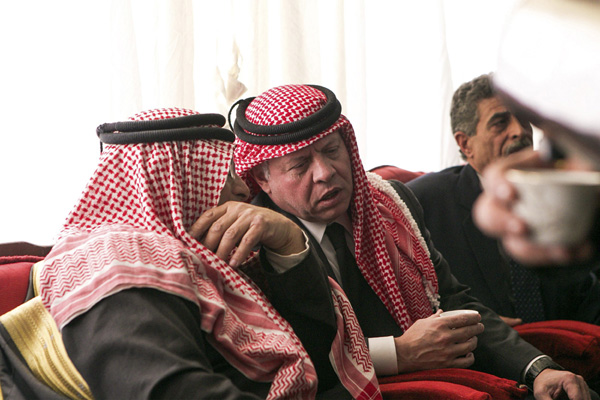 Jordan's King Abdullah (R) speaks with Safi al-Kasaesbeh, the father of Jordanian pilot Muath al-Kasaesbeh, as he offers his condolences to the family's clan at their headquarters in the city of Karak February 5, 2015. [Photo/Agencies]

AMMAN - Jordanian fighter jets pounded Islamic State targets in Syria on Thursday, before roaring over the hometown of the pilot killed by the militants while King Abdullah consoled the victim's family.

A statement from the Jordanian armed forces said tens of jets were deployed in the attacks, which destroyed ammunition depots and training camps run by the Islamic State.

Witnesses overheard the monarch telling the pilot's father the planes were returning from the militant-held city of Raqqa.

"It's actually the beginning of our retaliation over this horrific and brutal murder of our brave young pilot, but it's not the beginning of our fight against terrorism and extremism," Jordan's Foreign Minister Nasser Judeh said in an interview with CNN later on Thursday.

State television aired footage of fighter jets taking off to carry out the raids. It later broadcast footage of the actual bombing before the jets returned safely to Jordan.

|||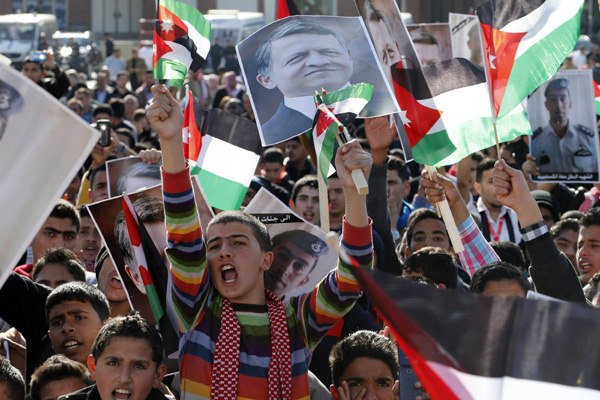 Protesters hold up pictures of Jordan's King Abdullah and pilot Muath al-Kasaesbeh as they chant slogans during a rally in Amman to show their loyalty to the King and against the Islamic State, February 5, 2015. [Photo/Agencies]
"We're going after them with everything that we have," Judeh said.
US military aircraft joined the mission to provide intelligence, surveillance as well as reconnaissance and targeting support, a US official said, speaking on condition of anonymity.
The official also said the strikes focused on multiple targets around Raqqa.
State television showed a sombre King Abdullah sitting alongside the army chief and senior officials while visiting the Kasaesbeh tribal family in Aya, a village some 100 km (60 miles) south of the capital, Amman.
Thousands of Jordanians flocked to pay their respects. The region's influential tribes form an important pillar of support for the Hashemite monarchy and supply the army and security forces with manpower.
The Jordanian monarch has vowed that the pilot's death, which has stirred nationalist fervour across the country, will bring severe retaliation against Islamic State.