Source:
China Daily
Netanyahu downplays rift with Obama over upcoming speech in congress
Published:
25 Feb 2015 23:50:23 PST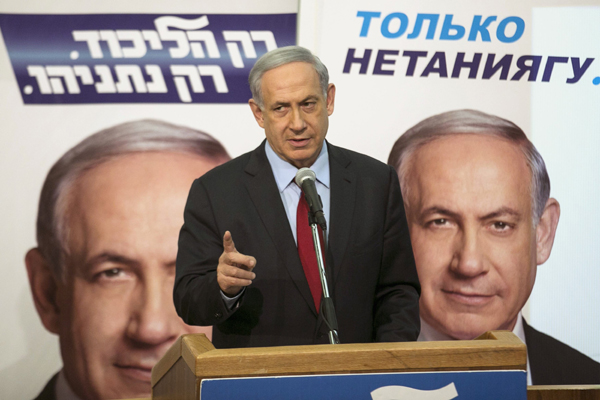 Israel's Prime Minister Benjamin Netanyahu speaks at a conference, launching the Likud party's campaign in Russian, at Bar Ilan University near Tel Aviv, Feb 9, 2014. [Photo/Agencies]
JERUSALEM - Israeli Prime Minister Benjamin Netanyahu on Tuesday tried to downplay current tensions between himself and US President Barack Obama over a speech the Israeli PM is set to deliver in front of the US congress on March 3 on Iran.
Netanyahu, who is known as a hardliner regarding the P5+1 countries (Russia, China, Germany, US, UK and France) negotiations with Iran on a deal over its nuclear program, said his planned speech, which was highly criticized by US officials, is motivated by concerns to Israel's safety.
"I'm going to the United States not because I seek to confront with the US President, but because I have to fulfill my duty to speak on this matter which poses a threat over our existence," Netanyahu said in a statement, circulated by the Prime Minister's Office.
"I intend to speak on this matter before the deadline of March 24 for the final agreement, and I intend to speak at the congress since congress would have an important and influential impact on the nuclear deal with Iran," Netanyahu added.
He also said that there have been in the past disagreements between Israeli and US leaders, trying to downplay the perceived animosity between him and Obama and criticism against Netanyahu for his close ties with the Republican party.
"None of these disagreements have led to a rift in the relationship between Israel and the United States. On the contrary, over time our relationship grew stronger," he added.
The Israeli leader was invited by Republican House Majority leader John Boehner, following bill proposals calling to impose further sanctions on Iran over its nuclear program, while negotiations are taking place. The bills are unlikely to pass due to the objection of the US democrats and President Barack Obama said he would veto such a bill if it would pass.
US officials are frustrated with the upcoming speech, as it was planned without the administration's knowledge, it goes against its position and would take place just two weeks before the national Israeli elections, scheduled to take place on March 17.
Whereas Iran insists its nuclear program is aimed at peaceful purposes, Netanyahu reiterated the world countries must demand Iran to forego all of its uranium enrichment capabilities, as nuclear capability poses an existential threat to the state of Israel.
Netanyahu commented Sunday on a meeting which took place over the weekend between US Secretary of State John Kerry and the Iranian Foreign Minister Mohammad Javad Zarif, stressing "the urgency" of Israel's efforts to "stop this bad and dangerous deal. "
"We will do whatever it takes to lead the international effort against nuclear Iran," Netanyahu said.
The P5+1 countries started negotiating with Iran in an attempt to curb its nuclear program in mid-2013, following the election of Iranian moderate leader Hassan Rouhani.
Both sides reached an interim deal, which Netanyahu referred to as a "historical mistake" in November 2013, and are trying to reach a final agreement by March 24.
In the past weekend, Israeli center-left politicians also urged Netanyahu to drop his plan to speak in congress, echoing similar expectations from US officials.
They claim the upcoming speech is meant as election propaganda courting Netanyahu's right-wing voters ahead of the upcoming elections, and call it a move that would jeopardize Israel's interests and increase tensions with Washington.