Source:
China Daily
Nurse becomes first Ebola victim diagnosed in Britain
Published:
25 Feb 2015 23:50:22 PST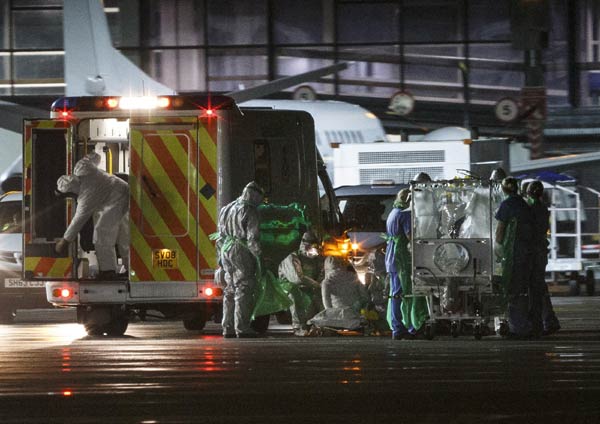 An Ebola patient is transferred on to a Hercules transport plane at Glasgow Airport in Scotland December 30, 2014, to be transported to London. [Photo/Agencies]

LONDON - A health worker who has become the first person to be diagnosed with Ebola in Britain was being treated at a London hospital on Tuesday after contracting the disease in West Africa.

The woman arrived from Scotland at the Royal Free hospital, Britain's designated Ebola treatment centre, in an ambulance accompanied by police vehicles, a witness said.

"The latest update we have on the condition of the patient is that she is doing as well as can be expected in the circumstances," Scottish First Minister Nicola Sturgeon said.

The Royal Free Hospital confirmed the patient was being treated for the Ebola virus, and named her as Pauline Cafferkey, a 39-year-old nurse with 16 years experience who normally works at a Scottish health centre.

The London hospital's "High-level isolation unit" will allow doctors to treat Cafferkey while she lies in a plastic tent, limiting the scope for the disease, which is transmitted by contact with bodily fluids, to be passed to medical staff.

Officials said three other patients were being tested for Ebola in Britain.

|||

One of them, who was described by Sturgeon as a "low probability" case in Scotland, has tested negative for the disease. The health service said the second possible case was in Cornwall, England, and details were not available on the third.

The World Health Organization said on Monday that the number of people infected by Ebola in the three West African countries worst affected by the outbreak - Sierra Leone, Liberia and Guinea - had passed 20,000, with more than 7,842 deaths so far.

Cafferkey, a National Health Service worker who had been working in West Africa with the charity Save the Children, flew from Sierra Leone to Glasgow late on Sunday on a British Airways flight via Casablanca in Morocco and London's Heathrow.

Health officials said she was screened for a high temperature with other returning health workers at Heathrow but showed no signs of fever. She requested further screening at the airport but six subsequent checks were within normal levels.

She was diagnosed with the virus on Monday after developing symptoms overnight and was initially treated at a Scottish hospital.