Source:
China Daily
Top Obama communications advisers to step down
Published:
25 Feb 2015 23:50:22 PST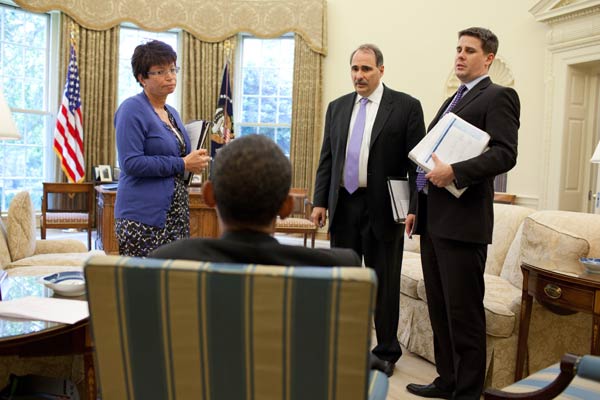 US President Barack Obama talks with senior advisors Valerie Jarrett, David Axelrod (2ndR), and Director of Communications Dan Pfeiffer (R), in the Oval Office, in this White House handout photograph taken on May 21, 2010 and released on June 7, 2010. [Photo/Agencies]

WASHINGTON - US President Barack Obama's top two communications advisers plan to step down in the coming months, leaving a hole in his senior staff as the White House tries to keep attention on an ambitious agenda before the 2016 presidential campaign.

Dan Pfeiffer, a senior adviser and longtime member of Obama's inner circle, is stepping down in early March, and Jennifer Palmieri, the White House communications director, plans to leave later this spring.

The moves are the most significant shake-up of White House staff since the 2014 midterm election when Republicans gained control of the US Senate and strengthened their majority in the House of Representatives.

Obama rejected calls for a shake-up at the time, and has managed to seize the initiative in Washington with changes to US-Cuba policy and a rollout of middle-class-focused ideas in his State of the Union address last month.

The White House painted the upcoming departures as a chance to bring in new blood.

"While their departures are significant, there is indeed value in bringing in new, energized staff with fresh ideas and new perspectives," a White House official said.

|||

Palmieri has been reported to be in the running for a top communications job in former Secretary of State Hillary Clinton's expected presidential campaign. The White House declined to comment on her next move, and a spokesman for Clinton did not immediately return a request for comment.

Pfeiffer has advised Obama since his 2008 presidential campaign and is one of the last of the president's close confidants from that period to be leaving his immediate orbit.

"Like everyone else in the White House, I've benefited from his political savvy and his advocacy for working people," Obama said in a statement. "He's a good man and a good friend, and I'm going to miss having him just down the hall from me."

Pfeiffer is fond of sparring with reporters on Twitter and has spearheaded the administration's effort to use social media to spread its message, sometimes seeking to bypass traditional news organizations in the process.

Obama has been criticized for relying too much on an insular group of advisers, many from his Chicago-based campaign. But communication gurus such as David Axelrod and David Plouffe, who both spent stints in the White House after helping get him elected, have long since moved on.

Pfeiffer has experienced some health difficulties in recent years, including stroke-like symptoms.