Source:
China Daily
Xi and Indian PM home in on closer ties
Published:
25 Feb 2015 23:50:21 PST
Modi expected to visit president's province in May
Hometown diplomacy is emerging as the latest trend to showcase the closeness of ties between countries.
President Xi Jinping is expected to take Indian Prime Minister Narendra Modi to his home province of Shaanxi in May during his visit to China, Indian media reported.
He aims to repay the hospitality he received in Modi's home state of Gujarat, the first stop of Xi's Indian trip in September, the Press Trust of India news agency reported.
Such a practice is not new, but has been an increasing occurrence recently and has often coincided with key national strategies, generating widespread public interest.
Shortly after Xi proposed the Silk Road Economic Belt to revive the ancient trading route, in September 2013 he visited Uzbek President Islam Karimov's hometown of Samarkand, a city with a 2,500-year history and a major stop along the ancient Silk Road.
Russian Prime Minister Dmitry Medvedev visited Hefei, the capital of Premier Li Keqiang's home province of Anhui, the following month.
Medvedev visited a temple honoring Bao Zheng, a high-level official in the Song Dynasty (960-1279) who was known for the strict way in which he upheld justice and opposed corruption.
Yao Yao, who heads a soft-power studies center at China Foreign Affairs University, said hometown diplomacy is an efficient way to nurture personal friendship between top leaders.
For instance, it will enable Xi, who started his career in Shaanxi, and Modi, who governed Gujarat for 12 years, to share their experiences.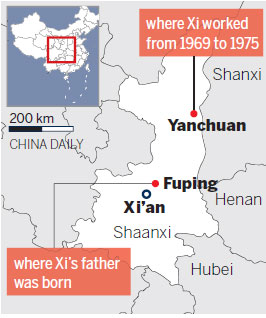 More important, such diplomacy has often occurred at key junctures for China's strategic agenda when Beijing has launched initiatives to introduce the nation's policies and seek cooperation, he said.
"As the capital city of Shaanxi, Xi'an is the starting point of the ancient Silk Road. Modi's trip to Shaanxi is likely to be related to Beijing's Silk Road proposals to connect China with Europe through a host of Asian countries," Yao said.
Indian media reported last year that during his first state visit to India, Xi invited Modi to visit Xi'an, where famed Buddhist monk Xuan Zang spent his final years after his return from India some 2,000 years ago.
Jiang Jingkui, director of the Center of South Asian Studies at Peking University, said the trip to Shaanxi will strike a friendly tone for both nations.
Jiang said the Shaanxi visit, along with the Indian foreign minister's recent trip to Kunming, the capital of Yunnan province, signals India's warming response to the Silk Road initiative. Kunming, the first stop of Indian External Affairs Minister Sushma Swaraj's visit, which ended on Tuesday, is one of the starting points for the 21st Century Maritime Silk Road initiative.
zhaoshengnan@chinadaily.com.cn