Source:
China Daily
Australia vows to improve border security amid terrorism scare
Published:
25 Feb 2015 23:50:21 PST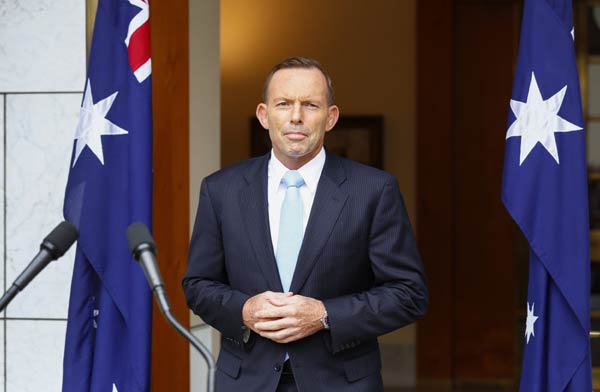 Australia's Prime Minister Tony Abbott addresses members of the media after a party room meeting at Parliament House in Canberra February 9, 2015. [Photo/Agencies]

CANBERRA -- The Australian government will step up its border security measures to help fight terrorism in Australia following the latest security threat in Sydney, Prime Minister Tony Abbott said on Thursday.

"At every level, we are lifting our game when it comes to national security," Abbott told radio station 3AW.

His comments were prompted by the arrest of two suspected "lone wolf" terrorists on Tuesday, the third such terror-related incident in Australia in the past six months.

In September, two police officers were injured and their assailant killed outside a Melbourne police station, while in December, a 16-hour siege occurred in Sydney's CBD which resulted in the deaths of two hostages and the gunman.

Omar al-Kutobi, 24, and Mohammad Kiad, 25, were arrested by police in suburban Sydney on Tuesday just hours before they were allegedly going to execute a terror plot.

Abbott's comments were supported by Immigration Minister Peter Dutton who suggested that one of the terror suspects may have arrived illegally more than five years ago, raising concerns about Australia's "porous" border security under the previous Labor government.

|||

Speaking on Channel Nine on Thursday morning, Dutton said that Australia was inundated by illegal immigrants at the time -- in 2009 -- when one of the accused suspects was thought to have arrived.

"The initial advice to me is that allegedly one of the suspects may have come to Australia with some false documentation," he said.

"At that stage, bearing in mind it was in 2009 ... Over that long period about 50,000 people came on 800 boats ...It was a difficult time for our intelligence agencies."

Abbott also acknowledged that internal threats were on the rise, and said that terror groups were "broadcasting around the world to grab a knife a flag, an iPhone and a victim".

He told Parliament on Wednesday that the rise of home grown radicals will be an ongoing problem, and that constant vigilance was required to keep the nation safe.

"This is a serious issue and I suspect it will get worse before it gets better ... there are those out there, some living in our midst, who would do us harm," Abbott said.