Source:
China Daily
Leaders hold Ukraine peace talks as fighting surges
Published:
25 Feb 2015 23:50:19 PST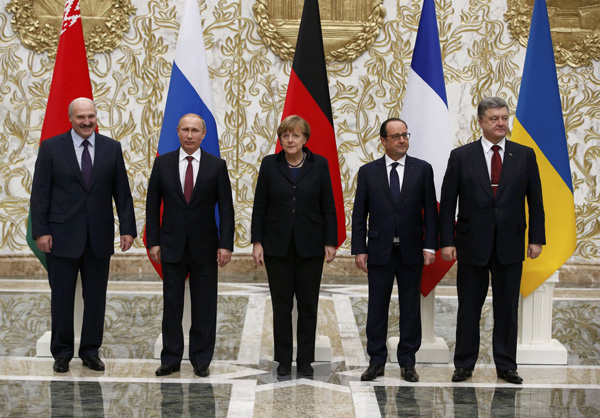 Belarus' President Alexander Lukashenko (L), Russia's President Vladimir Putin (2nd L), Ukraine's President Petro Poroshenko (R), Germany's Chancellor Angela Merkel (C) and France's President Francois Hollande pose for a family photo during peace talks in Minsk, February 11, 2015. [Photo/Agencies]

MINSK - The leaders of France, Germany, Russia and Ukraine held peace talks in Belarus on Wednesday.

Fighting has already killed more than 5,000 people, and Washington is now openly talking of arming Ukraine, raising the prospect of a war in the heart of Europe.

The summit was being held in neighbouring Belarus under a Franco-German proposal to try to halt the fighting. Chancellor Angela Merkel and President Francois Hollande began talks with Ukraine's Petro Poroshenko and Russia's Vladimir Putin.

The leaders were planning to sign a joint declaration supporting Ukraine's territorial integrity and sovereignty, a Ukrainian delegation source said.

The source said a separate document would be prepared by a "contact group" of Russia, Ukraine and the Organization for Security and Cooperation in Europe affirming commitment to a ceasefire plan drawn up in Minsk last September and also signed by separatist leaders.

|||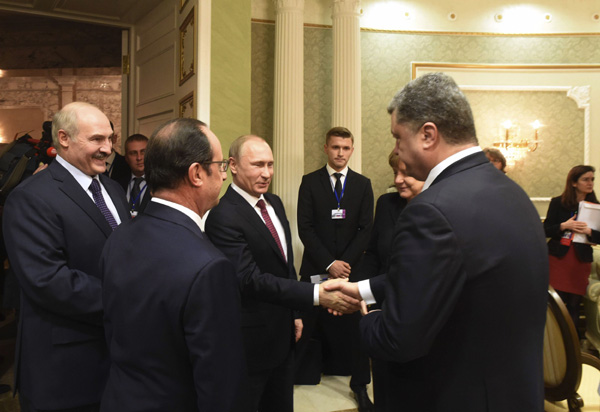 Russia's President Vladimir Putin (3rd L) shakes hands with his Ukrainian counterpart Petro Poroshenko, with Belarus' President Alexander Lukashenko (L), France's President Francois Hollande (2nd L) and Germany's Chancellor Angela Merkel standing nearby, as they take part in peace talks on resolving the Ukrainian crisis in Minsk, February 11, 2015. [Photo/Agencies]
The four leaders met alone at about 17:15 GMT and then went into a full summit with their delegations.
Earlier, Poroshenko said that without a de-escalation of the conflict and a ceasefire the situation would get "out of control". 
The outcome of the talks is expected to influence discussions at an EU summit in Brussels on Thursday, when sanctions against Moscow will be on the agenda.
Still, Moscow expressed optimism. A Russian diplomatic source said it was 70 percent likely that an agreement would be reached.
Foreign Minister Sergei Lavrov said there had been progress in the run-up to the summit but Kiev could be holding back a deal by insisting on control of the Russian-Ukrainian border, part of which is held by the separatists.
The talks are taking place while an International Monetary Fund mission is trying to negotiate a bailout to save Ukraine from bankruptcy.
Prime Minister Arseny Yatseniuk said he hoped for a deal in the next 48 hours and IMF chief Christine Lagarde said she would make a statement on Ukraine early on Thursday.