Source:
China Daily
Egypt confirms killing of 21 Christians in Libya by IS
Published:
25 Feb 2015 23:50:19 PST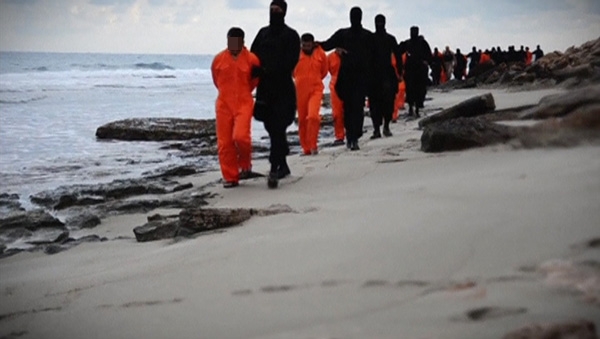 Men in orange jumpsuits purported to be Egyptian Christians held captive by the Islamic State (IS) are marched along a beach said to be near Tripoli, in this still image from an undated video made available on social media on February 15, 2015. [Photo/Agencies]

CAIRO - The Egyptian Orthodox Church confirmed late on Sunday the killing of 21 Egyptian Coptic Christians kidnapped by Islamic State (IS) militant group in Libya, state-run MENA news agency reported.

"We watched the painful video. We can confirm the slain were our kidnapped sons in Libya," spokesman for the Coptic Orthodox Church in Egypt, Polis Halim, was quoted by MENA as saying.

The spokesman said the Church is in contact with a number of government institutions to follow up the situation.

Meanwhile, Egyptian President Abdel Fattah al-Sisi, has called for an urgent meeting of the National Defense Council.

He also declared a seven-day period of mourning over the death of the victims.

On Sunday, the IS militant group published a video purportedly showing the beheading of 21 Egyptian Coptic Christians abducted in Libya.

|||

The victims, dressed in orange, were lined up near the seashore and forced to knee on the ground.

The Egyptians were abducted in Libya's central city of Sirte on two separate occasions in December and January, only one week apart.

Sisi said early Monday that his country reserves the right to respond at the proper time to the killing. He warned Cairo would choose the "necessary means and timing to avenge the criminal killings".

In a televised speech, Sisi said Egypt is able to defeat terrorism because "Egypt is defending humanity."

He ordered an ongoing convention of the National Defense Council, urging the government to move swiftly to assist the victims' families.

"We all need to be united to fight terrorism," Sisi said.

The Egyptian president also said that he ordered the government to enforce a travel ban to Libya.