Source:
China Daily
Japan panel to discuss PM speech for anniversary of WWII end
Published:
25 Feb 2015 23:50:19 PST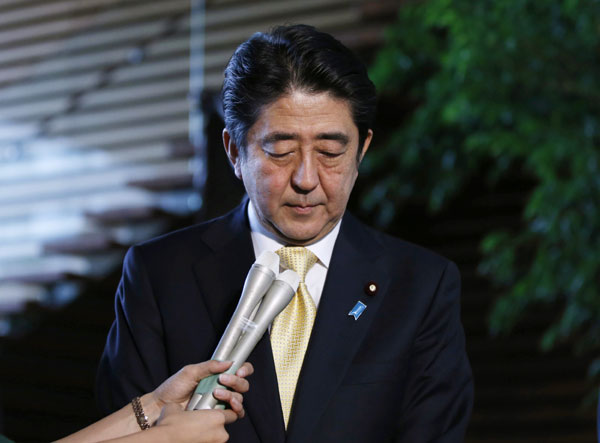 Japan's Prime Minister Shinzo Abe reacts as he speaks to the media at his official residence in Tokyo in this Oct 20, 2014 file photo.
TOKYO - A panel of experts appointed by Japan's prime minister will meet for the first time Wednesday to discuss what he should say in a statement marking the 70th anniversary of the end of World War II, fueling speculation that he may water down previous government apologies for the country's wartime past.
Japan issued a landmark apology on the 50th anniversary in 1995 under then-Prime Minister Tomiichi Murayama, for the first time acknowledging its colonization and aggression in parts of Asia before and during the war. In 2005, then-Prime Minister Junichiro Koizumi also apologized.
Current Prime Minister Shinzo Abe has appointed a 16-member panel _ 10 academics, three business leaders, two journalists and an international aid worker _ to seek advice on what to say in a statement he is expected to make on the Aug. 15 anniversary of the war's end.
Abe, who took office in late 2012, initially signaled his intention to revise the 1995 Murayama statement, triggering criticism from neighboring countries. He now says his Cabinet stands by the 1995 apology, but that he wants to issue a more forward-looking statement on the anniversary, raising suspicion that he will somehow water down the apology.
The debate over the statement reflects a simmering divide in Japan, seven decades after the war.
On one side are those who say the accounts of Japan's wartime atrocities are falsified or exaggerated, and that it's time to restore pride among Japanese in their country. On the other are liberal defenders of Japan's constitution who don't want the country to forget its colonization of Korea and invasion of China and Southeast Asia, and the disaster they spawned.