Source:
China Daily
Half of China's aluminum smelters running at a loss
Published:
25 Feb 2015 01:21:18 PST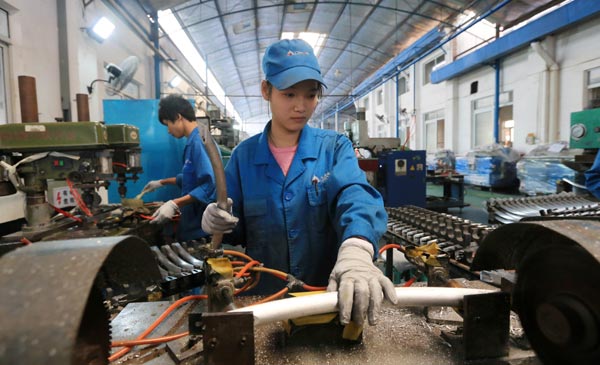 A worker at a production line of Nannan Aluminum Co Ltd in Nanning, capital of Guangxi Zhuang autonomous region. The Shanghai aluminum price has fallen to the point that at least half of the country's total operating capacity is running at a loss, according to some estimates. [Photo/China Daily]

It is supposed to be a question without an answer, a test posed by the master to the disciple in the Zen journey toward enlightenment.

But it is also as good a description as any of the current state of global aluminum production.

The one hand clapping is that of the non-China world, where producer discipline has tamed supply sufficiently to drag the market into a state of deficit.

Such enlightenment has taken several years to achieve and marks only the very first step toward correcting the mistakes of the past. These still weigh heavily over the aluminum price in the form of millions of metric tons of accumulated surplus.

Absent, though, is the second hand.

The Chinese aluminum smelter sector remains profoundly ill-disciplined with older zombie smelters kept alive by local governments and new capacity still opening.

The Shanghai aluminum price is accordingly bombed out to the point that at least half of the country's total operating capacity is running at a loss, according to some estimates.

This polarity of global aluminum production is nothing new. It has been going on for ages, but it is becoming ever starker.

Production of aluminum outside of China stood at 24.43 million metric tons last year, according to the International Aluminum Institute. That represented a year-on-year decline of 0.7 percent. It was the third consecutive year of falling output.

The sharpest fall in production last year, a near 20-percent contraction, took place in Latin America, where Brazil's once mammoth smelter sector is still being whittled down by the toxic cocktail of low prices and high energy tariffs.

|||

China is different

The situation could not be more different in China itself. Production last year rose 7.7 percent to 24.38 million tons, according to the National Bureau of Statistics. The complementary production figures from China's Nonferrous Metals Industry Association are not out yet, but the two figures were closely aligned through the first 11 months of 2014.

They also have something else in common.

They are serious undercounts of the true state of aluminum production in China. To be fair to the IAI, which publishes the CNMIA figures, it now includes a 300,000-ton per month estimate for unreported Chinese production.

That is 3.6 million tons per year, equivalent to last year's production in the whole of Western Europe. And that is about right, according to China specialists AZ China. They estimate national production last year was somewhere in the region of 27.5 million to 27.7 million tons.

The twin drivers of higher production were continued expansion of capacity in the Xinjiang Uygur autonomous region and about 2 million tons of restarts thanks to discreet but effective power subsidies from local governments.

The combination will overwhelm closures of obsolete capacity again this year, with production likely to rise further to 29 million tons, according to AZ China.

The title of its Jan 9 research note, "oversupply to drown China's aluminum market", pretty much says it all about the chances of Chinese producers reaching the same state of enlightenment as their Western peers.

This polarization is plain to see in the performance of aluminum prices on the London Metal Exchange and the Shanghai Futures Exchange.

Relative to the start of 2014, the LME price is up almost 4 percent and the SHFE price is down by more than 13 percent.

Chinese smelters seem set for more financial pain. Speaking at Reuters Base Metals Forum, Paul Adkins of AZ China suggested industry leader Aluminum Corp of China Ltd is looking to form a consortium to channel metal away from the SHFE and directly to consumers as a way of propping up prices.

The chances of this working appear painfully slim.

|||

Safety valve

The main safety valve for Chinese smelters remains the leakage of domestic surplus into the international market in the form of semi-manufactured products.

While there is still a 15 percent export tax on primary metal, semi-manufactured products still qualify for value-added tax rebate.

Disconcertingly for non-Chinese producers, such exports have been steadily increasing thanks to the gap between domestic and international prices. December's implied tally from the preliminary figures released on Jan 15 was a fresh all-time high.

And really disconcertingly for non-Chinese producers, it is now widely accepted by analysts that some of this outbound flow is metal that has undergone minimal cosmetic transformation to classify as a "semi" and therefore qualify for the tax rebate.

That means not only are Chinese semis displacing demand for products outside of China, they are partly displacing demand for primary metal as well.

AZ China's Adkins suggests that China may be getting wise to this situation, increasing the level of inspections of outbound cargoes. Simple market forces may also limit growth in Chinese exports to what is an increasingly saturated Asian market.

Those non-Chinese producers still holding the line on production cutbacks can only hope so.

Until then they will be clapping the price higher with only one hand.

The author is a columnist for Reuters.