Source:
China Daily
Dalian Wanda shows that it is on the ball
Published:
25 Feb 2015 01:21:18 PST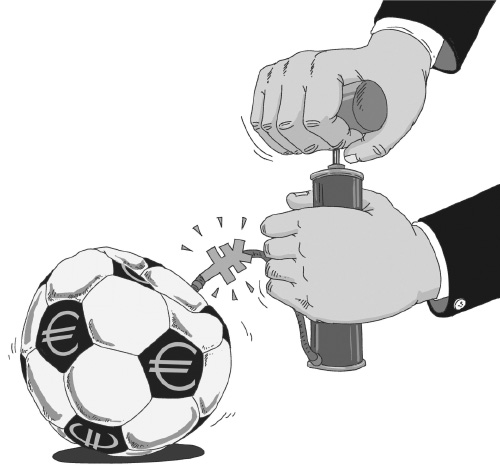 Chinese injection of cash into Spanish club is good news for cash-strapped football clubs in Europe

So the European Central Bank plans to inject about 1 trillion euros ($1.14 trillion) in order to reflate the persistently sluggish eurozone economy. Good news for the European economy generally, but can government and public sector money-pumping really establish self-perpetuating economic growth Or is it just one important contributory factor that works best in partnership with substantial capital investment from the private sector

Economic history points to the latter.

Dalian Wanda's announcement of a 20 percent purchase of European soccer club Athletico Madrid provides, therefore, equally positive news for the European economy.

This latest European investment by Wanda, one of China's largest conglomerates, with roots in the property business, will result in a much-needed injection of $52 million into the ailing Spanish economy.

Not that Wanda's latest European venture should come as a complete surprise, even though it is the first stake by a Chinese investor in a big European soccer club. Wanda also recently signed an agreement for a major construction project in London at a cost of $625.6 million.

Also last year, Wanda paid 320 million pounds ($484 million) for the prestigious UK luxury yacht builder Sunseeker, and the year before paid $2.6 billion for the United States-based cinema chain AMC.

Clearly, the ECB owes Wanda and many other Chinese companies a huge debt of gratitude for their continued and substantial investment across Europe and the eurozone in particular.

In total, Chinese companies announced 79 takeover deals in Europe last year, with an average worth of $249 million. Furthermore, the five largest deals done by Chinese investors in Europe were worth $6.6 billion last year, compared to only $1.4 billion for European companies.

But is Wanda's most recent and sizeable stake in the European soccer industry more significant and portentous than it might appear Is it just another European investment or perhaps the beginnings of many more similar deals between cash-rich and investment-hungry Chinese corporates and Europe's debt-ridden soccer industry

|||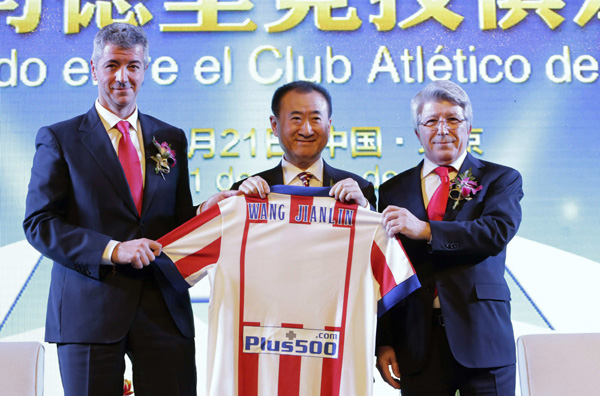 Wang Jianlin (C), chairman of Dalian Wanda Group, holds an Atletico Madrid jersey with his name, to pose for a photo with Atletico Madrid's President Enrique Cerezo (R) and managing director Miguel Angel Gil after a signing ceremony in Beijing, January 21, 2015. [Photo/Agencies]

There is no doubt that soccer is the global sport, and European soccer sits proudly at the top of the ladder.

In recent years, particularly since the birth of England's Premier League, soccer has even eclipsed other popular forms of entertainment.

In addition to the Premier League, European leagues in Spain (Primera Division), Italy (Serie A), Germany (Bundesliga) and France (Ligue 1) possess by far the most valuable soccer club brands worldwide.

According to the rankings last year, the Premier League's Manchester United has an enormous brand value of $739 million. But this gargantuan figure does not place Manchester United as the No 1 ranked soccer club brand. Bayern Munich claimed that honor last year, during which they triumphed in both their domestic league and cup competitions, and for the second year running had an estimated brand value of $896 million.

Real Madrid and Barcelona sit in second and fourth place respectively with brand values of $768 million and $622 million.

If these figures provide insufficient proof that the European soccer industry is big business and a huge investment opportunity, one need look no further than the 580 million euros generated from key short sponsorships alone for the 2014-15 season in the top five European soccer leagues.

But what is not as widely publicized are the incredible levels of debt in which many of these very same soccer clubs find themselves. This makes Wanda's first European soccer industry venture all the more astute.

It also may pave the way for further investment from many of China's most cash-rich companies.

Manchester United's brand may well be valued at $739 million but it was reported last year that the club also carries $569 million in debt.

The Glazer family, which took full ownership of the club in 2005, bought it with the use of various loans that appear to have been secured against club assets.

Currently, Manchester United has the most debt in world soccer.

|||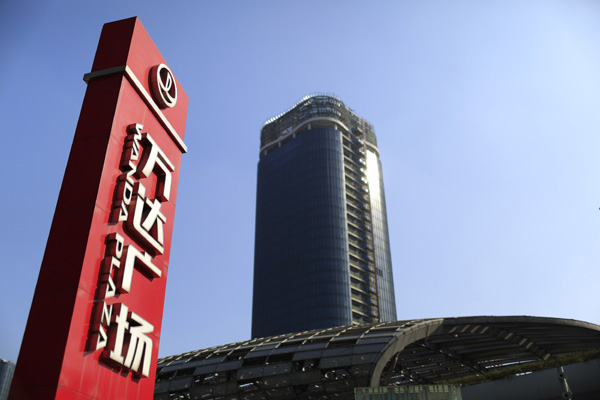 The logo of Wanda Plaza is seen in Shanghai December 23, 2014. [Photo/Agencies]
Not far behind is one of Manchester United's Premier League rivals, Arsenal. Its new stadium, the Emirates, which opened at the start of the 2006-07 season is the main reason for the club's $384 million debt.
Real Madrid and Barcelona do not fare much better with current debt levels of $165 million and $156 million respectively.
The causes of these debts vary from the capital investment needed to build a totally new ground to the exorbitantly high wage bills at many of Europe's top clubs such as Barcelona. Real Madrid's habit of forking out the highest amounts in transfer deals almost certainly explains its current debt level.
But far lesser known soccer clubs also find themselves heavily and dangerously in debt, often due to relegation from the top tier of their domestic league. These clubs may benefit most from a Wanda-like investment injection.
Two of the most recent casualties of the England Premier League, Bolton Wanderers and Queens Park Rangers are perfect examples.
At the end of the of the 2012-13 English Premier League campaign, QPR found themselves relegated. As a result of their relegation from England's top flight, QPR's revenue stream shrunk. The club's current debt level stands at $145 million.
After an 11-year stay in the English Premier League, Bolton were relegated at the end of the 2011-12 season and suffered a QPR-style nosedive in revenue. At the end of 2013, the club announced that its debt had grown to $267 million and that they had lost more than $83 million in one year alone.
Such is the revenue gap between the top tier in most of European soccer's domestic leagues and the next level down that these devastating riches-to-rags stories look set to continue. Ideal investment opportunities for Wanda and other European-focused, cash-rich Chinese corporations.
Wanda's Athletico Madrid investment move could, therefore, be the first of many more by the company and other Chinese companies with similar European expansion plans.
European soccer clubs should welcome this possibility with open arms. Wanda and most other Chinese European-expanding companies will probably provide much-needed investment from their existing cash reserves and will not add to any financial burden with any debt-financed capital injection. Chinese business leaders, while more and more determined to expand into and across lucrative European markets, remain cautious and conservative when it comes to financing overseas market penetration. That is good news for Europe's already debt-ridden and cash-strapped soccer clubs.
Furthermore, a Chinese investor will surely allow a top European soccer club to appeal more to the soccer-mad Chinese public.
The European soccer industry and its top flight clubs should study closely the Wanda capital injection at Athletico Madrid and put Chinese companies and Chinese entrepreneurs firmly on their investor radar.
The author is a visiting professor at the University of International Business and Economics in Beijing and a senior lecturer in marketing at Southampton Solent University's School of Business. The views do not necessarily reflect those of China Daily.