Source:
China Daily
Watchdog finds sub-standard goods in online malls
Published:
25 Feb 2015 01:21:17 PST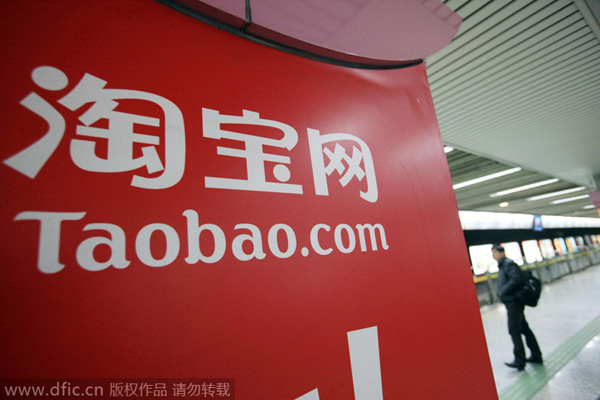 An advertisement for online shopping site Taobao.com of Alibaba Group is seen at a metro station in Shanghai, Nov 12, 2014. [Photo/IC]

Only just over 50 percent of goods bought online are genuine and meet national quality standards, China's State Administration for Industry and Commerce said.

A survey conducted between August and October revealed that 54 out of 92 items purchased from online shopping sites were authentic.

The biggest offender was found to be Taobao.com. Of 51 items bought there, only 19 were genuine.

Elsewhere, 6 of 7 items from Tmall.com; 18 of 20 from JD.com and 9 of 10 from Yhd.com proved genuine.

Alibaba founder Jack Ma Yun, discussing the online sale of fake goods at the World Internet Conference in November, said sellers of fake goods are afraid to sell their products on Taobao, as they can be tracked down easily and reported to police.

Two items bought on JD.com Inc were found mislabled. The online mall said by email that they have taken actions and contacting the affected customers. One seller was removed from the online shopping mall in August, the company said.

The company imposes strict penalties on staff involved with fake or sub-standard goods as well as the goods sellers. It randomly inspect the goods at least three times a week.

Yhd.com has removed the suspected goods after the government announced the survey result, and both the company and the sellers are tracking the goods and investigating the issue, said Gao Ying, the company's spokesman.

He told chinadaily.com.cn that the consumers affected will be compensated in accordance with the Consumer Protection Law.

Related story:

Alibaba spent $163m fighting fake goods by chinadaily.com.cn

Alibaba Group Holding spent over 1 billion yuan ($163 million) fighting counterfeits goods and improving customer protection in the past two year till November, the world's largest e-commerce company said on Tuesday.

Alibaba worked with brand holders and tackled six million web links containing infringement items for the first three quarters this year, assisting in more than 1,000 cases and arrests of nearly 400 suspects, said the company.

|||

It's the first time that the Internet behemoth has disclosed data related to its crackdown on counterfeits.

"From Alibaba Group's perspective, we bear a serious responsibility in this fight against counterfeits," said Alibaba Chief Executive Jonathan Lu in a statement.

A team of 2,000 staff works in the battle against fake goods, which includes hackers, authentication specialists and data modeling analysts, reported Beijing Times on Wednesday.

Alibaba plans to launch a "strike out" standard next year to tackle counterfeits, which means accounts will be frozen permanently if a brand files complaints against the same seller three times, said Shao Xiaofeng, the company's Chief Risk Officer, at a press conference on Tuesday.

Alibaba is expected to clamp down against counterfeits with greater aggression, particularly as it debuted at New York Exchange with a record-setting $25 billion listing in September.

Ma said at the World's Internet Conference in Wuzhen last month that only the Internet can solve the problem of counterfeits.

"After some research among fake goods producers in Guangdong and Fujian provinces, you may find that they are now afraid to sell their products on Taobao, as we can track them down easily and report to the police," he said.