Source:
China Daily
Ministry to step up effort to crack down on fake goods online
Published:
25 Feb 2015 01:21:17 PST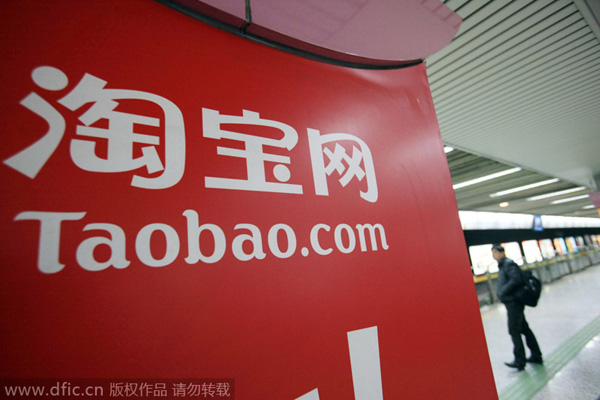 An advertisement for online shopping site Taobao.com of Alibaba Group is seen at a metro station in Shanghai, Nov 12, 2014. [Photo/IC]

China's Ministry of Commerce will step up its efforts to crack down on counterfeits and shady products in the nation's booming online market, a spokesman said on Thursday.

Ministry spokesman Shen Danyang told a news conference in Beijing that through cooperating with government and industrial organizations as well as enterprises, the ministry will strengthen its efforts to get rid of fake goods online and maintain healthy order in the market.

Shen's comment came a day after Taobao, the largest consumer-to-consumer online marketplace, filed a complaint against an official at a government watchdog.

Taobao, which is owned by e-commerce giant Alibaba Group Holding Ltd, said in an open letter on Wednesday that is had been treated unfairly in a quality check by the State Administration for Industry and Commerce.

A report recently released by the SAIC showed that less than 40 percent of Taobao's products are authentic. Taobao questioned the objectiveness of the report and accusing the SAIC of abusing its power.

Shen said that the booming online shopping market in China not only created more job opportunities but also boosted consumption. During 2014, the ministry investigated and handled more than 11,000 cases involved with intellectual property rights violations.

Related Story:

Taobao accuses State Administration for Industry & Commerce of unfair treatment by Meng Jing

After being named and shamed as the online shopping site with the most fake goods in China, Alibaba's Taobao marketplace has stepped up to the challenge, accusing the State Administration for Industry and Commerce, one of the country's top watchdogs, of unfair treatment over ita random quality inspection.

|||

Taobao, the largest customer-to-customer online marketplace, posted an article on Tuesday saying that the SAIC published a misleading report over a "problematic" random quality inspection.

The article, which is claimed to have been written by a Taobao employee, said that the quality inspectors sampled very few items and there is no logic to the report.

The report, which was released by the SAIC on Friday, said just over 50 percent of goods bought online are genuine and meet national quality standards.

Taobao marketplace was found to have the worst performance, with only 37.25 percent of its goods being genuine products, compared with 90 percent for JD.com and 85.71 percent for Tmall, a business-to-customer site of Alibaba.

The quality inspection was conducted between August and October. As many as 92 items from six online sites are chosen for the test, 51 of which were from Taobao.