Source:
China Daily
Apps bring offline services to your doorstep
Published:
25 Feb 2015 01:21:16 PST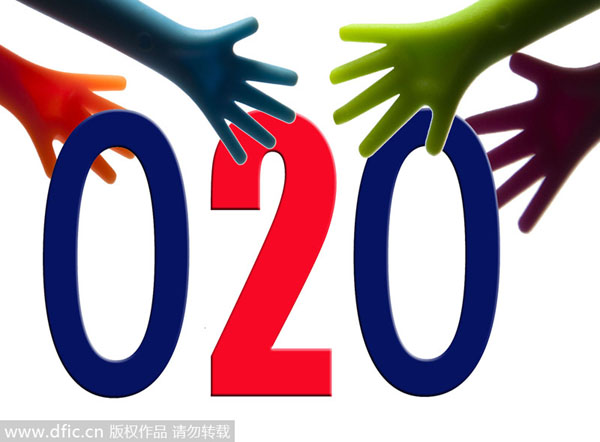 The model of "ordering online and being served offline", or O2O is blossoming in China and transforming not only the way people live but also the operation of traditional businesses. [Photo/IC]

Entrepreneur Hou Guopeng recently launched a service that is expected to significantly improve the life of pet owners in Beijing.

By booking services on Hou's application Momoda, pet owners can have their dogs or cats washed and dried by professional pet groomers in the comfort of their own homes.

Hou's door-to-door pet cleaning business is rather novel, but he is certainly not the first entrepreneur to connect technology and daily services in a bid to cash in China's booming online to offline market.

Thanks to a growing group of entrepreneurs, such as Hou, many people in China's major cities can get easier access to a range of goods and services.

These include booking a manicure on the Helijia app, while Yaogeili can deliver nonprescription drugs to your doorstep within one hour, Yunjiazheng can send a housekeeper to clean your home and Gongfuxiong can even send a massage therapist to your home or office when you feel tired.

The model of "ordering online and being served offline", or O2O is blossoming in China and transforming not only the way people live but also the operation of traditional businesses.

"Customers previously had to bring their dogs to the nearest pet shop and wait for hours to have their beloved animal washed and dried. If the pet shop was not clean enough, the animals would be at risk of catching infectious diseases," says Hou.

He points out that his app receives an average of 100 requests a day to wash dogs, but his team of 10 can only handle 50 dogs a day.

Just like Momoda, the O2O sector is small but growing quickly.

Statistics from Beijing-based Internet consultancy Analysys International says that the O2O market was worth 240 billion yuan ($38.54 billion) in 2014, compared with 200 billion yuan in 2013.

|||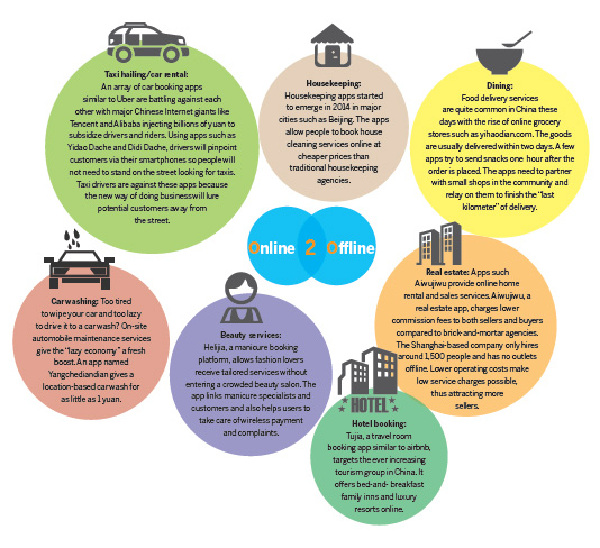 The growing demand for better services and the huge amount of capital betting on the rosy future of the Internet industry are the two major forces behind the rise of the O2O market, which is eventually expected to be worth as much as 1 trillion yuan, says Sun Mengzi, a senior analyst with Analysys International.

However, for an O2O business to succeed, it must provide a better user experience at a lower price.

"Otherwise, there is no point for people to use your product," says Ren Bin, founder of Yaogeili, an app that can deliver non-prescription drugs to your doorstep within an hour after receiving the online order.

All the drugs sold via Yaogeili are from the app's partnered pharmacies but are sold at a 10 percent discount.

"The reason that homedelivery drugs are even cheaper than the same goods sold in brick-and-mortar stores is that our mobile delivery team can reach more potential customers, therefore boosting the sales of traditional pharmacies without creating any additional costs," he says, adding that the delivery costs are far outweighed by the profits from increased sales.

According to Ren, who has a decade of experience in China's Internet industry, a traditional pharmacy receives a daily average of 20 customers because it can only cover a very small geographical area.

"With the help of our app, it can now double its daily orders while customers save money and time," says Ren, pointing out that he received around 100 orders on the very first day his app was launched less than a month ago.

Unlike Yaogeili, the majority of startup O2O businesses cannot beat their brick-andmortar counterparts in terms of price although they do have the upper hand when it comes to convenience.

If you want one of Hou's team to come to your home to wash your pet it will cost 50 yuan, while you will only have to fork out around 40 yuan at a brick-and-mortar store.

A significant proportion of Internet startups have a long way to go before breaking even and most of them lack a clearly defined business model.

|||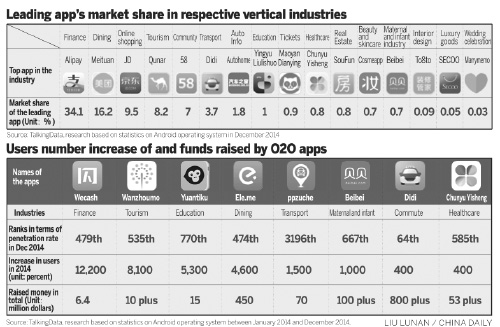 But this doesn't stop them from attracting investors' attention. Both Momoda and Yaogeili have secured millions of yuan from angel investors. And a number of investors have already lined up to take part in the next round of financing.

The most recent investments lured by Didi Dache and Kuaidi Dache, the two major taxihailing apps in China, were as much as hundreds of millions of US dollars.

"O2O is so hot in China. As soon as you spread the word about your product, investors will come on board," says Ren from Yaogeili.

He said his company will not think about its business model for at least three years.

"We just want to focus on our product first. As long as we gain enough active users, it is easy to make money from it," he says.

Ren cites Alibaba, one of the highest value Internet companies in the world, as an example.

"Alibaba would never have got where it is today, had its investors required it to make a profit from the outset," Ren says.

Rather than short-term gains, what investors care about is that whether or not there is a true demand for the service in the market.

Sun Li, co-founder of Yunjiazheng, an app that helps customers find freelance help, either housekeepers or nannies, has proven its importance to investors by witnessing a 1,000 percent surge in orders in 2014.

Sun Li is a firm believer in the "lazy people economy".

|||

"Nearly 40 percent of our users are professional workers aged between 25 and 34. They are busy and do not want to be troubled with tedious chores.

"What is worth noting is that a sizeable proportion of our users are young college students.

"It is clear that young people are not that diligent compared with their parents, signaling a rosy future for our business," he says.

Despite Sun Li and other entrepreneurs' confidence, the O2O market is still in its infancy with a lot of startups dying every year, says Sun Mengzi, from Analysys International.

Some O2O companies pose a threat to traditional stores, while others help boost the sales of brick-and-mortar businesses with Internet technology. But there is no firm that has completely reshaped its traditional businesses.

"There are security concerns with such home delivered services. There is no regulation to guide their development. And many startups' models are easily copied," the analyst says.

Because there are no successful pioneers to follow, for those who have already jumped in with their creative business ideas and the money landed from investors, a rapid expansion to become the No 1 player in their respective niche market has become the top strategy for survival.

Hou from Momoda says he is going to effectively "burn" the investment his company secured and cover more users in 2015.

"You need to stay ahead on everything. Be the first one to get investment, be the first one to expand to second-tier cites ... Otherwise you will die or be taken over by the largest player," he says.

"There is no room for second best in the O2O market."