Source:
China Daily
Chinese consumers in love with Western day of romance
Published:
25 Feb 2015 01:21:16 PST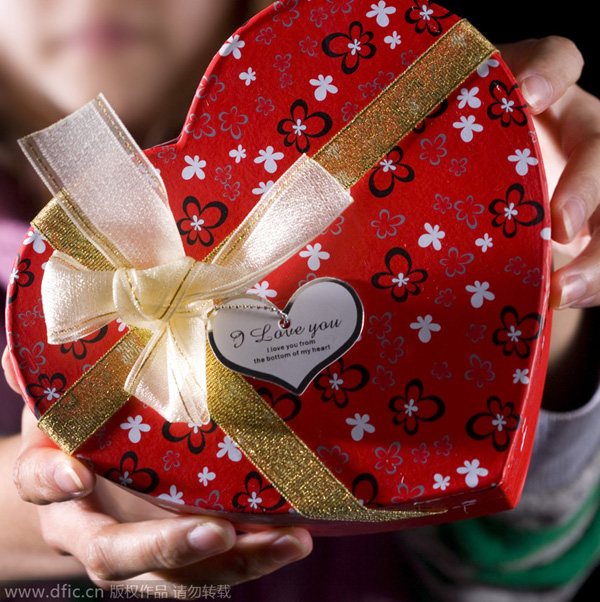 Gifes in a heart-shaped box. [Photo/IC]

Valentine's Day has become the most significant Western holiday for Chinese people, a research firm said in a survey.

United Kingdom-based Mintel Group Ltd said that 42 percent of respondents to its survey bought food as a gift for Valentine's Day last year.

Chinese consumers are increasingly celebrating some foreign festivals, according to the survey, which was carried out in September 2014. The survey was conducted in four first-tier cities, six second-tier cities and three third-tier cities. It involved 3,000 Internet users aged from 20 to 49.

When it comes to Western festivals such as Valentine's Day, dining out topped the list of ways to celebrate, mentioned by 38 percent. Next was shopping or relaxing at home, cited by 33 percent, while 32 percent opted to go out for entertainment.

Chocolate was the most popular gift, given by 58 percent of urban Chinese consumers, followed by nuts at 41 percent, baked goods at 38 percent and fruit at 35 percent.

But compared with manufacturers in other markets, food companies in China have launched far fewer products targeting Valentine's Day, said the survey. For example, China accounted for only 0.33 percent of all the Valentine-related chocolate products launched from 2012 to 2014, far less than in Western or other Asian markets, according to Mintel.

"People are more likely to convey their message of love through festive foods to their partners or spouses," said Linda Li, a senior researcher at Mintel.

Considering the rising popularity of Valentine's Day, the market is ripe for more Valentine-specific packed products, which could go beyond the heart shape and have more love-related messages or implications on the packaging, she said.

Western festivals are more popular among younger consumers in their 20s and 30s, meaning that manufacturers have more opportunities to develop products for younger people, Li said.

|||

Traditional foods and gift-giving in person dominate Chinese festive occasions, as the Lunar New Year remains the key time for Chinese people to relax and enjoy family reunions.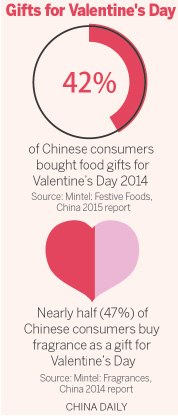 As the Lunar New Year approaches next week, according to Mintel's research, most consumers will be on the road or taking a holiday (59 percent), followed by visiting friends and relatives (51 percent), shopping (49 percent), dining out (45 percent) and relaxing at home (44 percent).
Food plays a very important role in celebrating holidays in China. Mintel's report reveals that 90 percent of urban Chinese consumers choose food as gifts during traditional festivals and almost half for Western festivals as well.
Nearly half of the consumers surveyed buy food traditionally associated with each festival, and the same proportion prefer giving gifts in person, despite the convenience of delivery services.
Some online retailers are offering traditional, locally hand-made food packaged in natural brown paper, with just a simple description of the food in traditional calligraphy, giving the whole package a nostalgic feel.
Emma Tang, a Shanghai resident, bought local desserts and childhood toys wrapped in red paper for her friends for Spring Festival, with a gift list in Chinese calligraphy.
"Things we loved when we were just kids touch the softest part of our heart and remind us of who we really are," said Tang.