Source:
China Daily
Ping An buys Tower Place in London
Published:
25 Feb 2015 01:21:15 PST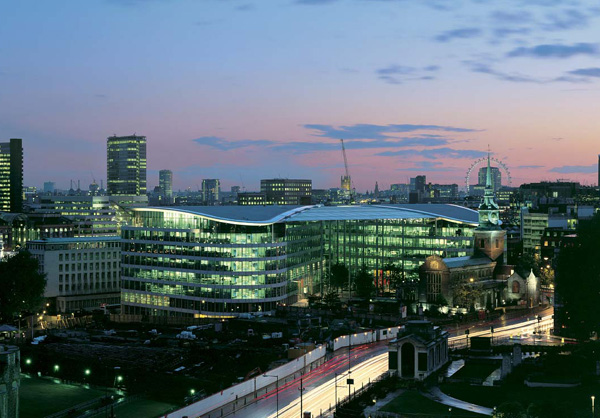 Photo shows the Tower Place in London. [Photo/Tower Place website]
Ping An Life Insurance (Group) Co of China Ltd has acquired another landmark site in London, after it bought the Lloyds of London building a year and half ago, highlighting Chinese insurers' growing appetite for trophy real estate in international gateway cities after the sector was given freedom to invest overseas since 2012.
The second-largest insurer in China has bought Tower Place in the City of London for 327 million pounds ($491 million), the seller, Deutsche Asset & Wealth Management, said on Thursday night. Ping An did not respond to calls for comment on Friday.
Tower Place was designed by renowned architect Norman Foster and is in the heart of London's insurance district. The anchor tenant of the low-rise office and shopping complex is the United States-based insurance consultancy Marsh & McLennan Companies Inc, according to a statement by Gaw Capital Partners, the Hong-Kong-based private-equity firm that advised Ping An on the deal.
Ping An in July 2013 bought the Lloyds of London building, home to the world's oldest insurance market, for 260 million pounds. Gaw Capital Partners advised that deal as well.
A number of high-profile overseas purchases made by China's insurers and other financial institutions occurred after the industry regulator made it easier for insurers to invest in overseas real estate in 2012. The Lloyds deal was followed by the June 2014 purchase of a tower in London's Canary Wharf for 795 million pounds by a group led by China Life, the nation's largest insurer.
Anbang Insurance Group Co, another major insurer in China, sealed a $1.95 billion purchase of New York's Waldorf Astoria hotel, setting a new record for a single hotel transaction. The deal even provoked US government security concerns as officials soon began to review the deal. No progress has been announced.
Asian buyers spent about 9.9 billion euros ($8.86 billion) on European commercial properties in 2014, compared with 9.4 billion euros in 2013, according to data compiled by DTZ Research in London. The Chinese insurance industry spent an estimated $15 billion on overseas properties last year, according to Knight Frank LLP. That is almost triple the total from two years ago.
Chinese insurers have been drawn to European office buildings because they are typically anchored by tenants with 10-year leases and offer yields as high as 5 percent, according to real estate services company CBRE Group. That compares with Shanghai offices where three- to five-year leases and 4.5 percent yields are typical, CBRE said.
With Chinese financial institutions ramping up their hunt for prime properties, office prices in central London and Manhattan jumped 15 percent and 11 percent, respectively, in the nine months through September, according to CBRE.
Kitty Liu, senior director of CBRE Global Capital Markets, said: "Outbound real estate investment, now a flourishing component of China's overseas investments, is becoming the 'new normal'".