Source:
China Daily
Taobao locks horns with regulator
Published:
25 Feb 2015 01:21:15 PST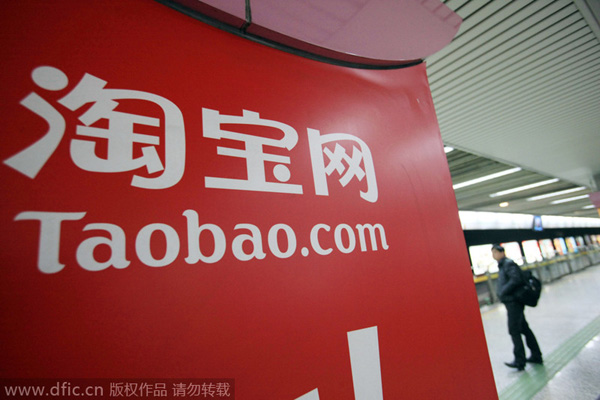 An advertisement for online shopping site Taobao.com of Alibaba Group is seen at a metro station in Shanghai, Nov 12, 2014. [Photo/IC]

E-commerce giant claims in an open letter it has been treated unfairly, accusing official of abusing power

China's largest consumer-to-consumer platform taobao.com said on Wednesday it will file a complaint against an official at a government watchdog.

It claims the official abused power and ruined the reputation of Taobao's online site as well as that of online vendors in China.

Taobao's decision escalates tension between the platform and the State Administration for Industry and Commerce.

In an open letter on Wednesday, Taobao, which is owned by e-commerce giant Alibaba Group Holding, accused Liu Hongliang, who is in charge of regulating online trade at the administration, of "using a wrong method and reaching a conclusion that is not objective".

A recent quality report released by the administration showed Taobao with the worst performance among six major online shopping sites.

The quality check, carried out between August and October, showed that less than 40 percent of goods from Taobao that were tested were authentic. This compared with 90 percent for JD.com and 85.7 percent for Tmall, an Alibaba business-to-consumer site.

At least 51 of the 92 items chosen for the administration's inspection were sampled from Taobao, according to the platform, while just 10 items were sampled from one of its competitors.

Taobao, which is headquartered in Hangzhou, Zhejiang province, said it had received unfair treatment in the quality check, according to an open letter released to the public on Tuesday.

The administration was not available for comment by press time.

|||

In response to Tuesday's open letter, the watchdog posted a white paper report on Wednesday morning, saying the online shopping site had failed to clean up its business in five areas.

These include having a flawed rating system for vendors, a low threshold for opening up on-site business, and allowing merchants to operate without business licenses, according to the regulator.

The report had been withheld until now to avoid disrupting Alibaba's US stock market debut in September. It was later removed from the main page of the administration's website.

Alibaba said it has made plenty of efforts to crack down on counterfeit goods.

The company said it spent more than 1 billion yuan ($160 million) from January 2013 to November last year on guaranteeing consumers' rights and tackling fake goods.

However, Neil Flynn, head equity analyst at Chineseinvestors.com, said consumer-to-consumer sites such as Taobao have more fake products available than business-to-consumer platforms, simply because of the nature of the business.

Flynn said Taobao had to criticize the report because reputation is very important for online retailers.

But he also said the government needs to put pressure on e-commerce firms to rid the industry of fake products, because the authorities are attracting foreign brands to sell their goods in China.

"When fakes are sold alongside authentic products, it is a legal issue and it will dissuade brands from investing in China," Flynn said.

In a survey conducted by Internet portal Sina, 48.2 percent of respondents voted to support Taobao, saying the quality check conducted by the administration had flaws. However, 40.3 percent backed the administration, saying it is important to crack down on counterfeit and suspect goods. The survey had drawn 13,427 respondents by 6:45 pm on Tuesday.

Alibaba's shares closed at $102.94 on Tuesday, down by 1.01 percent from the previous day.

Wang Zhuoqiong contributed to this story.

|||

Related stories: Alibaba sets up task force to monitor fakes, by Dai Tian, chinadaily.com.cn

Alibaba has established a special force of 300 staff to fight counterfeit goods, the e-commerce behemoth's shopping site Taobao said on Wednesday, as authorities accused it of failing to crack down on shady merchants.

With help from the government, consumers and data analysis, the company aims to solve the problem thoroughly and efficiently, said Taobao.

Its response came after the most recent round of national inspections of online goods. According to China's State Administration for Industry and Commerce, only 54 out of 92 items bought from online shopping sites between August and October were authentic.

The biggest offender was found to be Taobao.com. Of 51 items bought there only 19 were genuine, said the industry watchdog.

"Alibaba hasn't paid enough attention to illegal operations on its platform and hasn't effectively alleviated the situation," said the SAIC. "Alibaba faces not only the biggest credibility crisis since its founding, but also casts a negative influence for other e-commerce operators".

Taobao posted a response on its microblog, saying the company is willing to work with regulators, but at the same time is to file a complaint against the SAIC's Internet regulation director, Liu Hongliang, claiming that he drew inappropriate and non-objective conclusions after the investigation.

Alibaba Group announced in December that it had spent more than 1 billion yuan ($160.7 million) fighting counterfeit goods and improving customer protection in the past two years.

The company said it had worked with brand holders and tackled six million web links containing infringing items, assisting in more than 1,000 cases and the arrest of nearly 400 suspects.

|||

Nearly half of goods sold online fake, claims watchdog by Hao Yan, chinadaily.com.cn

Only just over 50 percent of goods bought online are genuine and meet national quality standards, China's State Administration for Industry and Commerce said.

A survey conducted between August and October revealed that 54 out of 92 items purchased from online shopping sites were authentic.

The biggest offender was found to be Taobao.com. Of 51 items bought there, only 19 were genuine.

Elsewhere, 6 of 7 items from Tmall.com; 18 of 20 from JD.com and 9 of 10 from Yhd.com proved genuine.

Alibaba founder Jack Ma Yun, discussing the online sale of fake goods at the World Internet Conference in November, said sellers of fake goods are afraid to sell their products on Taobao, as they can be tracked down easily and reported to police.

JD.com Inc said by email that they have taken action against sellers of fake goods and were arranging compensation for affected customers.

One seller was removed from the online shopping mall in August, the company said.

The company imposes strict penalties on staff involved with fake goods as well as fake or sub-standard goods sellers.

It randomly checks goods at least three times a week.

Yhd.com has removed the suspected goods after the government announced the survey result, and both the company and the sellers are tracking and investigating the goods, said Gao Ying, the company's spokesman.

He told chinadaily.com.cn that the consumers affected will be compensated in accordance with the Consumer Protection Law.