Source:
China Daily
There's more to Anbang story than just meets the eye
Published:
25 Feb 2015 01:21:15 PST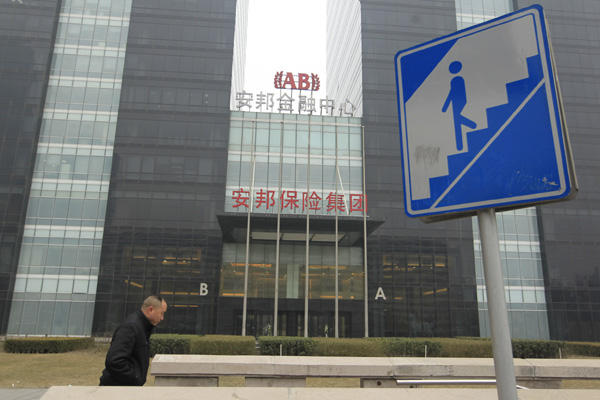 The headquarters of Anbang Insurance Group Co Ltd in Beijing. The insurer has been building a financial empire in the past few years by purchasing stakes in banks and real estate developers. [Photo provided to China Daily]

Anbang Insurance Group Co, a little-known Chinese insurer until last year, has gained sudden prominence in the financial and capital markets after a string of high-profile domestic and international acquisitions, raising questions about its shareholders' background and concerns of possible risks behind its aggressive expansion.

The company has been rapidly building a financial empire over the past few years by purchasing stakes of the country's banks, insurers and real estate developers, while extending its reach to financial leasing, asset management and securities brokerages through the operation of its 10 subsidiaries.

Anbang also made international headlines last year by purchasing the landmark Waldorf Astoria hotel in New York at a record price of $1.95 billion before acquiring Belgian insurer Fidea NV and Delta Lloyd Bank Belgium.

In less than one year, the company has managed to boost its registered capital from 12 billion yuan ($1.92 billion) to 61.9 billion yuan, making it China's largest insurer by that measure.

As of Monday, the company claimed to have total assets of more than 700 billion yuan. Some analysts believe that it is possible that Anbang may soon become the country's largest insurer by asset value, surpassing Ping An Insurance Group Co of China Ltd.

Anbang's rapid expansion can be explained by massive capital injection from its shareholders as well as its abundant cash flow gained through the sales of high-yield insurance products through bank counters, analysts said.

The company's Chairman and Chief Executive Wu Xiaohui, a businessman from Wenzhou, Zhejiang province, has been known for his deep connection with the children of China's revolutionary veterans and leaders.

Wu's political connection has helped Anbang attract massive amounts of capital from its shareholders, which supported the company's investment and acquisitions at home and abroad.

But some analysts expressed concerns about the long-term investment returns of Anbang and the sustainability of its aggressive expansion as the company's insurance premium income has been less impressive compared with its high-profile acquisitions.

|||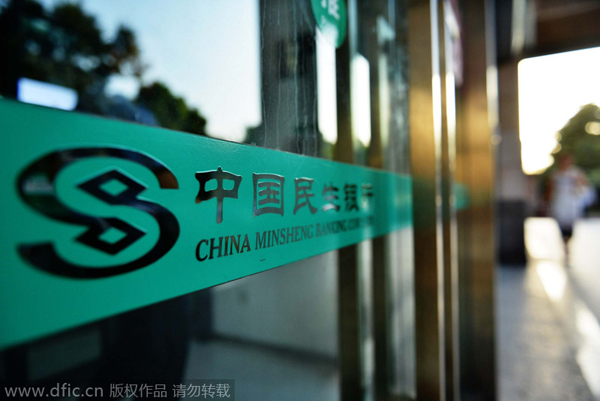 A pedestrian walks past a branch of China Minsheng Banking Corp Ltd in Hangzhou city, East China's Zhejiang province, Sept 16, 2013. [Photo/IC]

In terms of property insurance premiums, Anbang was ranked 18th among the country's major insurers, achieving 5.13 billion yuan in 2014, according to data from the China Insurance Regulatory Commission.

Zhao Shasha, an insurance analyst at Huarong Securities Co Ltd, said that there are many question marks around Anbang's shareholders' background and whether such aggressive expansion supported solely by capital injection from its shareholders could be sustainable.

Public information showed that a majority of Anbang's premium revenues come from insurance products sold through banking channels, which helped explain why Anbang has substantially boosted its holdings in banks such as China Minsheng Banking Co Ltd and China Merchants Bank Co Ltd, analysts said.

"This type of premium revenue is often short-term and unstable. And Anbang's reliance on a single source for premium growth may also pose a risk to its future development", Zhao added.

Anbang was founded in 2004 by State-owned companies including Shanghai Automotive Industry Group Corp and oil giant Sinopec Group. It has developed into a major insurer with more than 3,000 branches across the country.

|||

Related story: Chinese companies to invest $20b in overseas properties in 2015, by Agencies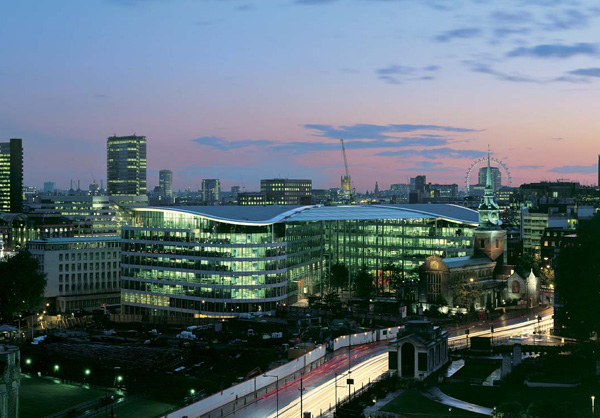 Photo shows the Tower Place in London. [Photo/Tower Place website]

Chinese investors are set to fork out $20 billion on offshore property this year, up 21 percent on 2014 as more domestic real estate developers and insurers internationalise their holdings, Jones Lang LaSalle Inc said on Monday.

Chinese offshore property investment had increased 46 percent to $16.5 billion last year on the year before, with nearly 70 percent going to commercial real estate, the property consultancy said in a report.

Outbound spending on commercial property, including office buildings, for the first time outpaced domestic investment, the company said.

"The easing of restrictions over the last few years by the Chinese government has (made it) much easier for institutions as well as individuals to move money overseas," said David Green-Morgan, the Singapore-based head of global research for International Capital Group at JLL.

Big Chinese insurers, including Ping An Insurance Group Co of China and Anbang Insurance Group Co, have emerged as major buyers in global markets.

Earlier this month Ping An, China's second-biggest insurer, bought the Tower Place office block in London for 327 million pounds, having previously bought the Lloyds of London insurance building.

Last October, Anbang agreed to buy New York City's Waldorf Astoria hotel for $1.95 billion.

Driving China's outbound insurance investments are 2012 rules changes by the country's insurance regulator that allowed companies to invest in real estate outside of the Chinese mainland and Hong Kong.

As of the end of 2014, Chinese insurers invested nearly $24 billion outside China, accounting for 1.4 percent of the industry's total assets, said Zhou Yanli, vice chairman of the China Insurance Regulatory Commission at a press briefing last Friday.

Last year, about 20 percent of insurance investment overseas went to real estate, Zhou added.

Chinese property developers, including Dalian Wanda Group Co, have also moved to globalise their portfolios to ensure long-term returns as China's property market cools.

Dalian Wanda on Monday announced a $1 billion investment to purchase two buildings at Sydney Harbour, the Chinese conglomerate's second investment in Australia.

Europe was the most popular destination for Chinese overseas property investment in 2014, raking in $5.5 billion, JLL said. London topped the list of favourite cities with $4 billion capital inflow, followed by Sydney and New York City.

|||

Related special coverage: Top 6 landmarks bought by Chinese firms, produced by chinadaily.com.cn

As China's domestic economy slows down, Chinese companies are speeding up overseas expansion, tapping new markets or buying assets. Landmark buildings are increasingly becoming favored targets.

Let us take a look at some famous buildings bought by Chinese companies.

General Motors building

In June 2013 a group of investors led by Chinese real-estate tycoon Zhang Xin bought a 40 percent stake in the 50-story General Motors building in midtown Manhattan in New York at a price of $1.4 billion.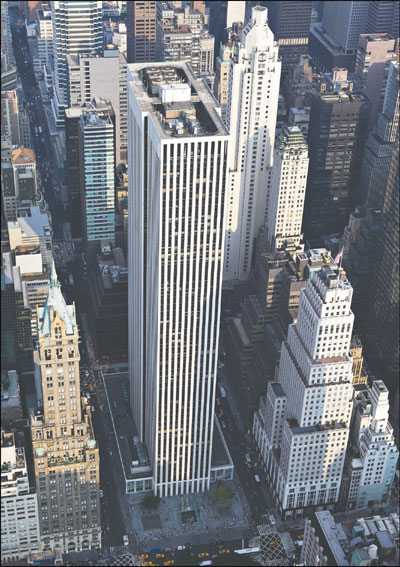 General Motors building (center) in midtown Manhattan in New York. [Photo/Agencies]

|||

Lloyds of London building

Chinese insurerPing An Insurance (Group) Co of China Ltd bought the Lloyds of London building for 260 million pounds ($387 million) from a German fund managed by Commerz Real in July 2013 after China eased restrictions on Chinese companies investing in overseas real estate.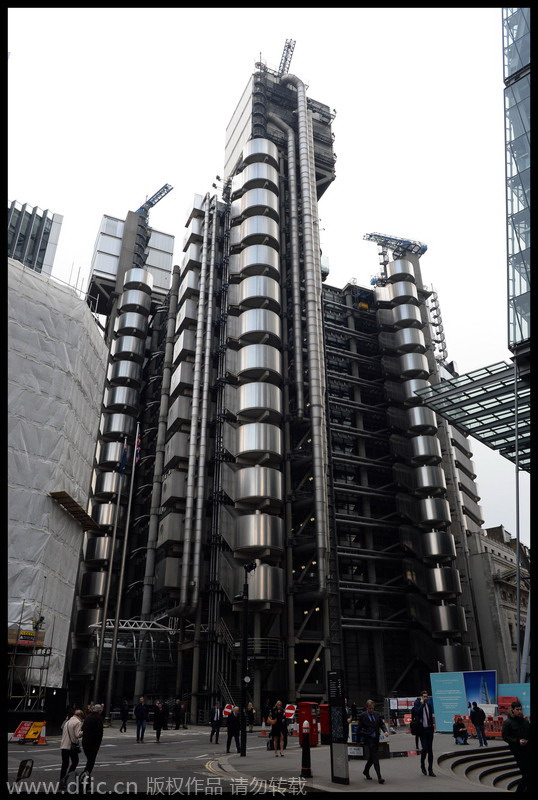 View of the Lloyd's of London building in the City of London, March 27, 2014. [Photo/IC]

|||

One Chase Manhattan Plaza

Fosun International Ltd, the largest private-owned conglomerate on the Chinese mainland, purchased One Chase Manhattan Plaza, a Grade A office building, for $725 million in Manhattan.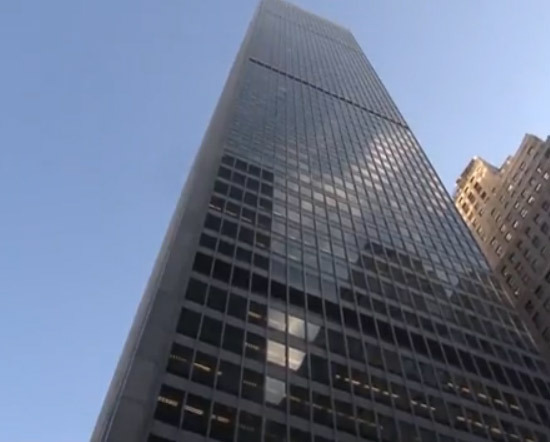 One Chase Manhattan Plaza is a 60-story, 2.2 million square foot office building, which used to be the global headquarters of Chase Manhattan Bank.[Photo/people.com.cn]

|||

Edificio Espana

Chinese commercial property company Dalian Wanda Group purchased Edificio Espana, a historic skyscraper, in Madrid, Spain, for 265 millioneuros ($361 million) in June, 2014.

Wanda purchased the building from Spain's biggest bank Santander, who bought the building just before Spain's property bubble burst in 2007, for nearly 390 million euros.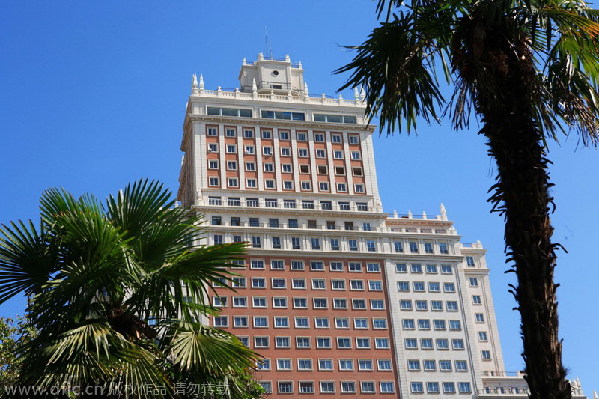 The 28-story Edificio Espana, Spain's tallest building when it was built in the late 1940s, is a central landmark in Madrid and used to house a hotel, though it has been vacant for several years. [Photo/IC]

|||

10 Upper Bank Street

China Life Insurance Co, the country's largest insurer, together with Qatar Holding bought 10 Upper Bank Street, a building in Canary Wharf, for 795 million pounds. China Life has a 70 percent stake in the building.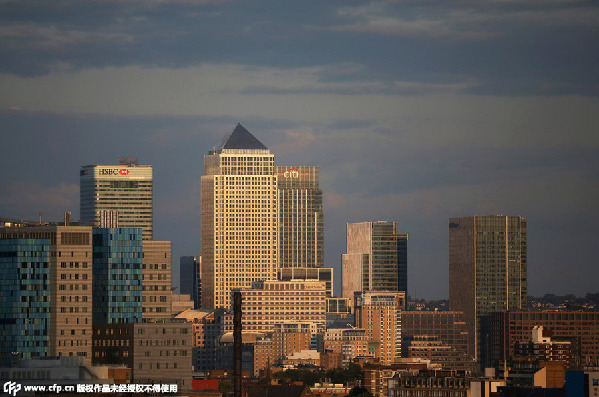 Evening sunlight highlights the upper floors of, from left, HSBC Holdings Plc, No 1 Canada Square, Citigroup Inc., 10 Upper Bank Street, and JP Morgan Chase & Co, as they stand at dusk in the Canary Wharf business, financial and shopping district of London, Aug 20, 2014. [Photo/CFP]

|||

Waldorf Astoria hotel

China's Anbang Insurance Group has acquired the world-renowned Waldorf Astoria hotel in New York for $1.95 billion.

Hilton Worldwide Holdings said on Oct 6, 2014 that it has reached an agreement to sell the 60,000-square-foot landmark property that straddles Lexington and Park avenues.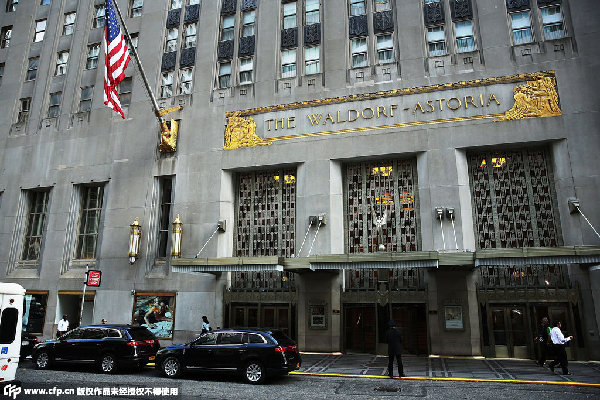 View of Waldorf Astoria, the landmark New York hotel, on Oct 6, 2014 in New York City. [Photo/IC]

|||

Related stories:

Dalian Wanda to invest $1b for prime property development in Sydney by Agencies

Dalian Wanda Group, China's biggest commercial real estate conglomerate, said on Jan 26 that it is investing $1 billion in a prime property development close to Sydney Harbour, its second large investment in Australia.

The amount includes A$415 million ($327 million) paid to the United States-based private equity firm Blackstone Group for office building Gold Fields House, an undisclosed sum for an adjacent building, Fairfax House, as well as the cost to construct a complex that will consist of a hotel, apartments and retail projects.

The purchase adds to a string of deals as Wanda diversifies away from a weak domestic market and highlights growing Chinese investment in Australia's red-hot property market.

Australia was the third top destination for Chinese property investment after the US and the United Kingdom in the first 11 months of 2014, with around $2.1 billion in inbound investment, according to real estate consultancy firm Savills.

China's Country Garden Holdings and Greenland Group have also made large investments in Australia.

Wanda is backed by China's fourth-richest man Wang Jianlin and last year the group's Dalian Wanda Commercial Properties Co Ltd raised $3.7 billion through a Hong Kong listing.

"We look forward to creating a new Sydney landmark," Wanda said in a separate statement from Blackstone, adding that the complex will include a 185-meter tall building.

Ping An buys landmark Tower Place in London by Zheng Yangpeng, China Daily

Ping An Life Insurance (Group) Co of China Ltd has acquired another landmark site in London, after it bought the Lloyds of London building a year and half ago, highlighting Chinese insurers' growing appetite for trophy real estate in international gateway cities after the sector was given freedom to invest overseas since 2012.

The second-largest insurer in China has bought Tower Place in the City of London for 327 million pounds ($491 million), the seller, Deutsche Asset & Wealth Management, said on Thursday night. Ping An did not respond to calls for comment on Friday.

Tower Place was designed by renowned architect Norman Foster and is in the heart of London's insurance district. The anchor tenant of the low-rise office and shopping complex is the United States-based insurance consultancy Marsh & McLennan Companies Inc, according to a statement by Gaw Capital Partners, the Hong-Kong-based private-equity firm that advised Ping An on the deal.