Source:
China Daily
Alibaba establishes 29 million fund in HK for startups
Published:
25 Feb 2015 01:21:15 PST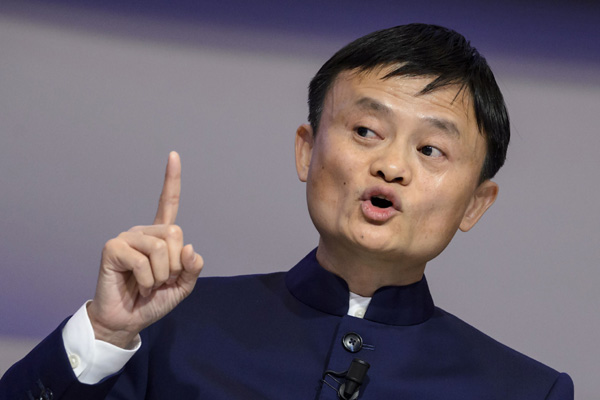 Jack Ma, founder and executive chairman of Alibaba Group Holding Ltd. [Photo provided to China Daily]

E-commerce magnate Jack Ma has not only set an example to aspiring Hong Kong entrepreneurs but also offered to help them with funding and, more importantly, a ready platform to tap the vast mainland marketplace.

In an earlier statement, New York-listed and Hangzhou-based Alibaba Group Holding Ltd, of which Ma is founder and chairman, said that it has established a HK$1 billion ($129 million) fund to help Hong Kong entrepreneurs set up startups on the mainland company's e-commerce platform.

The fund was set up with the help and advice from Hong Kong's former chief executive Tung Chee-hwa. In an earlier interview, Tung said that Ma was "deeply concerned about the situation in the special administrative region and was willing to help out".

What is more, Alibaba said it will provide internship opportunities for 200 graduates in Hong Kong each year to work in the company's e-commerce ecosystem.

Ma said that the newly launched fund aims at motivating young people to develop their creativity and entrepreneurship so that they can benefit from the many opportunities brought about by modern technology.

The core purpose of the fund is to help Hong Kong entrepreneurs build their startups on Alibaba's e-commerce platforms, including Taobao, through which they can sell their products and services to mainland consumers.

The fund, expected to be launched later this year, will invest in companies started by young people after selection by a panel of investment managers and advisers who run the program. The entrepreneurs would have access to capital and technical assistance as they develop their businesses.

While in Hong Kong, Ma seemed unperturbed by the controversies at home and in the United States that have been troubling his company and sent its share prices tumbling on the New York bourse.

"Alibaba is still a young company. We are only 15 years old. And we have been making mistakes," he said during the speech to Hong Kong youngsters.

At home, Alibaba is entangled in a dispute with the State Administration for Industry and Commerce, which has questioned the quality of the products sold on the company's platforms. In the US, Alibaba is facing the possibility of a class-action lawsuit filed by disgruntled investors alleging discrepancies in the company's IPO prospectus.

|||

According to Alibaba's prospectus, the company generates more than 80 percent of its total revenue from online advertising, transaction commissions and online shop rentals.

The business model has made it rather difficult for Alibaba to control the source and quality of the products sold by registered merchants on its many platforms, industry experts said.

What is more, the experts noted that further growth for the e-commerce market from its present size is becoming increasingly difficult. Ma is widely seen to be shifting the focus of Alibaba's business to financial services by leveraging on its large customer base.

Yi Huanhuan, head of the research department of Hongyuan Securities Co Ltd based in Beijing, said: "Ma is making long-term arrangements for the development of the group. After all, I think the explosive growth period of Alibaba's e-commerce business sector is over, while there is huge potential in Ma's online finance business."

Several law firms in the United States have accused Alibaba of making misleading statements and concealed the news about regulatory scrutiny before its IPO in September, as the SAIC noted a closed-door conference in July with Taobao's top executive, criticizing the latter's efforts to combat fake products.

Ma regains rich list top spot

Alibaba Group Holding Ltd Chairman Jack Ma regained his spot as Asia's richest person on the back of a higher valuation for the company's finance affiliate ahead of a stock sale that will also create a dozen new billionaires.

Zhejiang Ant Small & Micro Financial Services Group Co, which owns payments processor Alipay, is valued at about $50 billion, according to sources close to the operation.

Ant Financial is weighing a private placement before going public in 2016, and details are yet to be finalized.

The latest valuation for Ant Financial boosted Ma's fortune by about $10 billion to $36.4 billion as of Friday in New York, according to the Bloomberg Billionaires Index. The new billionaires from the bigger valuation include the e-commerce giant's Chief Executive Officer Jonathan Lu and Chief People Officer Lucy Peng.

Lu and Peng, both co-founders of Alibaba, each has a fortune valued at about $1.8 billion.