Source:
China Daily
Alibaba head meets with regulators
Published:
25 Feb 2015 01:21:14 PST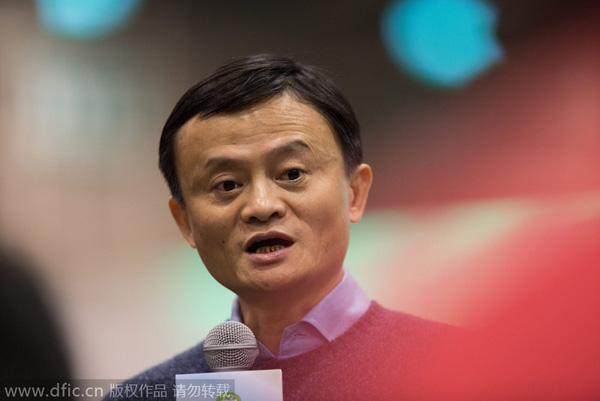 The founder and executive chairman of Alibaba Group Jack Ma, speaks to the media after a forum in Hong Kong, China, February 2, 2015. [Photo/IC]

The head of China's quality watchdog met with Alibaba chairman Jack Ma on Monday as the e-commerce giant held its second meeting with regulatory authorities to discuss the crackdown on fake and shoddy products.

Zhi Shuping, minister of the General Administration of Quality Supervision, Inspection and Quarantine, said in the meeting that e-commerce platforms must take measures to tackle problems of counterfeit products and ensure the quality of products they sell, according to a statement released by the quality watchdog on Tuesday.

Ma met Zhang Mao, minister of the State Administration for Industry and Commerce, on Jan 30 after the market regulator blasted the company's failure to exert effective supervision on Taobao.com, China's largest consumer-to-consumer platform, which is owned by Alibaba.

"Product quality is an essential part of a healthy e-commerce industry. Counterfeit products sold online will not only harm the interests of consumers, but also damage the reputation of the country," Zhi said.

"As the world's leading e-commerce company, Alibaba should attach more importance to the quality of products ... and undertake more social responsibility and protect the interests of consumers," he said.

He added that the quality watchdog has established a plan for supervision of e-commerce activities that involves purchasing products through online platforms and tracing them to the factories if the products are counterfeit.

The General Administration of Quality Supervision, Inspection and Quarantine is in charge of product quality during the production process, while the State Administration for Industry and Commerce is in charge of market activities and the quality of commodities during distribution.

Ma said Alibaba has made efforts to combat counterfeit products, but there are still deficiencies and room for further improvement. The company will work closely with regulatory authorities to crack down on fake products, he added.

|||

Ma made a similar promise to work with government departments and devote more efforts to weed out fake goods during the meeting with Zhang last month.

That meeting also put an end to a highly unusual episode in which Taobao staff publicly clashed with the market regulator.

The row started when the commerce authority released a report on its website on Jan 23, blaming unnamed online shopping platforms for failing to supervise products and services that infringed upon trademarks, as well as for substandard or fake products.

However, it escalated after Taobao released an open letter on its micro blog accusing Liu Hongliang, who is in charge of regulating online trade at the administration, of "using a wrong method and reaching a conclusion that is not objective."

The regulator responded by releasing a report directly condemning Taobao for failing to clean up what it called illegal business deals on the e-commerce titan's platforms.