Source:
China Daily
Telecom giants deny merger plans
Published:
25 Feb 2015 01:21:14 PST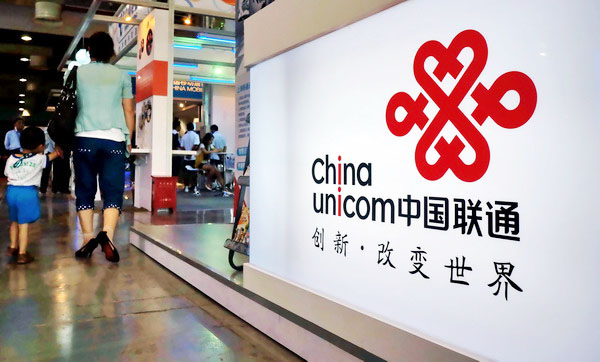 File photo of China Unicom exhibiting at an expo of Internet of Things in Shanghai. [Jing Wei / Asianewsphoto]

The country's major network operators including China Mobile, China Unicom and China Telecom denied knowledge of any merger plans on Thursday amid market speculations that pushed their stocks high.

Chinese industry magazine Mobile Info posted news on Thursday on its official microblog that claimed that China Telecom will merge with China Unicom, and China Mobile with Broadcast TV Network.

"The company hasn't heard of it and will not comment," said a spokesman of China Unicom to China Daily.

China Mobile and China Telecom also denied any merger plan in a written statement to the press.

China Unicom surged 8.4 percent, and Broadcast TV Network 6.3 percent on Thursday. China Telecom gained 2.3 percent at Hong Kong exchange as of 3 pm.

The Ministry of Industry and Information Technology denied the rumor, adding that there was no such plan in the telecom sector, according to CCTV.

|||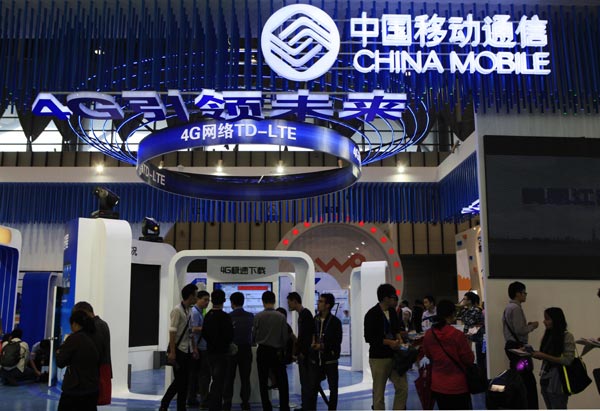 A China Mobile Ltd stand at an international software and information service expo in Nanjing, Jiangsu province. [Photo/China Daily]

Related story: China Mobile eyes 5G technology, by Xinhua

BEIJING - China Mobile, the country's largest 4G mobile network operator, has began development on the next generation of mobile internet following the success of 4G, a senior executive of the company said on Saturday.

Xi Guohua, chairman of the board for the telecom giant, made the announcement during the 13th China Enterprise Development Forum held by the Development Research Center of the State Council.

The move suggested the company is trying to maintain its leading position in an increasingly heated competition among the country's three and only telecom service providers.

However, Xi did not unveil more details on the ambitious strategy.

China Mobile outperformed its two rivals, China Unicom and China Telecom, in the 4G race after getting official approval to launch services based on TD-LTE standard by the end of 2013, nearly half a year ahead of the latter two.

China Mobile had 90 million 4G subscribers last year with 240 million cell phones sold and 700,000 base stations built, data from the company showed.

The other two operators did not release relevant data but media reports said even their combined figure cannot compete with China Mobile.

In addition, Xi said the successful development of TD-LTE improves China's research capability and equipment manufacturing.

China co-launched Global TD-LTE Initiative (GTI) in 2011 with telecom operators from other countries to promote the 4G technology in the world.

|||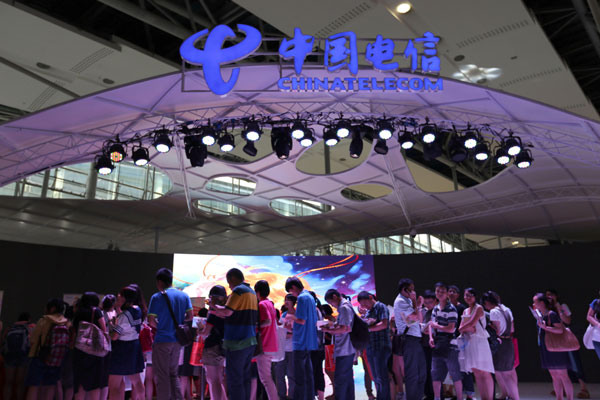 China Telecom promotes its4G services in Guangzhou, Guangdong province. The company is seeking private investors for emerging telecommunications services such as online payments and social networking. [Liu Jiao / For China Daily]
Subsidies offered for smartphone makers, by Meng Jing, China Daily
China Telecom Corp Ltd, the third-biggest mobile network operator in China, said on Thursday that it will offer 16 billion yuan ($2.56 billion) in subsidies to smartphone producers, part of an attempt to add 120 million new subscribers this year.
President and Chief Operating Officer Yang Jie told a conference in Beijing that 12.4 billion yuan will go to devices that are tailor-made for the company's networks. Up to 600 million yuan will be offered as incentives to encourage manufacturers to produce devices priced less than 700 yuan.
Yang said China Telecom aims to add 100 million fourth-generation network users this year and sell 100 million smartphones.
"The goals are not easy ones. We hope that we can meet our targets in cooperation with smartphone makers and distributors," he said.
China Telecom's subsidy package is the most generous of the three carriers in the nation. China Mobile Ltd is the biggest telecom operator by users and China United Telecommunications Corp is the second-largest.
Consultancy International Data Corp figures show that the three firms' subsidies for device makers fell 20 percent last year. Total subsidies of the three will be down about 7 percent this year.
"Compared with the 18 billion yuan offered by China Mobile and the 9.5 billion yuan offered by China United Telecommunications, the subsidies offered by China Telecom are high, given that its users only account for 15 percent of the market," said James Yan, a senior analyst at IDC.
Meng Jing and Gao Yuan contributed to this story.