Source:
China Daily
Taxi-hailing giants tie knot on Valentine's Day
Published:
25 Feb 2015 01:21:14 PST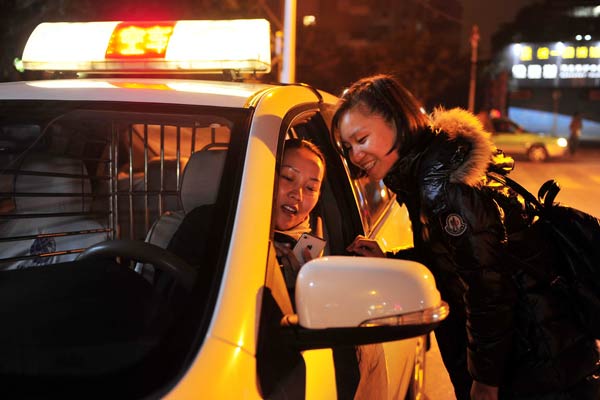 A taxi driver checks her smartphone with a passenger in Fuzhou, East China's Fujian province, Dec 12, 2014. [Photo/CFP]

China's mobile taxi-hailing app operators Didi Dache and Kuaidi Dache, which have been in head-on competition, jointly announced their strategic merger via their Sina Weibo accounts on Saturday, also Valentine's Day, a western holiday celebrated by many Chinese people.

The new company will run on a co-CEO basis and keep the original structure of their respective human resources. Didi and Kuaidi will continue to run their business parallel, retain their brands, and remain independent.

Didi's CEO Lv Chuanwei said the merger will allow the new company to roll out "more perfect" travel service products and speed up market penetration, drawing on the technology and talent advantages of both companies.

More details of the merger will be made public after China's Lunar New Year holiday, which lasts from Feb 18 to Feb 24.

The two companies have been going head to head since last year in separate promotion campaigns to attract users with subsidies for both taxi drivers and passengers.

Didi and Kuaidi have received backing from Chinese Internet giants Tencent and Alibaba, respectively, allowing users to pay trip fares with their mobile payment apps. Alibaba told news portal Sina Tech that it is in support of the merger and believe this move will create a "win-win" situation.

Kuaidi holds a 56.5-percent share of China's taxi-hailing app market, while Didi accounted for 43.3 percent as of December, according to research consultancy Analysys International.

The two companies refuted concerns over a potential monopoly in the Chinese market after the merger, saying taxi-hailing services are only a small piece of a much bigger transportation market in China.

Despite their dominance in taxi-hailing services, Didi and Kuaidi are being challenged in ride-on-demand services by newcomers such as Beijing-based rental firm CAR and US taxi and transport service firm Uber, which received an undisclosed amount of investment from Chinese search engine Baidu last year.

Kuaidi and Didi launched their own ride-on-demand services during the second half of last year. Both taxi drivers and private car owners have signed up, but the services have run afoul of regulators as some cities banned unlicensed drivers from giving rides at the end of last year.

China's Ministry of Transport also banned private cars from taking passengers for profit in January and ordered app developers including Didi and Kuaidi to only dispatch cars owned by taxi or car-rental companies for ride-on-demand services "out of safety concerns."

Both companies have received four rounds of financing. Didi's latest $700 million financing included funds from Singapore's sovereign wealth fund Temasek and Russian investment firm DST, while a $600 million investment in Kuaidi came partly from Japan's SoftBank and Tiger Global.

Xinhua contributed to this story

|||

Related stories:

Didi and Kuaidi in merger talks: report, by Liu Zheng, chinadaily.com.cn

China's two largest mobile taxi-hailing apps are discussing a merger that could end their escalating battle to win customers and create a dominant player, reported Wall Street Journal on Friday, citing people familiar with the situation.

According to the paper, Didi Dache backed by Chinese Internet behemoth Alibaba Group Holding Ltd and Kuaidi Dache backed by Tencent Holdings Ltd are in advanced stage of talks, but the plan hasn't been finalized yet and needs the support of their primary investors.

Unless the talks fall apart, a deal could be announced in the coming days, told a source to the paper.

Alibaba and Tencent could hold equal stakes in the combined company valued at around $6 billion, said the source.

As both the companies haven't yet publicly commented on the deal, the Internet is abuzz with rumors.

An investment banker, who wished to remain anonymous, told Sina Technology that the two companies have discussed merger many times. "The biggest challenge is from capital level. Investors from both sides are pushing forward this deal and a stock-for-stock merger will be seen at a certain time."

"The equity ratio could be 52 percent for Didi and 48 percent for Kuaidi," said the business channel of Tencent.

After the merger, the mobile payment platform embedded in the two apps will have both Alipay and WeChat Wallet, the two payment solutions backed by Alibaba and Tencent, respectively, said the report.

"Possibility for the two companies' discussion about merger is big, while feasibility is tinny," said TMTpost.com, a Chinese technology website.

The mobile payment platforms behind the two apps are locked in a battle to attract users during the Spring Festival holidays.

"There won't be such intense competition before an announcement for a merger," said the report.

To promote their mobile-pay applications, the two apps have invested heavily to subsidize both taxi drivers and passengers to grab more market share.

In December, 2014 Didi Dache raised $700 million in its fourth round of fundraising.

On Jan 15, 2015, Kuaidi Dache announced that it had raised $600 million to strengthen its position in the hotly contested market.

|||

Festival Special: Apps that help commuters avoid rush by Liu Zheng, chinadaily.com.cn

As the Chinese Lunar New Year, known as Spring Festival, approaches, China's busiest annual travel begins.

Thanks to the rise in mobile Internet and a market that saw 450 million smartphone shipments last year, every single step in celebrating the traditional festival witnesses technological improvements and becomes more "smart".

In the first in a three-part series we take a look at some service-oriented apps used by Chinese travelers during the holiday season.

With family reunion being the most important factor of the holidays, millions of commuters take the help of apps to reach their hometown. Here's a look at some of them.

Taxi-hailing apps

Didi Dache vs Kuaidi Dache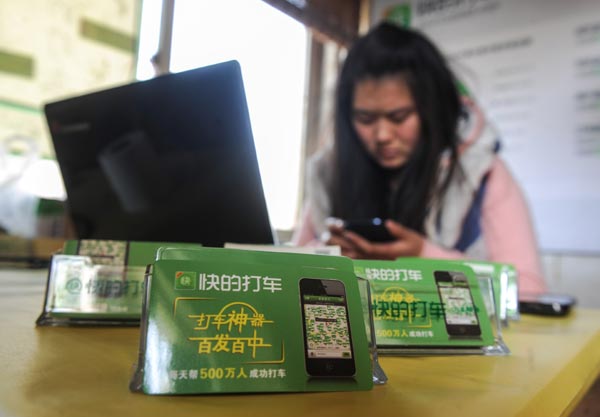 An employee of taxi-hailing app company Kuaidi Dache helps a customer installs the software. Launched in 2012, Kuaidi has linked up with more than 1 million taxis in more than 300 cities across China, including Hong Kong. [Photo/Xinhua]

|||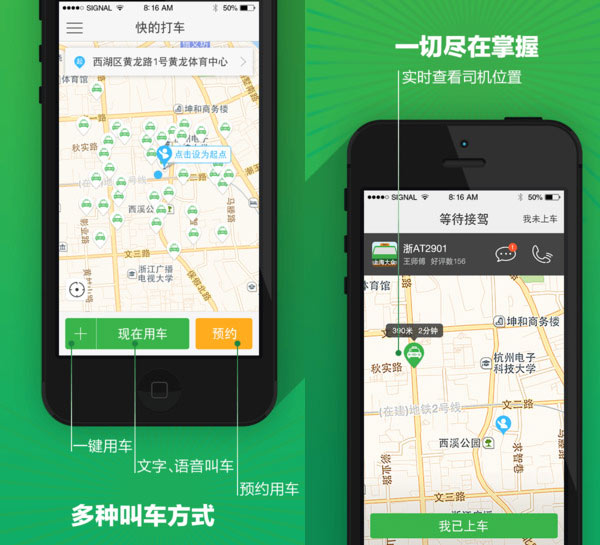 Mobile phone screenshots show the page of Kuaidi Dache. [Photo/iTunes]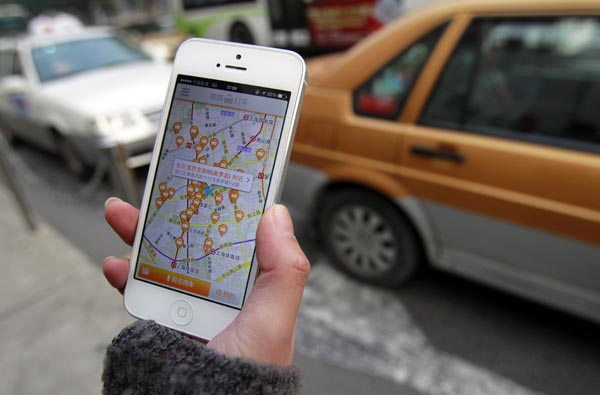 A customer checks his Didi Dache, a taxi-hailing app that helps find a taxi. DidiDache, backed by Tencent Holdings Ltd, Singapore government investment firm Temasek Holdings and DST Global, raised $700 million in December. [Photo/China Daily]

|||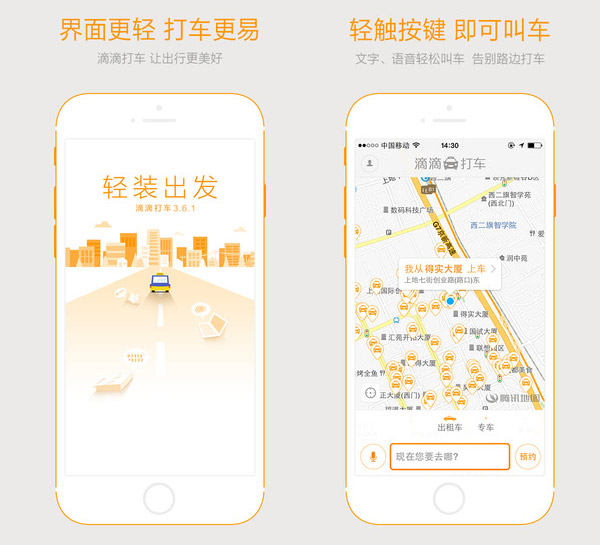 Screenshots show the page of Didi Dache. [Photo/iTunes]

On Jan 15, 2015, Chinese e-commerce behemoth Alibaba's Kuaidi Dache announced that it had raised $600 million to strengthen its position in the hotly contested market.

By subsidizing both taxi drivers and passengers, the two apps have invested heavily to grab more market share.

This is interpreted by analysts as being their way of promoting their mobile-pay applications, as users can get fare reductions only through their respective platforms.

|||

Official rail ticket booking app

12306.cn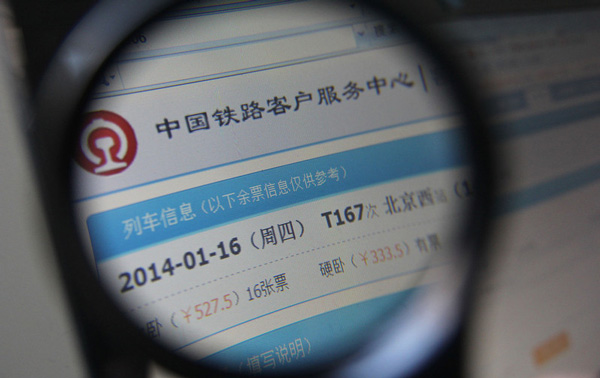 A file photo shows a screenshot of the webpage of 12306.cn, the official online train ticket booking platform, on Dec 28, 2013. According to Xinhua News Agency, online ticket sales have helped reduce crowds at ticket booths in Beijing. [Photo/IC]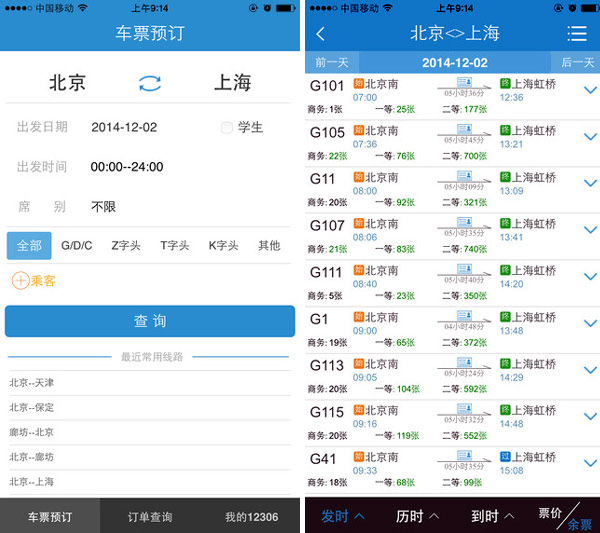 Screenshots show the page of 12306.cn. High-speed rails from Beijing to Shanghai are displayed on the right. [Photo/iTunes]

In the past, ticket booths in large cities were overwhelmed during the Spring Festival period, with people having to waits for hours and even days in some cases to buy a ticket.

This year, the official rail website started selling tickets 60 days ahead of the festival, compared with 20 in previous years.

The move has been taken to help passengers plan early and avoid rush hour.

Online ticket sales have helped reduce crowds at ticket counters. On Feb 4, 2015, the first day of the holiday season travel rush, Beijing West Railway Station, the city's busiest, reported shorter lines.

According to Xinhua News Agency, China's rail system is expected to handle 300 million trips during the travel rush in 2015, up 10 percent year-on-year. It represents the highest growth of all forms of passenger transportation, according to figures from the National Development and Reform Commission.

|||

One-stop self-service flight app

Umetrip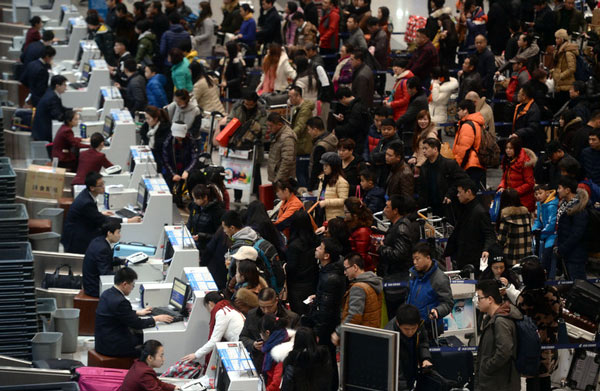 Passengers line up at counters to get their boarding pass at the Beijing Capital International Airport in Beijing, February 4, 2015. [Photo/IC]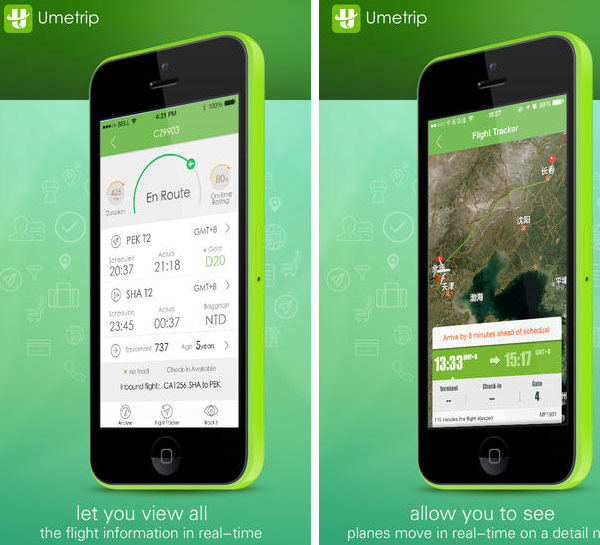 Screenshots show the page of Umetrip app. [Photo/iTunes]
With primary functions such as flight status, real-time air traffic news, ticket prices, seat information, seating chart, etc, an app powered by China Travelsky Mobile Technology Co Ltd was launched on both Android and iOS platforms in 2012.
According to the company, it is the only government-owned enterprise to provide such information.
In 2001 the China Civil Computer and Information Center brought all the airline companies together to establish Travelsky to provide all information related to airports and flights.