Source:
China Daily
China unveils unified pension system
Published:
25 Feb 2015 01:21:13 PST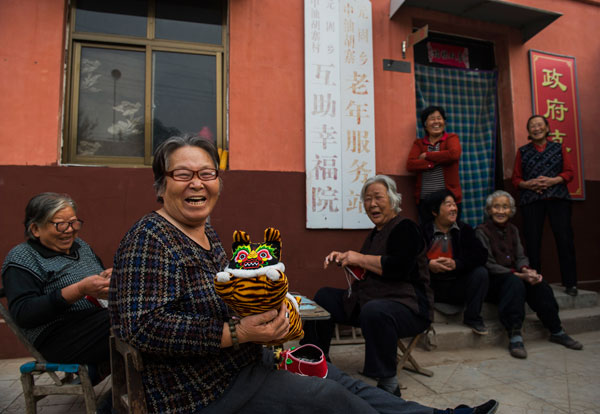 Residents of a home for the elderly in Feixiang county, Hebei province, share a laugh. [Pan Songgang for China Daily]

BEIJING - Measures on old-age insurance for workers in government agencies and public institutions were unveiled on Wednesday.

Insurance will now be paid by both workers and organizations, instead of just by organizations or central finance as in the past. Workers will pay 8 percent of their monthly salary into the scheme, while the organization will pay 20 percent of the salary, according to a statement by the Ministry of Human Resources and Social Security.

China has nearly 40 million such workers in government agencies and public institutions. Most of them are civil servants, doctors, teachers and researchers.

In the past, corporate employees had to pay for their own old-age insurance, while government staff enjoyed pensions without making any contribution at all.

China introduced the pension system in 1955 and it started to diverge in the early 1980s as three decades of planned economy ended. Businesses were allowed to assume sole responsibility for their profits and losses and gradually developed their own old-age insurance requiring both employees and employers to contribute.

The previous pension scheme remained for public employees and dual systems came into being.

Pensions without worker contributions have become a huge burden on the government and are unsustainable. The dual system also hindered free flow of staff between private and public agencies. In addition, public outcry about the inequity has been mounting.

The unification will help create a fair environment for people in different walks of life, said the ministry statement.

Government staff have so-called "iron bowls": They can not be fired at will as private employees can. The ministry said the new system will allow government agencies and public institutions to hire and fire workers just as enterprises do.

|||

Related Story:

Reforming pension system a long haul

The aim of the pension reform is to build a system for Party, government and public institutions that is similar to the one employed by the private sector so as to break the long-held dual system.

Under the dual pension system, the employees in a state agency can get 80 to 90 percent of their salary after retirement while the employees of an enterprise may only get 40 to 60 percent.

It means the pension of 37 million public servants and employees in state agencies in China will not be provided fully by the government and will have to contribute the same amount to their pensions as employees do in enterprises.

Pension reform has been stuck in the past few years as pilot programs in places, including Guangdong province and Shanghai municipality, have come to a standstill after they were launched in 2008.

Su Peike, researcher with UIBE's (University of International Business and Economics) Public Policy Research Institute, said reform is necessary as it's a matter of bridging the gap and realizing the equality. However, challenges remain.

According to Su, there's still a gap to be filled in China's pension system and the focus should be on that and also on finding a way to manage the pension system in the future under the new policies and defining the proportion of financial supplement, as well as making plans for delayed retirement.

The reform will not affect the salaries of employee's in state agencies as the wages will be adjusted as they need to pay for their own pensions, according to Tang Jun, secretary Public Policy Research Institute of Chinese Academy of Social Science.

The reform is the most-discussed topic on Chinese social media site Sina Weibo, and the hashtag "pension reform" was used 18.5 million times as of 15:50 pm today.

"I have been waiting forever for this new policy, I'm hoping for a raise in the salary after the reform because currently it's too low," a netizen named jasmine-muomuo said on Sina Weibo.

Netizen named dapengkantianxia gave thumbs up to the reform on his micro-blog. "If you want to enjoy social security, you have to pay for your own, no matter if you are a government official or a private enterprise employee. This is more fair."