Source:
China Daily
Jan FDI inflow jumps 29.4%
Published:
25 Feb 2015 01:21:11 PST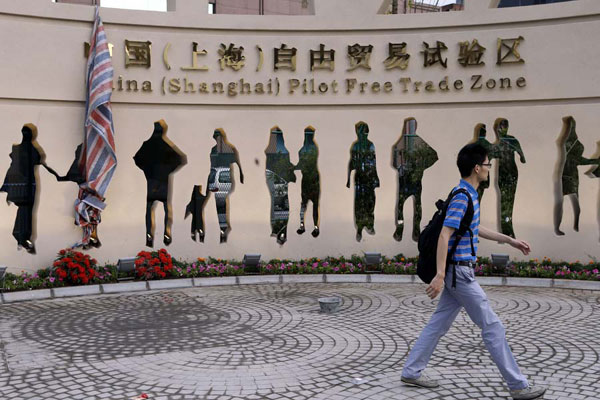 The name plate of the China (Shanghai) Pilot Free Trade Zone on a gate of the Waigaoqiao free trade zone in Shanghai. [Photo provided to China Daily]

BEIJING - Foreign direct investment (FDI) in the Chinese mainland jumped 29.4 percent in January from a year earlier, settling at $13.92 billion, the Ministry of Commerce (MOC) said on Monday.

The pace of growth quickened from a 1.7 percent increase in 2014, as investment in the country's service industry continued to pick up steam.

A total of $9.18 billion, around 66 percent of the FDI, went into China's service sector last month. FDI into the manufacturing sector reached $3.95 billion, accounting for 28.4 percent of the total, said MOC spokesman Shen Danyang.

Related stories:

China's outbound investment set to pass FDI, by english.gov.cn

China's outbound investments will soon outgrow inward foreign direct investment (FDI), said Zhong Shan, China's International Trade Representative and vice-minister of Commerce at the State Council's first weekly briefing on Jan 16.

Nonfinancial outward direct investment reached $102.9 billion, up 14.1 percent from 2013, the first time it topped the $100 billion mark, maintaining China's position as the third-largest global outbound investor, Zhong said.

On current trends, China's outward investment is set to continue to grow faster than its utilization of foreign investment, which will make China a net investor, he added.

In 2014, China's actual use of foreign investment stood at $119.6 billion, an increase of 1.7 percent over the previous year, growing faster than other major economies, including the United States, the European Union, Russia and Brazil. This marked the 23rd consecutive year that China was the leading developing country in attracting foreign investment, according to Zhong.

Investment in developed countries from China also saw rapid growth. China's investment in the US rose by 23.9 percent, and in the EU by 1.7 fold, both much faster than overall outward investment growth, Zhong said.

China spent 64.6 percent of its total investments in the service sector, with investment in the sector up 27.1 percent than that of 2013, while investment in mining dropped by 4.1 percent, representing a declined share of 18.8 percent, based on Zhong's report.

"Going forward, we will focus on implementing the strategy of 'One Belt, One Road' as we further step up outbound investment and encourage the relocation of advantageous industries and excess capacity of countries along 'One Belt, One Road,'" Zhong said.

|||

Overseas investors to be given wider access, by Liu Hui, China Daily

Many expect the draft of the new Foreign Investment Law, released by the Ministry of Commerce on Jan 19, to remove major barriers for foreign investors granting them easier access to the Chinese market. In this context, institutional innovations in the draft to improve foreign investment in the country are worth noting.

To begin with, the draft, if it is passed, will replace the existing case-by-case approval system with one in which foreign investors shall enjoy "national treatment", that is, they can make investments on the same terms as Chinese investors without being subjected to approvals or sectoral restrictions, except in areas on the "negative list" (industries in which foreign investment is restricted or prohibited).

Last year China overtook the United States as the world's top foreign investment destination, making a new Foreign Investment Law necessary. Promoting both the "negative list" and national treatment models through legislation, the draft promises to make foreign investment in China simpler and smoother.

Besides, the draft, if passed, will allow the market to play the decisive role in allocation of resources and thus create a level playing field for foreign and domestic investors.

Second, based on China's experience of foreign capital management over the past three decades, the draft introduces the "actual control" test to regulate foreign enterprises. In other words, foreign companies in China that are controlled by overseas investors will be deemed foreign, but those under actual control of Chinese investors will be considered domestic.

The reporting mechanism outlined in the draft, including initial, subsequent and periodic reporting obligations, will no longer require troublesome pre-approval in most foreign investment cases. In other words, foreign investment on the "negative list" will have to ask for permission, while all investors must "report" investment to the government no matter whether they are on the list or not. If this change comes into effect, it would help better supervise and protect overseas investment in the country.

More importantly, the draft introduces a "new normal" in the market, that is, zero tolerance for violation of rules such as those to illegally acquire super-national treatment. If passed, the draft will bring to an end the variable interest entity, or VIE, which allows foreign investors to bypass the Chinese government's restrictions on foreign ownership of businesses in certain sectors. But on the whole, investors will face fewer restrictions.

Also, a draft joint ministerial mechanism to conduct security reviews on foreign investment conforms to international practice. Unlike many countries, China has not had a foolproof reviewing system to protect its security. In fact, it has a weak link in China's overseas capital management since it launched the reform and opening-up in the late 1970s.

For instance, facing increasing non-traditional security threats, including environmental pollution and cyberattacks, China has struggled to prevent hostile overseas takeovers of domestic enterprises because of its flawed security review mechanism. And many Chinese companies have become victims of Western trade protectionism measures over the past decades because of lack of a proactive domestic review mechanism.

Therefore, it is more than necessary to establish a ministerial mechanism to mitigate (rather eliminate) foreign investments that have the potential to undermine China's national security. According to the draft law, foreign investors will have to gain security clearance from the government for latent security dangers, and those rejected will not be allowed to appeal against the decision.

More such improvements in the law, which the draft promises, will better protect China's national security and make it significantly more competent in the global economic game.

The author is a researcher on American studies with the Chinese Academy of Social Sciences.