Source:
China Daily
Living in the lap of luxury
Published:

25 Feb 2015 01:21:11 PST

Spending on top brands has dropped in China, but don't be fooled: Chinese are shelling out more than ever on the finer things in life

The luxury malls of Beijing are enticing and warm, with carpets so plush they yield underfoot and shop assistants as exquisite as the items on sale. Some shops do not display prices at all, others display merchandise behind locked glass doors, and assistants wear gloves when presenting goods to potential buyers.

The hushed atmosphere and glossy interiors of Shin Kong Place, the Yintai Center and the Peninsula Arcade are a world away from the fast food and frenetic activity of the capital's mass-market malls.

The likes of Chanel, Hermes and Prada woo consumers with craftsmanship, exclusivity and indulgence. But on a February weekend, during one of China's busiest shopping periods of the year, Beijing's beautiful high-end stores appear bereft of customers.

The Chinese are not out of love with luxury, far from it. The 2014 China Luxury Report, from the Shanghai-based research center Fortune Character Institute, says total overseas luxury purchases by Chinese consumers rose 9 percent to $81 billion (71 billion euros) and that luxury purchases in the domestic market fell 11 percent to $25 billion.

A separate report, from the consultancy firm Bain & Company, says 55 percent of Chinese luxury goods spending was made by consumers during overseas trips and that another 15 percent was made through friends, relatives or professional agents known as daigou. An earlier Bain report, from October, says Chinese consumers account for 29 percent of global luxury spending. The global luxury market is worth $250 billion, the report says.

"We do buy things in China," says Gu Feng, a 29-year-old book editor who lives and works in Beijing. "We go abroad more for luxury brands. Luxuries are more expensive here. I am more of a Taobao type," she adds, referring to China's online shopping behemoth run by the Alibaba Group.

On a business trip to London between November and January, Gu bought gifts for friends and relatives, including a $650 Burberry handbag and fragrances from Chanel and Estee Lauder. "The most expensive purchase is definitely the Burberry handbag. It is for a close friend."

After failing to find the item Piccadilly Circus in London, Gu headed to the Burberry outlet store at Bicester Village, Oxfordshire. "You might expect, for a bag with such a high price, you could get it easily-not much competition, not so many people can afford it, right But the reality is just the opposite."

Luxury items cost more in China than they do overseas, but there is no such thing as a luxury tax. Additional taxes-consumption, import and value added-can sometimes increase the price of an item in China so much that it is cheaper to buy a plane ticket and buy the same item abroad.

Small wonder, then, that Gu says her friend was very happy with the Burberry handbag, "mostly because it saved her a fortune".

|||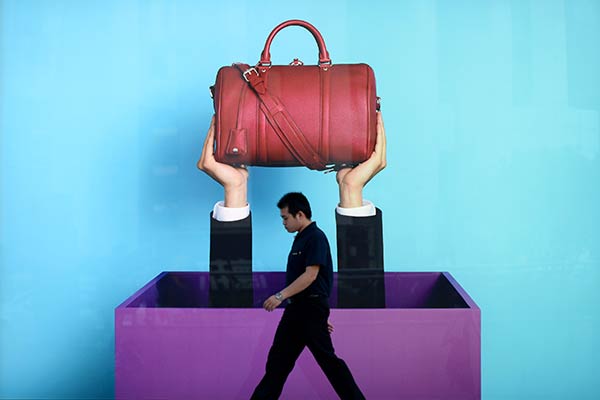 A man passes Louis Vuitton's advertisement in Wuhan, Hubei province. [Photo / China Daily]

The numbers swirling around China's luxury sector vary from report to report: Bain has the domestic market contraction at a modest 1 percent rather than Fortune Character's dramatic 11 percent. Nonetheless the two reports reaffirm China's status as a continued source of income for luxury brands, despite an anti-corruption and anti-extravagance drive that has weakened sales of pricey items on the mainland and created a climate hostile to conspicuous consumption and spending.

Analysts at Bain have been studying China's luxury market for seven years. Bruno Lannes, one of its partners, says: "It is all about price. The Chinese are very well informed. They know where the cheapest price is to buy any of these luxury brands."

South Korea and Hong Kong particularly appeal to the Chinese traveler because of their proximity, favorable tax initiatives, competitive exchange rates and cultural familiarity. Chinese visitors to South Korea rose 40 percent in the first 11 months of 2014 to 5.7 million-a 43.5 percent share of arrivals. Hana Daetoo Securities reported in August that Chinese tourists spent just under $6 billion in South Korea in 2013, accounting for 1.9 per cent of total domestic retail spending. The Seoul-based company expects the amount to rise to $29.8 billion in 2020, making up 7.7 percent of the national total.

Other duty free operators are taking a keen interest in the surging "Peking pound". Dubai Duty Free employs 398 Chinese nationals and will employ another 211 this year. A total of 1.35 million Chinese travelers used Dubai International Airport during 2014, representing growth of 9.7 percent from 2013. Chinese passengers comprised around 4 percent of total traffic, while their spending accounted for around $230 million, or 12 percent of total sales. According to Dubai Duty Free, the most popular brands with Chinese shoppers in 2014 were Longines, Chanel, Estee Lauder, Omega and Lancome.

China spent $129 billion on international travel in 2014, says the United Nations World Tourism Organization. A happy coincidence of rising disposable incomes, fewer restrictions on foreign tourism and a currency that has appreciated means Chinese are traveling more and, consequently, spending more than they did 10 years ago.

In the West End of London, Chinese visitors account for more than 20 percent of all tourist spending. "There has been a phenomenal uplift," says Jace Tyrrell, deputy chief executive of New West End Company, which represents 600 businesses in the area. "In 2014, Chinese shoppers accounted for over a quarter of tax-free sales on Bond Street, with visitor numbers from China increasing by 79 percent over the last four years and expenditure rising from 184 million pounds ($284 million; 249 million euros) to 492 million pounds."

Tyrrell puts the popularity of the area down to its cluster of luxury labels already known to the Chinese shopper as well as British heritage brands-such as Asprey and Smythson-that are harder to find in China.

The strength of the relationship between luxury brands and Chinese shoppers is most visible during Chinese New Year (also known as Spring Festival) and Golden Week in October, the weeklong Chinese public holiday around National Day, he says. Bond Street brands have window displays, promotions, limited edition and specially designed products to celebrate Spring Festival.

"Mulberry has the limited edition 'Cara' handbag to represent the Year of the Ram, with eight bags available at the Bond Street flagship," says Tyrrell. He also mentions that big brands do their utmost to make the Chinese customer feel at home, employing Mandarin-speaking staff, offering Chinese tea and training employees in credit card etiquette.

The investment pays off. In February 2014, Chinese sales on Bond Street accounted for 27 percent of the total tax-free spending with an average transaction value of 1,500 pounds. What luxury stores in London offer, says Tyrrell, is a "unique, bespoke experience".

|||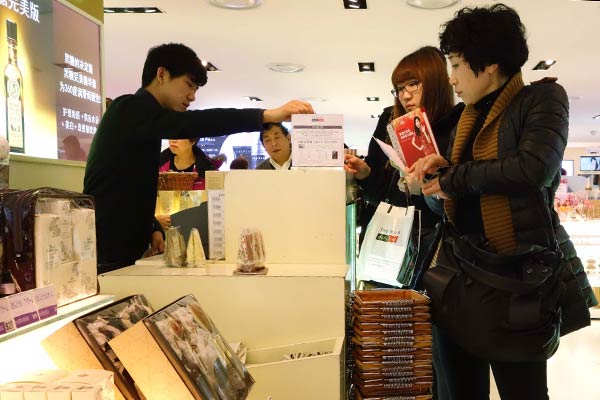 Chinese people buy luxury products at a duty free store in Seoul. [Photo / China Daily]
It is not just overseas retailers that are snapping at the heels of China's high-end boutiques, it is overseas e-tailers too. New York-based Gilt sells heavily discounted designer items over a restricted period. Marshall Porter, senior vice-president and general manager of international at the US firm, says: "We've had the Chinese-language site for almost six months. The navigation is in Chinese and so is the checkout. We're trying to create a site that is seamless for the cross-border Chinese shopper."
Porter describes Gilt's Chinese customer as a savvy female who is luxury-oriented, aged 25 to 40. "Brands that are popular with Chinese customers are contemporary luxury ones-Swarovski, Kate Spade-but we sold a Hermes Birkin bag to a Chinese customer for $19,000. Price and authenticity convinces Chinese people to shop on overseas sites. There is clearly a trend in that direction-knowing they can get these products at lower prices and products that are assured." Some Chinese on and offline retailers have a reputation for selling counterfeit items, he says.
According to Fortune Character Institute, fake luxury products in China outnumber genuine items by six to one. A quick tour of Hongqiao and Silk Street markets in Beijing reveals multiple stalls selling bags, belts, cufflinks and watches that are, to the untrained eye, passable copies of the real thing. Tina Zhou, of the institute, says there are too many fake products for brands to deal with.
"These fakes find their way onto e-commerce platforms, even boutiques in second- and third-tier cities. Brands don't have the energy to get rid of these fakes. That is another reason for Chinese people buying in Paris and Milan-they know they are buying the real thing, from the source."
But brands should not lose faith in China, says Liz Flora, who edits Jing Daily, an online magazine about China's luxury sector. "It's vital that stores have a brick and mortar presence in China. They want to create that brand awareness so the Chinese customer is aware of it when they go abroad. Many Chinese consumers like to see a product before they buy it. They want to learn about the quality. It's also important to make sure that the service is on a par with the global service. The perception is that the service is better in Hong Kong and overseas. Many Chinese consumers are jetsetters. If the Chinese have a good experience with the brand abroad and are treated really well, they will take that back with them."
A survey by the public relations firm Ruder Finn supports the perception of Chinese mainland stores offering poor service. Of the 1,616 people interviewed for its China Luxury Forecast 2015, 19 percent said they were very satisfied with service received on the mainland. The top sources of dissatisfaction were limited product selection, unknowledgeable staff and brands relying too heavily on celebrities.
Alain Li is regional CEO of Richemont APAC, which owns several luxury brands including Cartier, Montblanc and Van Cleef & Arpels. He says the company experienced healthy growth in China before 2014. However, last year was the first time they saw a decline in the Chinese market, mainly affected by the rise of overseas shopping agents, as well as the exchange rate.
As a result of the new climate, Li says, Richemont is focusing on the "globalization of services" and is attaching more importance to training Chinese staff to provide the same standard of service found elsewhere in the world.
Fang Jinqi, a Shanghai real estate agent, speaks of the convenience of shopping overseas, with stores accepting China UnionPay and employing Chinese-speaking staff members. The 32-yearold frequent flier went to Japan, South Korea and Canada last year. There is usually no budget for her purchases as she hails from an affluent family.
"My favorite shopping items were Christian Louboutin's high heels. Some of their shoes, which are limited edition, may cost over $30,000 per pair. But it is really worth the money for my future (shoe) collection. Sometimes, I will also buy cosmetics for my friends and relatives. But my friends all travel a lot themselves."
Shi Jing contributed to this story.