Source:
China Daily
Covering every eventuality
Published:
21 Dec 2014 21:45:49 PST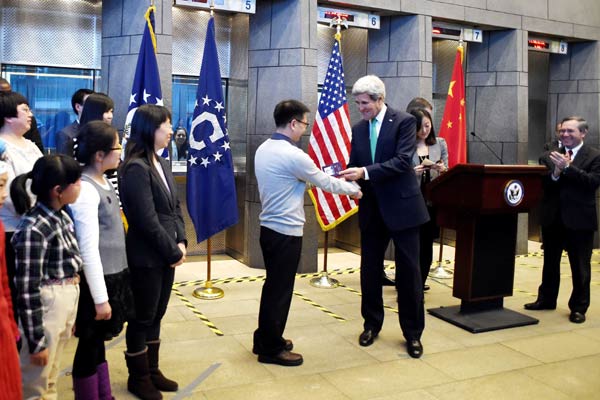 US Secretary of State John Kerry issues a visa to a Chinese man named Yang Bo at the US Embassy in Beijing on Nov 12. Insurance companies see larger demand for travel insurance from Chinese travelers after the US eased its visa policies. [Provided to China Daily]
The lowering of visa application conditions for Chinese tourists following the recent Asia-Pacific Economic Cooperation meeting in Beijing will open up wider opportunities for the country's overseas travel insurance sector, according to industry representatives.
Frank Chen, head of product development in AIA China Ltd, a Hong Kong-based insurance company, says since it has become easier for Chinese people to travel abroad, traveling is no longer just a leisure activity but associated with other purposes as well, such as beauty and medical treatment, or even religious pilgrimage.
"Many developed countries require that travelers should take out insurance to a certain level to be eligible for a visa. Yet we have noticed that many customers are becoming dissatisfied by basic mandatory insurance policies," says Chen.
"But they need to be careful to chose insurance policies that are suitable for the activities they plan to do during the tour. As more people travel abroad with the introduction of simpler visa procedures, the types of different travel insurance policies will definitely rise."
Nearly 90 countries have signed agreements with China to lower their visa requirements for Chinese visitors, including the United States, France, Germany, Japan and Indonesia.
The latest statistics from the World Tourism Organization show there were nearly 100 million outbound Chinese travelers last year, making the country the world's biggest source of travelers. That market is now worth $102 billion, surpassing the United States and Germany.
"Furthermore, as individual needs become more segmented, insurance companies are having to transform their services from static risk control to proactive risk prevention, such as reminding their customers of the changes in the weather and geographical features in their travel destinations to reduce the chance of an accident.
"Such a transformation in the market will give rise to insurance policies with lower premiums and improve the satisfaction rate of the customers."
Zhang Juan, an account manager with Allianz, the German insurance provider, recommends that Chinese tourists going overseas should certainly buy travel accident insurance, which covers medical costs of injuries, or pays out in the event of death as a result of an accident. Some even include transport costs back to your home country too.
"The insurance offered by a travel agency normally does not cover accidents where the traveler is at fault," Zhang says. "Therefore, taking out an insurance policy independent of any travel package could save you a lot of trouble in the event of an accident. This is particularly important for those traveling on their own."
The price for an accidental injury travel policy is around 70 yuan ($11.4) and policies that cover a wider range of medical emergencies and other benefits such as transport and luggage delay, lost personal belongings or identification documents, cost from 90 to 110 yuan.
Posted on 15-Dec-2014
YANG ZIMAN