Source:
China Daily
ICBC Luxembourg launches RMB clearing service for 15th anniversary
Published:
21 Dec 2014 21:45:48 PST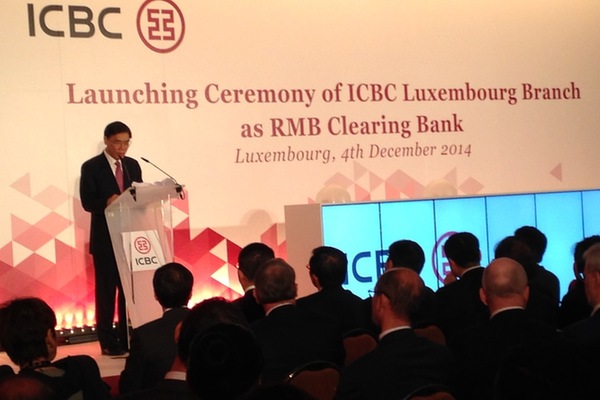 Jiang Jianqing, chairman of the Industrial and Commercial Bank of China delivered keynote speech at the launch ceremony [Photo/Liu Jia]
Industrial and Commercial Bank of China in Luxembourg celebrated it's 15 th anniversary by announcing new RMB clearing services on Thursday in Luxembourg.
The bank will now be able to operate as a clearing bank in the Grand Duchy, following the People's Bank of China (PBoC)'s designation announced in September.
In addition to Luxembourg, ICBC's Singapore branch was also added to the RMB clearing bank list. ICBC also operates RMB clearing banks in Doha and Toronto. Marked as the largest commercial bank by asset, ICBC is the first Chinese bank to conduct 24 hour non-stop cross-time-zone offshore RMB business across three Continents.
"The Branch (Luxembourg) will commit to providing safe, premium and efficient RMB clearing service to its customers," said Jiang Jianqing, chairman of ICBC at ceremony.
Through such clearing services, banks in Luxembourg and other regions are now able to implement RMB transactions via accounts opened in Luxembourg and benefit from ascending efficiency and facilities of the international usage of RMB.
ICBC chairman Jiang said the bank will constantly enrich and provide comprehensive and innovative RMB products. The move is seen as a further boost in EU-China cooperation and enhances the development of RMB business Jiang added.
In addition to the Luxembourg branch's anniversary, the Luxembourg Stock Exchange also signed a Memorandum of Understanding with ICBC to facilitate financial activities related to the internationalization of RMB.
Despite slightly falling behind its neighboring competitors, London, Frankfurt and Paris, all of which have launched of RMB clearing services offered by other Chinese banks, the Luxembourg market is believed to leverage the whole of Europe.
The latest statistics provided by ICBC shows that Luxembourg owns the largest pool of RMB in the Eurozone, with currently 79.4 billion yuan in deposits and 73.0 billion yuan in loans, 32.9 billion in RMB bond listings and over 261.8 billion RMB asset in mutual funds.
It is also the only country in Europe with RMB denominated mutual funds.
The financial hub is now also recognized as a gateway to Europe, with a soaring number of Chinese ODI flowing into the continent.
The city country promotes itself as a "home" for Chinese commercial banks by building its brand name in cross-border investment fund and bond in particular.
"We are very happy there will be six banks from China by the end of this year or the beginning of next year," said Pierre Gramegna, Luxembourg's Minister of Finance.
The other three Chinese banks (besides BOC, ICBC, and China Construction Bank) expected to set up shop in Luxembourg are Bank of Communications, Agricultural Bank of China, and China Merchants Bank. The former two banks have received operation licenses in October and November respectively, while the license for China Merchants Bank is still pending in Luxembourg Ministry of Finance at present.
Posted on 05-Dec-2014
Liu Jia in Luxembourg