Source:
China Daily
US firm helps find better ways to master their information assets
Published:
21 Dec 2014 21:45:48 PST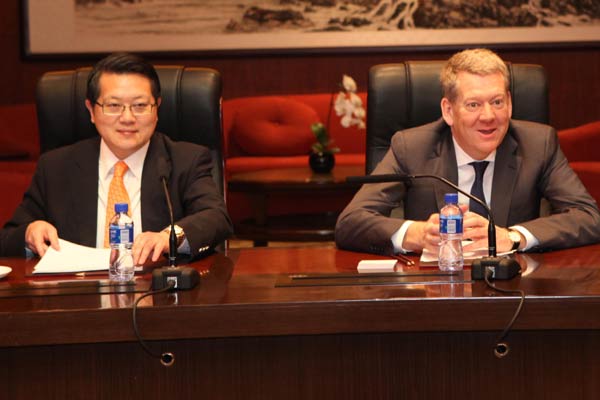 Aaron Hsin (left), president of Teradata Greater China and Hermann Wimmer, president of Teradata's international group, answer questions during a news conference in Beijing. [Provided to China Daily]
In the increasingly digital world, everything is connected, but the connections may not always be obvious.
So say officials from Teradata Corp, the Dayton, Ohio-based data management company, which is hoping to expand its data analytics business in China, where billions of terabytes of data are being gathered each year.
Aaron Hsin, president of Teradata greater China, says that companies in many traditional sectors are now looking at finding better ways to master their data assets and unlock their hidden value, and that presents his firm with a golden opportunity, adding that local telecom and financial corporations are its major customers.
"Chinese carriers are facing a strategic shift, from being just voice call providers to becoming all-around data platforms.
"The rapid development of fourth-generation telecom networks, which further underline the importance of mobile data transfer, are set to allow carriers to use statistics as a research tool for their businesses," Hsin says.
He says that data research demands from the transportation, manufacturing and energy sectors, in particular, surged in last couple of years.
Analysts suggest that better use of such new technologies can help Chinese companies in those and other sectors too, reduce their operation costs and explore new business models.
Liu Dong, managing director of Accenture Technology Labs Beijing, says that by being able to find value from within their own company data, "local manufacturers are adding more customized, data analysis-based services to their product offerings.
"It is a critical step for local brands, such as Haier Group, to join the global competition," says Liu.
The retail industry, especially, is vigorously expanding its use of what he calls big data analytics-or the discovery and communication of meaningful patterns in customer information-to make shoppers spend more every time they visit the brick-and-mortar stores at a time when online shopping websites are eroding traditional till sales.
"In the world, location-based information collected from smartphones provides the best behavior data to retail store owners. Big data analytical tools and platforms can help them accurately locate potential customer prospects and opportunities," says Hsin.
Teradata has been pushing its Unified Data Architecture program, an analytics package that allows users to choose different tools when analyzing their statistics.
"Data used to be a byproduct of transactions. Today, the Chinese government and companies have realized that data are a core asset," says Hsin.
The company is banking on its localization strategy to help it gain steady growth across China, as well as in the United States, where several of its clients have been battling with information analytical issues.
The company, which employs more than 1,000 staff in the country, refuses to disclose revenue from the China market, but Hermann Wimmer, president of Teradata's international group, says working as a local company in China is helping its business.
"China is the second-largest market for Teradata after the US, but with such a high rate of growth it is the most strategically important," Wimmer says.
"We have the technology to add value for Chinese companies. This will be critical for them to tap into the global market," he says.
Posted on 15-Dec-2014
GAO YUAN