Source:
China Daily
Russia's richest lose $10b
Published:
21 Dec 2014 21:45:46 PST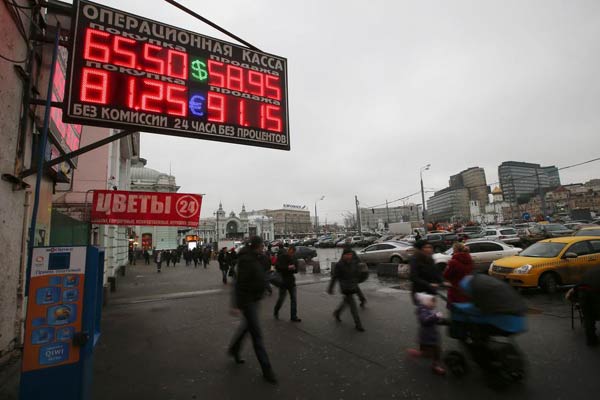 People walk past boards showing currency exchange rates in Moscow, Dec 17, 2014. The dramatic fall in Russia's rouble slowed on Wednesday, with the government selling foreign currency to prop it up after a 50 percent fall against the dollar this year. [Photo/Agencies]
Russia's 20 richest people lost $10 billion this week as the central bank raised interest rates to counter Western sanctions that have crushed the ruble and sent the country's RTS Index to its lowest point since March 2009.
The billionaires have dropped a combined $62 billion in 2014, according to the Bloomberg Billionaires Index, and control a combined $174 billion. The European Union and US limited Russian companies' access to financing to punish President Vladimir Putin after he annexed Crimea in March. Russia's troubles have been worsened by the corresponding plunge in the price of oil, a bedrock of the country's economy.
The ruble has plummeted 50 percent since the end of June. Crude fell to a five-year low after the United Arab Emirates said OPEC will not rein in production. In response, Russia's central bank raised its benchmark interest rate to 17 percent from 10.5 percent in the middle of the night in Moscow on Monday as the ruble slid below 64 per dollar for the first time.
"The optimists who thought in March that everything would be all right in the end now understand that nothing will be OK," said Stanislav Belkovsky, a Kremlin adviser during Putin's first term who now consults for Moscow's Institute for National Strategy, a research firm.
"Russia's richest take this situation very negatively, but they do not have the tools to reverse it."
Posted on 18-Dec-2014