Source:
China Daily
Singles' Day sales boom breaks records
Published:
21 Nov 2014 00:51:53 PST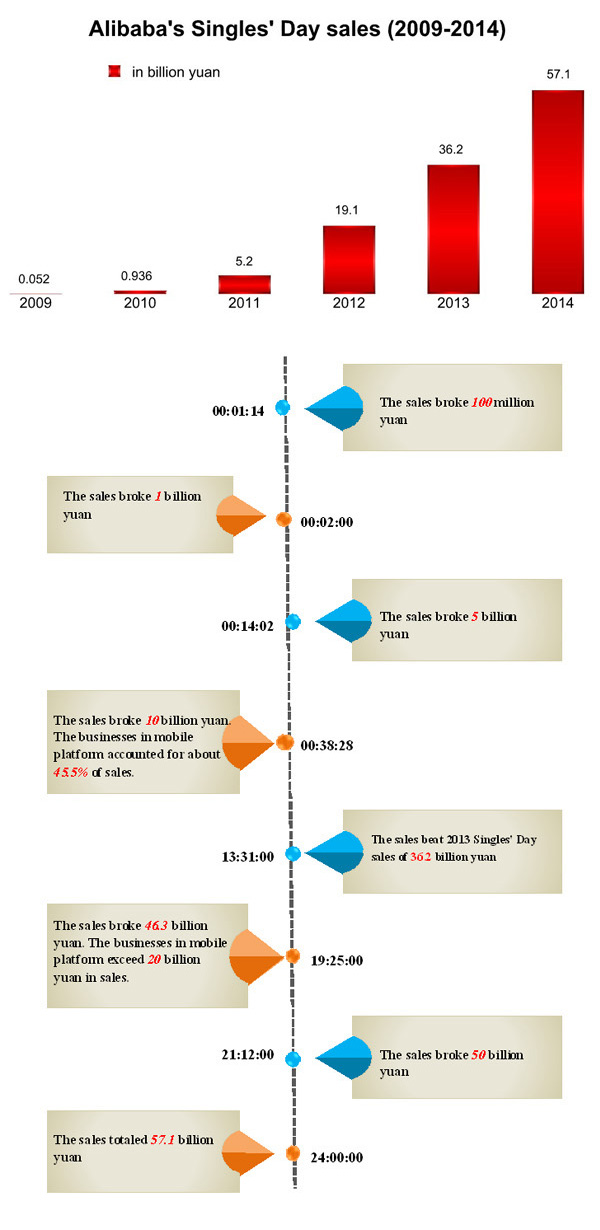 |||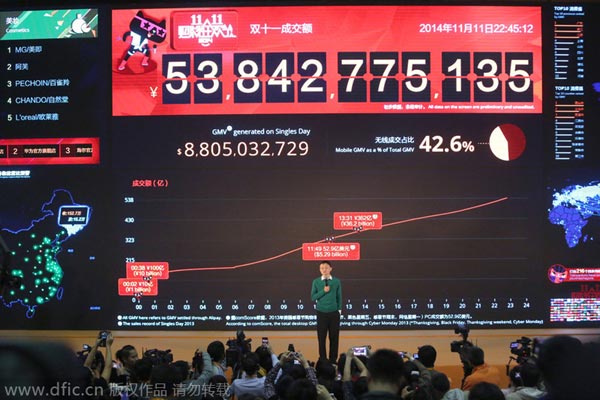 Jack Ma Yun, Chairman of Alibaba Group, speaks in front of a big screen showing that the total GMV (Gross Merchandise Value) on Alibaba's shopping sites Taobao and Tmall exceeded 53.8 billion yuan ($8.8 billion) at 10:45 p.m. during the November 11 Singles' Day shopping spree at the headquarters of Alibaba in Hangzhou city, east China's Zhejiang province, Nov 11, 2014. [Photo/IC]
HANGZHOU -- The online buying fiesta on this year's Nov. 11, also China's Singles' Day, smashed records thanks to the world's biggest online retail sales day.
Online sales on Alibaba's Tmall.com, Taobao.com and its overseas outlets, such as AliExpress, topped 57.1 billion yuan ($9.34 billion) as of 11:30 pm Tuesday, beating Tmall and Taobao's combined 2013 Singles' Day sales of 36.2 billion yuan, according to the company.
This year is the first time Alibaba has chosen to launch its Singles' Day campaign on both its domestic and overseas platforms.
Customers from 217 countries and regions outside the Chinese mainland have joined the shopping spree, with Hong Kong, the United States and Russia claiming the three top-buyer areas.
Starting as in-joke and an excuse the unattached to celebrate -- or poke fun at -- their status in the 1990s, Singles' Day has evolved into an online shopping spree for all in recent years, as e-commerce operators stepped in to tap into the buying potential of bachelors and discount-savvy netizens.
Many Chinese consumers stayed up until the early hours of Tuesday to compete with millions of others for the bargain goods. Alibaba said the late-night shopping craze drove sales to hit the 10 billion yuan benchmark in 38 minutes. Last year, it took 6 hours to reach that amount and 13 hours in 2012.
Alibaba said nearly half of purchases had been completed on mobile devices, evidencing the rising popularity of online shopping on cellphones.
Boosted by optimism on Singles' Day, Alibaba's shares rose by 4 percent to close at 119.15 dollars on Monday on the New York Stock Exchange. The Hangzhou-headquartered company debuted its shares in New York in September with a stunning initial public offering of $25 billion.
Alibaba operates China's largest consumer-to-consumer (C2C) and business-to-consumer (B2C) marketplaces Taobao and Tmall, which sold 3.62 billion yuan's worth of goods on Singles' Day last year, more than 2.5 times of that of Cyber Monday, the Monday following Thanksgiving, which is promoted as an online shopping day in the United States.
Amazon on Tuesday also initiated a new service in China to allow customers to buy products shipped from overseas, while the Beijing-based website 360buy offered discounts via its website, mobile app and its account on popular messaging service WeChat.
The Singles' Day shopping spree is a reflection of the rapid expansion of China's e-commerce sector in recent years.
According to Internet industry research agency iResearch, China's online shopping market had a sales volume of 691.41 billion yuan in the third quarter, up by 49.8 percent from the same period last year.
iResearch also noted that e-commerce companies are expanding their business from first- and second-tier cities to third- and fourth-tier cities and even rural areas. At the same time, they are extending their business abroad.
Jack Ma, the founder and board chairman of Alibaba, said that he hoped Alibaba would participate in China's future urbanization and better bolster domestic demand.
"I thought about the hardworking of Chinese women on the Singles' Day, and I hope to help them buy more quality products on the international market," Ma said.
Posted on 12-Nov-2014