Source:
China Daily
India, Pakistan troops violate cease-fire on Kashmir LoC
Published:
24 Oct 2014 01:30:01 PST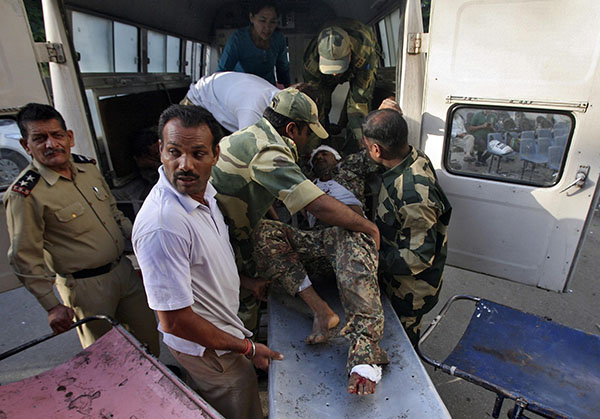 An injured Indian Border Security Force personnel is taken to a hospital in Jammu October 9, 2014. [Photo/Agencies]
SRINAGAR, Indian-controlled Kashmir - The troops of India and Pakistan Wednesday violated cease-fire agreement on the Line of Control (LoC) in Kashmir, officials said.
The two sides fired mortars and bullets on each other's positions in Poonch, about 180 km southwest of Srinagar city, the summer capital of Indian-controlled Kashmir.
The fresh exchange took place a day after Director Generals Military Operations (DGMOs) of two countries held talks over the hotline. New Delhi and Islamabad have an institutional weekly telephone hotline dialogue between their DGMOs.
"Today again armies of India and Pakistan exchanged fire on LoC in Saujian sector here," a senior official said.
Indian officials said Pakistani troopers resorted to unprovoked firing, triggering retaliation from Indian side.
"Our side has not suffered any damage in today's firing," the official said.
According to Pakistan's official broadcaster Radio Pakistan, Indian firing wounded four children in Nakial sector near Kotli.
The broadcaster quoting officials Wednesday said Pakistan military effectively retaliated to Indian firing.
Both New Delhi and Islamabad accuse each other of resorting to unprovoked firings and violating cease-fire agreements. And both sides maintain that their troops gave befitting reply to the other side.
Since the beginning of this month deadly skirmishes took place between Indian and Pakistani troops posted on the LoC and the International Border (IB) in Kashmir.
LoC is a de facto border that divides Kashmir into India and Pakistan controlled parts.
Kashmir, the Himalayan region divided between India and Pakistan, is claimed by both in full. Since their independence from Britain, the two countries have fought three wars, two exclusively over Kashmir.
The troops of India and Pakistan intermittently exchange fire on LoC and IB, despite an agreement in 2003 to observe cease-fire. Though some violations have been reported on both sides, the cease- fire remains in effect.
Posted on15-Oct-2014