Source:
China Daily
Firms claim innovation and training key to their success
Published:
11 Sep 2014 22:50:30 PST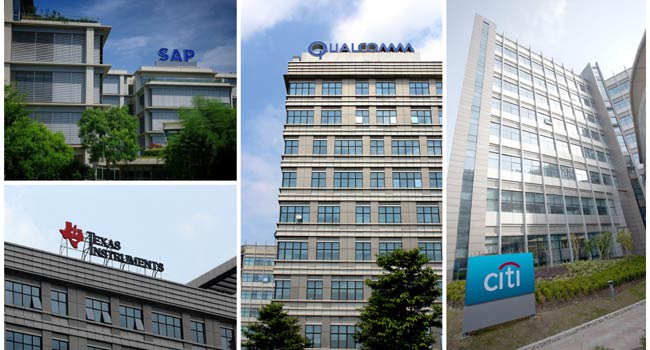 Office buildings of renowned companies at the Shanghai Pudong Software Park. CHINA DAILY

Through innovation the Shanghai Pudong Software Park, known as SPSP, is on the way to industrial agglomeration, enterprise incubation, information fusion and creation of cloud platforms.

"These are steps the park has taken to carry out its industry transformation strategy," said a SPSP Co Ltd manager in charge of innovation, who asked not to be identified.

He said an example was the SAP China Institute, which won three times as many patents in 2013 than in 2012, thanks to its innovation efforts.

The institute's president, Li Ruicheng, said through innovation the organization developed three major products targeting the Chinese market. He said these included new financial solutions for Chinese customers, SAP Anywhere and the Chinese version of cash and liquidity management.

"They were the result of the strategic transformation SAP launched in 2013," Li said.

SAP provides business solutions for small and medium-sized enterprises, which account for 80 percent of its clients.

"We try to keep the balance between innovation and business value, so that we can develop market-oriented products for customers," he said.

Li's opinions were echoed by Pang Shengdong, chairman and CEO of 2345.com. Pang attributed his company's success to innovation in talent recruitment, training and evaluation mechanisms.

He spoke highly of what the company had done in upgrading its personnel structure instead of the ideal revenue it had gained, and said that high quality talents stimulated its fast growth.

"We didn't follow others in innovating technologies and business models," said Wang Zhidong, vice-president of Sihua Tech.

"We avoided investment mistakes because we didn't blindly copy what others were doing."

The park leads the nation in the chip design industry with many famous enterprises based, including Texas Instruments, Marvell and Freescale Semiconductor.

Meanwhile, domestic chip enterprises have also reinforced their innovation ability, making their technical levels improved.

Thanks to the innovation effort, these enterprise, including Memsic Semiconductor which produces sensor chips, Maxscent developing digital TV chips and Mvsilicon producing consumer electronics chips, have sharpened their competitive edge and narrowed the gap with the world advanced level.

Service outsourcing

SPSP is home to a large number of the world's leading service outsourcing and software export enterprises, including Citigroup Software, PWC Information and Kyocera Information.

The Citigroup Services and Technology (China) Limited, the world's leading financial service outsourcing provider, develops software and offers technical support for customers from more than 60 countries and regions in the Asia-Pacific region, the Middle East and Europe.

"The key to the business is to train qualified software developers," said Li Yuangang, general manager of CSTC.

Every year his company invites financial experts from China and abroad to give lectures and the organization sends employees to New York, London, Singapore and Tokyo to learn about new financial products and communicate with local customers, he added.

Another leading software and technology service enterprise, SunGard, offers disaster recovery solutions, IT-managed services, information consulting services and business management software. The company has yearly revenue of more than $4 billion.

SunGard China has about 300 enterprises as its customers, 90 percent of which are banks, securities, futures, funds and insurance companies. The organization provides financial service institutions with international products and solutions that target the China market, said its President Zhu Ping.

Shanghai ChinaLink Professional Services Co Ltd continued to target high-end customers when the city's financial service outsourcing started to move its low-end business to the second- and third-tier cities.

"The company's rich experience in the bank and credit card business is valuable to servicing high-end customers," said Xu Jian, deputy general manager of Shanghai ChinaLink.

|||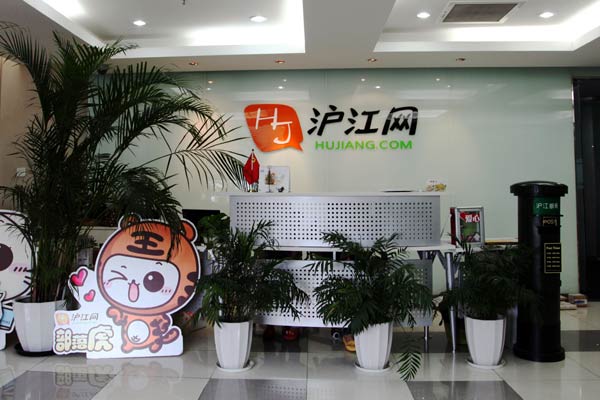 Hujiang.com's office at the park. CHINA DAILY
Culture creativity
The park has attracted a cluster of companies in the creative industry after several years of relentless effort. Hujiang.com and Hippo Animation took the lead.
Hujiang.com reported that it gained $20 million worth of risk investment and its brand was valued at $200 million last year.
Statistics showed that the company's revenue hit more than 100 million yuan ($16.3 million) in 2012 and is expected to surpass 300 million yuan this year.
Hujiang.com opened its first experience store at Jinke Road Station, on the city's Metro No 2, in June and 10 more stores are expected to operate on the subway in the future, said Fu Cairui, CEO of the dotcom.
The firm's expansion scheme aims to promote 80 kinds of apps on iOS, Android and WP8 platforms to attract 50 million mobile users, Fu said.
"We believe the mobile business will become the most important part of Hujiang.com in the next three years," Fu said. He added that the company planned to invest less than 1 billion yuan to create an online education ecosystem in the next five years.
Hujiang's success was echoed by Hippo Animation, which made 30 million yuan from its animated movie Farm House 81.
Xu Ke, chairman of Shanghai Hippo Animation Design Inc Ltd, said the box office was a main income source for his company. "China now has few original animation films and I feel very sorry for it," Xu said.
He said Hippo Animation was negotiating at home and abroad for cooperation projects. American Lions Gate Entertainment Corp bought sole distribution rights in North America for its animated movie Jungle Master and Vimeo and the world's first charging video website also purchased its copyright in April.
"Our company insists on producing original animated movies and tries to be China's Pixar Animation Studios," Xu said.
Internet financing
Internet financing has undergone several development phases, from online banking to the third party payment, personal loans and enterprise financing by means of information communication technologies, such as the Internet of Things, social networks, cloud computing and mobile Internet.
Many IT enterprises, such as the Orient Electronic Payment, 2345.com and yMatou.com, have entered the Shanghai software park to develop Internet, big data and software technologies for its service outsourcing, mobile Internet and e-commerce industries.
E-commerce has become a strong stimulus to the development of Internet financing, meeting the growing needs of a large number of customers.
Statistics from the iResearch Consulting Group showed that China earned revenue of 9.9 trillion yuan from the e-commerce market in 2013, up 21.3 percent over 2012.
The Shanghai PPDAI Financial Information Service Co Ltd, China's first people-to-people pure credit unsecured borrowing network platform, reached a total trading volume of more than 1 billion yuan last year with each employee dealing with more than 10 million yuan.
"Our efficiency is much higher than the traditional credit," said Zhou Hao, executive vice president of the company, adding that PPDAI now handles loans mainly for small and micro businesses, e-commerce firms and individuals.
The first two share two-thirds of the loans, while individuals account for half of its customers. "Our business orientation will not change and we still extend loans to individuals through Internet," he said.
Posted on 10-Sep-2014