Source:
China Daily
Dutch company's growth hopes are fueled in China
Published:
11 Sep 2014 22:50:30 PST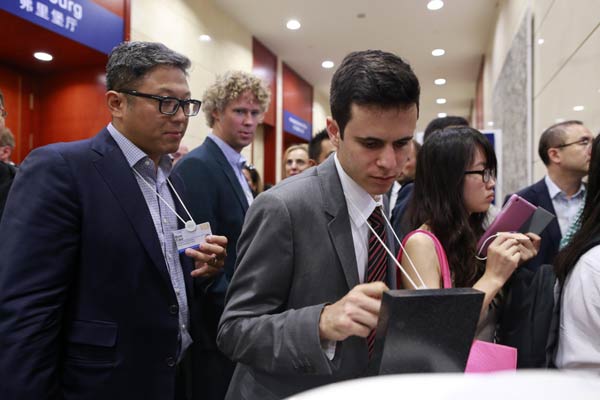 Representatives to the World Economic Forum in Tianjin punch their cards to enter panel-discussion venues. FENG YONGBIN/CHINA DAILY
Dutch life sciences company Royal DSM is hoping to bring its second-generation biofuel technology, which converts agricultural waste into renewable energy, to China after opening its first commercial-scale cellulosic ethanol production plant in the United States last week.
The technology will have "phenomenal" market potential in China, which is eager to reduce its dependence on traditional energy, DSM's Chief Executive Feike Sijbesma said, adding that hundreds of billions of dollars are at stake if the technology is applied successfully in the Chinese market.
"With our first factory in the US making it possible, we hope to bring it to China, too," Sijbesma told China Daily on the sidelines of the World Economic Forum in Tianjin.
Sijbesma said DSM intends to participate in China's transition toward an innovation-driven economy, a point that was emphasized by Premier Li Keqiang in his speech at the forum's opening session on Wednesday.
The company looks to start its cellulosic ethanol licensing business in China in coming months, but the timing will depend on Chinese regulations, Sijbesma said.
The Dutch company has spent the past seven years developing a technology that converts agricultural residue, such as baled corn cobs, leaves, husks and stalks, into cellulosic ethanol, a renewable fuel that could help reduce greenhouse gas emissions by 85 to 95 percent, according to Sijbesma.
Second-generation biofuel technology is seen to have greater market potential than first-generation biofuels made from crops such as corn and sugar cane, which compete for farmland needed for food production.
The opening of the US' first large-scale cellulosic ethanol plant, in Emmetsburg, Iowa, last week was seen by industry proponents as a significant step forward for wider adoption of biofuels and the continuation of a shift from fossil fuels to cleaner bio-based ones.
The $275 million factory, known as Project Liberty, is owned and operated by POET-DSM Advanced Biofuels, a joint venture of DSM and American biofuel producer POET. At full capacity, it will produce 20 million gallons (75.7 million liters) of ethanol annually and eventually 25 million gallons a year, according to the company.
Sijbesma said the project is "very relevant" to the Chinese market as the country is battling serious pollution while seeking a way to slake the nation's thirst for energy as well as ensuring its energy independence.
China has set an annual production target of 10 million metric tons of bio-ethanol by 2020 in its mid- to long-term plan for the development of renewable energy.
Posted on 12-Sep-2014