Source:
China Daily
Hollande's image takes a new knock with book of ex
Published:
11 Sep 2014 22:13:49 PST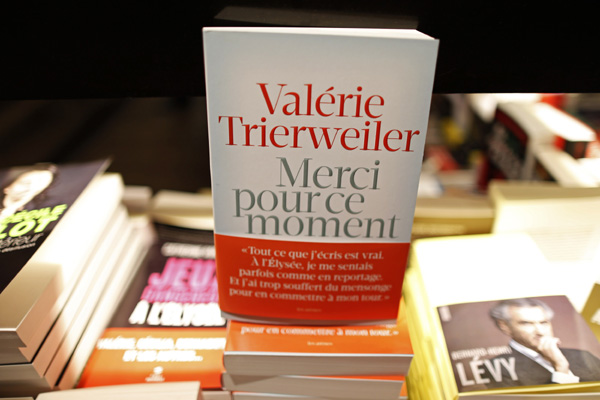 The 320-page book "Merci Pour Ce Moment" (Thank You For This Moment), written by French President Francois Hollande's former companion Valerie Trierweiler is displayed in a bookstore in Paris, September 4, 2014. [Photo/Agencies]

PARIS - French President Francois Hollande's image took a new knock on Thursday with publication of a tell-all book in which ex-partner Valerie Trierweiler accused the Socialist leader of dismissively describing the poor as "the toothless".

Hollande ended his seven-year relationship with Trierweiler after his affair with an actress was revealed in January. The 49-year-old journalist vowed at the time that, breaking with a French tradition of maintaining discretion over private lives in politics, she would not keep quiet.

The 320-page book is laced with unflattering references to Hollande as cold or callous. But the charge that he ridiculed the poor was the one that sparked most media debate given his efforts to portray himself as aware of the plight of the needy.

"He presented himself as a man who disliked the rich," Trierweiler, a journalist with glossy magazine Paris Match, wrote of Hollande's successful 2012 election campaign.

"In reality, the president doesn't like the poor. In private, this man - the left-winger - calls them 'the toothless' and is so pleased at how funny he is."

On the day of its publication, Trierweiler's book shot to the top of Amazon.fr's bestseller list. It was also the strongest launch in five years for a book at FNAC superstores, where it sold three times as many copies as the first French edition of "Fifty Shades of Grey".

|||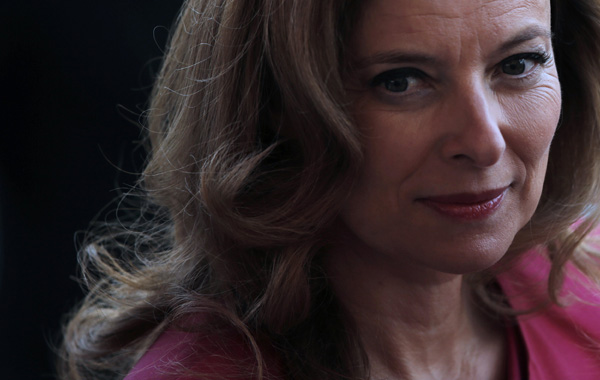 Valerie Trierweiler, former companion of French President Francois Hollande, attends the traditional Bastille day military parade on the Champs Elysee in Paris in this July 14, 2013 file picture. [Photo/Agencies]
Hollande's Elysee Palace has refused to comment on the book. But, in an unexpected turn, it was Segolene Royal, the mother of Hollande's four children and the woman he left for Trierweiler, who sprang to his defence.
"This is the opposite of what he stands for," Royal, herself a former presidential candidate who is now his energy minister, told RMC radio, calling the accusation "total nonsense".
RTL radio commentator Alba Ventura said that, true or not, Trierweiler's attacks risked being "devastating" for what was left of Hollande's public credibility.
Marine Le Pen, leader of the resurgent far-right National Front, accused Hollande and his former partner of sullying the authority of the role of president in the eyes of the public.
Trierweiler lived with Hollande at the Elysee presidential palace for a year and a half until a gossip magazine exposed his secret relationship with actress Julie Gayet, 42, in January.
In her book, titled "Thank You For This Moment", Trierweiler speaks of Hollande's coldness and mean-spirited stabs, and also says he attempted for months after the breakup to win her back, sending as many as 29 text messages in a day.
Hollande has shunned calls from some in his own party who believe his deficit-reduction strategy is being conducted at the expense of the economy and the needy, recently reshuffling his government to oust more hardline left-wingers.
His prime minister, Manual Valls, has called a confidence vote in parliament for September 16, where the scale of dissent within the ruling party - for now confined to a minority group of hardline leftists - may become clearer.
Posted on 05-Sep-2014