Source:
China Daily
Nonferrous metals index futures start practice trading
Published:
10 Jun 2014 18:52:38 PST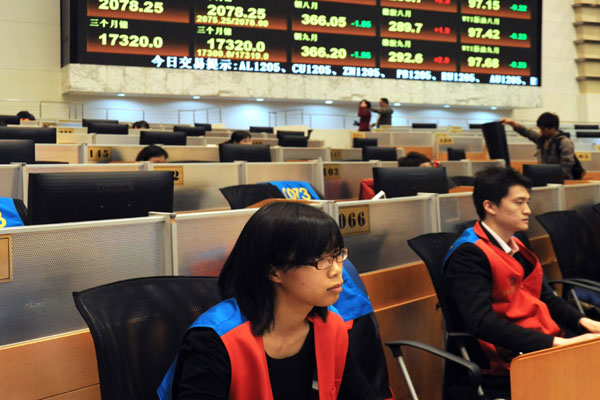 The Shanghai Futures Exchange on Monday starts simulated trading of the country's first futures contract based on a nonferrous metals index. CFP
The Shanghai Futures Exchange on Monday started simulated trading of the country's first futures contract based on a nonferrous metals index.
The contract is based on an index compiled by the Shanghai-based exchange. The index tracks the prices of four metals: copper, aluminum, zinc and lead.
The exchange said in an online statement that the simulated trading is intended to raise investors' understanding of the risks involved in index futures.
Investors participating in the simulation are given 1,000 yuan ($160) in their accounts to start. The daily fluctuation band is 5 percent, and all contracts are settled in cash.
The exchange began work on the underlying metals index in 2004, and the index itself began trial runs in 2010. The official launch of the index was on Dec 26, 2012.
The exchange said that the index futures contract will add a hedging tool to China's commodities market, where hedging options are limited. The contract will help small and medium-sized nonferrous metal producers hedge their positions and aid in the process of price discovery.
Institutional investors will also have a tool to expand their participation in the commodities market, said the exchange.
"The nonferrous metals index futures contracts will encourage product innovation by financial institutions, which will deepen the commodities market," said the exchange in the statement.
The exchange plans other new contracts soon.
SFE Chairman Yang Maijun wrote in an article published on Monday that the exchange will introduce the country's first crude oil futures that are open to foreign investors.
The China Securities Regulatory Commission said on Feb 28 that a policy framework for the new oil futures had been developed and would be used to guide the SFE in its preparations.
Yang said in March that similar contracts for nonferrous metals, precious metals and natural rubber will follow suit.
20-May-2014