Source:
China Daily
Cashing in on Internet Protocol Television
Published:
23 Apr 2014 01:24:17 PST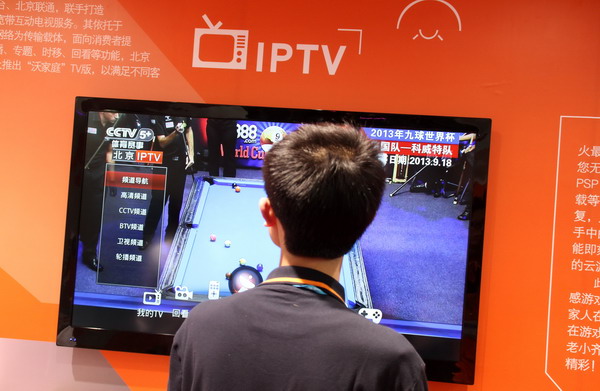 An IPTV booth at an international Internet exhibition in Beijing. The annual turnover of China's information technology and telecommunication industries is set to hit $602.3 billion by 2020. Provided to China Daily
Technology marks a great leap forward for business, say industry analysts
As the five rings finally blossomed during the closing ceremony of the Sochi 2014 Olympic Winter Games, television broadcasters were celebrating the breaking of yet another world record.
TV and online audiences around the globe were witnessing a new chapter in telecommunications history: the first time the Olympics had been televised throughout the event over Internet Protocol Television, meaning no additional cables had to be laid.
The industry breakthrough could also mean business opportunities for John Wang, Greater China head of Avaya Inc, whose networking and Unified Communications technology helped to provide seamless voice, video and data coverage throughout the event.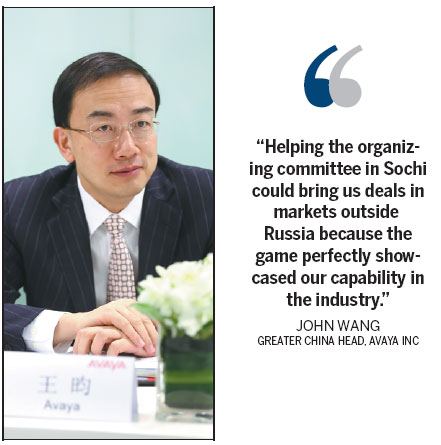 The company also employed IPTV for the Paralympics, also held in the Russian city.
"Helping the organizing committee in Sochi could bring us deals in markets outside Russia because the game perfectly showcased our capability in the industry," said Wang, a Shanghai native and an information technology veteran.
More than 75,000 people visited the Sochi Olympic Park and at least 3 billion watched TV broadcasts around the globe each day, according to the organizers.
Media, athletes and coaches were able to tap into 36 IPTV channels across the Avaya network infrastructure. This meant a reporter watching the figure skating live in the Bolshoy Ice Dome could also watch the downhill skiing on high-digit TV.
News photographers had instant-upload access to thousands of pictures from wireless-enabled cameras, from the moment an athlete crossed the finish line.
Wang said the effective communication network Avaya built in Sochi will set the pace for the adoption of similar technologies in China.
"We are looking at small and mid-sized enterprises for business growth in China this year," he told China Daily on a laptop running high-definition video conferencing software developed by Radvision, an Avaya subsidiary.
Wang and his China team use the enterprise grade multi-party mobile video collaboration platform on a daily basis to hold meetings.
|||

Q&A|JONHWANG

Q: What was your first job

A: I worked as a software engineer more than 20 years ago at VSC, a Sino-Japanese joint venture. The company is still in operation.

What decision do you most regret after joining Avaya

It's hard to say which one I most regret. I always review my work in order to make better decisions in the future.

What do you think has been the most challenging job in your career

I faced many challenges in different positions. Some of them were more precise issues during my time as an engineer. Most of the challenges I am handling today require me to master a wider range of knowledge from sales to products.

Which entrepreneur do you think is the leader in global and Chinese tech industries

The late Steve Jobs was definitely a pioneer. As for China, I don't know who really fits this position, although Shi Yuzhu, chairman of online gaming company Giant Interactive Group Inc, could be a legitimate candidate. I admire those who are able to rise in the face of adversity.

How do you spend your leisure time

I love to read. Sometimes I do a little sports as well but the most enjoyable time is always when I am with my family.

It was "enjoyable" to be a frequent user of a product made by the company for which he is working, said Wang, a software engineer who became an executive.

"The Chinese market has fully embraced the 'mega' trends in modern IT," said Wang.

"Technology such as cloud computing and big data has become the engine to push China's innovation as well. WeChat, a popular instant messaging application, is a vivid example of how Chinese companies lead industry by taking advantage of technology."

Avaya is looking to further strengthen its research and development capabilities in China in a localization process using its innovations and services. The company did not disclose details of the plan but Wang emphasized localization is one of the priorities of the company in China. This involves localization of the team, products and applications to better meet the needs of local customers.

Unlike Wang's first job as an engineer at a Sino-Japanese joint venture, his current employment requires a much stronger ability to look at the bigger picture, from service and sales to channels across the entire China market.

"It's a challenging job but also very intriguing for me," Wang admitted.

Prior to joining Avaya, Wang was vice-president of Cisco Systems' China channel sales unit

Wang always tries to reduce his off-work schedule to a calmer and slower pace - a lifestyle worshiped by traditional Shanghai culture.

Although he is working for a company that always underlines the importance of communication, Wang likes to spend some time alone to enjoy a short period of peace.

Walking and swimming, the top two sports that involve the least amount of speaking, are Wang's ways of avoiding his daily business tasks.

"I am also a devoted reader," Wang said. "But I feel sad that I don't have much time to read nowadays because of my increasing workload."

China's booming demand for next-generation communications technology is a focus of the government over the next several years, officials and experts said.

Mao Weimin, vice-minister of the Ministry of Industry and Information Technology, said IT-related sectors including broadband Internet, telecom infrastructure and services will be under the Central government's direct oversight.

The annual turnover of China's information technology and telecommunication industries is set to hit $602.3 billion by 2020, according to the ministry's forecast.

|||

"Communications infrastructure is the foundation of the nation's economic development. That's why the government is keen to place the growth of information use on the fast track," said Cao Shumin, head of government think tank China Academy of Telecommunication Research.

Wang appreciates how people's user-experience affects the direction technology is heading from a customer's perspective.

The rich consumer information technology sector is having a greater impact on enterprise-use markets, he said.

"In the past, major information technology trends were first adopted by super-big entities, then small and mid-sized enterprises and, in the end, by individuals. But nowadays popular technologies first used by grass-root users are greatly influencing what a multinational chief technology officers decides to put into his company's network," said Wang.

The emerging trend of workers bringing their own devices to work is fundamentally changing the direction of internal communications both in global conglomerates and SMEs.

As more employees bring their own laptops, smartphones and tablets to work, enterprises have to design a brand new communications platform that meets company security requirements and, for now, mobility needs, he explained.

Avaya sees private sector as growth driver

Growing business opportunities in China's private sectors are what John Wang, Greater China head of Avaya Inc, has high hopes for in the near future.

China has millions of small and medium-sized enterprises active in almost all sectors from manufacturing to e-commerce. Avaya hopes they will drive new business.

"The SMEs in China will be a powerful profit-growth driver for us in the years ahead," said Wang.

Avaya now serves a number of leading privately held companies in the Internet and electronics markets.

It provides call centers to Chinese smartphone maker Xiaomi Corp and Wal-Mart Stores Inc-backed online retailer yhd.com.

"Xiaomi was a unique company for us because it asked us to integrate its own instant messaging applications into the contact center platform. No other customers have had a similar request to Xiaomi's," Wang said, adding Chinese tech and Internet companies are constantly asking for a full use of communication tools to improve services and spur innovation.

"That is a challenge for Avaya but also an excellent business opportunity," said Wang, with a smile on his face.

Wang was keen to talk about how his company could serve SMEs in China like a pupil always eager to deal with questions to which he knows the answers.

"I believe China has a huge demand for collaboration and communication technology. That's why Avaya has been actively seeking customers in various industries to explore new ways of implementing the technology," he said.

The company's own sales staff now cover 22 major Chinese cities and rely on partners to reach customers in smaller cities.