Source:
China Daily
Chinalco to partly halt Peru copper project
Published:
23 Apr 2014 01:24:14 PST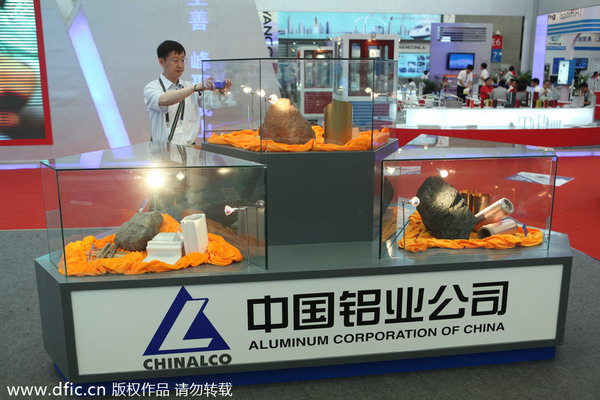 People visit the stand of Chinalco (Aluminum Corporation of China), parent company of Chalco (Aluminum Corporation of China Limited), during an exhibition in Shanghai, China, July 14, 2011. [Photo / dfic.cn]
Aluminum Corp of China, known as Chinalco, said on Monday the company will stop some production at its Toromocho Mine in Peru after a request from the local authority but says the move will not affect the company's operations in general.
Peruvian authorities ordered China's largest State-owned nonferrous metal miner to partially halt its operations at a copper facility at the mine over alleged non-compliance with environmental laws relating to water dumping on Friday.
Chinalco Mining Corp International, a subsidiary of Chinalco, controls the Toromocho Project in the center of the South American country.
It is one of the largest pre-production copper plants in the world and China's biggest overseas copper mining project. It started pre-production last December.
The subsidiary will stop mining operations at once and take measures before restarting production, according to Yuan Li, a spokesperson with Chinalco.
He said the company will accelerate its steps in scientific adjustment during the pre-production process to meet all the requirements of the local authorities, making efforts to contribute to local economic and social development.
According to the company, the facility is one of 50 the company is exploiting at Toromocho, and its suspension of production will not affect others.
The company's pre-production at the Toromocho project will reach full capacity by the third quarter of this year and it will keep adjusting and testing work for its facilities, according to its statement.
"Chinalco will release related information transparently to the public and keep the public updated," he said.
Peru is the world's second-biggest copper producer. It has attracted many Chinese investors in recent years.
However, industrial experts also reminded Chinese companies to fully prepare before making any overseas investment in the mining industry.
Chang Xingguo, project director of international minerals and the finance department of the China Mining Association, said during a previous interview that the weak international mining market has raised the risk undertaken by Chinese companies' overseas investments.
"Chinese companies face different values, cultures, regulations and policies in foreign countries, which are all challenges on their way to success," he said.
Chinalco has been developing the Toromocho project since 2008.
According to its financial report released in March, Chinalco had net profits of 948 million yuan ($154.87 million) in 2013, reversing heavy losses in 2012.
The company attributed the loss-to-profit transition to better management and cost controls as well as capital operations.
Total revenues of the company last year hit 173.04 billion yuan, a 16 percent increase year-on-year.
01-Apr-2014