Source:
China Daily
Anta to bounce back in market
Published:
18 Mar 2014 01:52:33 PST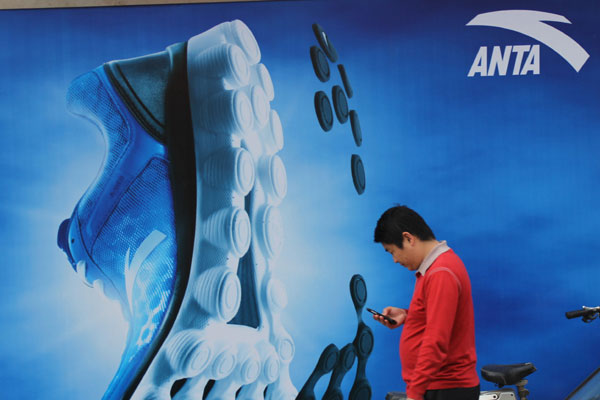 A billboard for ANTA in Qingdao, Shandong province, last year. Provided to China Daily 
Company says performance may have hit bottom during tough 2013
Chinese sporting apparel brand Anta reported lower earnings for 2013, but its management hopes for a better performance in 2014 on a spate of new orders.
Anta Sports Products Ltd announced declining revenue and net profits for 2013 on Wednesday in Hong Kong. By Dec 31 last year, Anta's turnover had tumbled 4.5 percent to 7.281 billion yuan ($1.18 billion) compared with 7.622 billion yuan in 2012. Net profit slid 3.2 percent in the same period to 1.314 billion yuan, in comparison with 1.358 billion yuan in 2012.
Yet, the footwear maker saw its gross profit margin rise to 41.7 percent in 2013 from 38 percent the year before, representing a 3.7 percentage point growth. In the Sochi Winter Olympic Games, the Chinese delegation attended the opening ceremony in Anta's clothing. China's Olympic medalists also wore the company's outfits on the podium in Russia
The company proposed a total dividend of 48 HK cents (6 cents), which is line with the offer a year ago.
Meanwhile, Anta is seeing improvement in market sentiment. Concluding in December, the group's trade fair for the third quarter of 2014 recorded "high single-digit" growth in value terms on a yearly basis, the company said Wednesday. It was the third consecutive quarter with "sustained and steady growth" for the sportswear maker's fair, the company said, adding it "signaled that the group's performance may have bottomed out."
The report also shows the company's liquidity tightening in 2013. Its free cash flow dropped 41.5 percent, from 1.610 billion yuan in 2012 to 941.7 million yuan by the end of 2013. "That's due to our expansion in production and more payments ahead to manufacturers," said Paul Ling, CFO of Anta Sports. "In general, we are in a healthy financial status."
Don't miss:
|||

"Last year was not only hard for us but also challenging for the whole industry," said James Zheng, executive director of the shoemaker. "But we managed to make a U-turn. The company has been upgrading stores in 2013 - making them shinier and bigger - and shut down the poorly performing ones. Most of the inventory has been consumed. The result is better than what we have expected."

Anta Sports, with brands including Anta, Antakids and Fila, had a total of 9,054 stores in China last year, compared with more than 9,200 in 2012. "We will keep focusing on improving single store sales revenue rather than open more stores. From what we seen at the trade fairs and positive sales growth in the first two months of this year, we expect revenue growth to boost earnings in 2014," Zheng said.
He added that 2014 will be a big year for sporting events, including the Youth Olympic Games in August in Nanjing, capital city of Jiangsu province, and the 17th Asian Games from September to October in Incheon, South Korea. "We are eyeing better results," Zheng said. On Wednesday, Anta Sports also announced it had signed a contract with Chandler Parsons, a professional basketball player for the Houston Rockets, making him the fourth NBA star to play in Anta shoes.
In January 2013, Anta extended its partnership with the Chinese Olympic Committee to continue to 2016. Sports marketing expert Adam Zhang, founder of Key-solution sports Consultant Company, said the recovery of Anta in 2014 could be "obvious". He said the growth is driven mainly by its fast responses to consumers and quick digestion of inventories last year. Above efforts have boosted confidences among its retail distributors, he said.
But the come-back of one brand does not mean the end of the winter for sports goods across the country. Zhang said it still takes time for the sportswear industry to resume a double-digit growth. Third- and four-tier brands will keep declining while leading companies will further consolidate the market.
Retail expert Hermann Ng, chief executive officer of Retail Nation, said this year would be stagnant for consumer goods in the country, particularly for the sports goods sector, which is to be affected by the rising influence of e-commerce and rapid expansion from fast-fashion brands.
Wang Zhuoqiong in Beijing contributed to this story.  
Don't miss: