Source:
China Daily
Mexico confirms capture of most wanted drug lord
Published:
17 Mar 2014 19:40:32 PST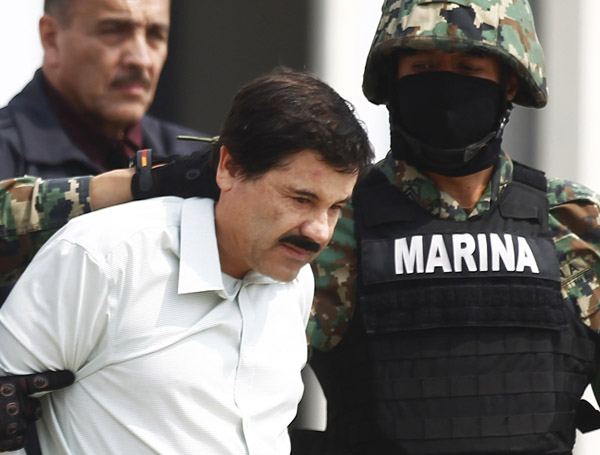 Joaquin "Shorty" Guzman (C) is escorted by soldiers during a presentation at the Navy's airstrip in Mexico City February 22, 2014. Mexico has captured its most wanted man, drug kingpin Joaquin "Shorty" Guzman, President Enrique Pena Nieto said via Twitter on Saturday, in a major victory in a long, grisly fight against drug gangs. Guzman, known as "El Chapo" (Shorty) in Spanish, runs Mexico's infamous Sinaloa Cartel and over the past decade emerged as one of the world's most powerful organized crime bosses. [Photo/Agencies]
MEXICO CITY - Mexican President Enrique Pena Nieto confirmed the capture of the world's most wanted drug lord, Joaquin Guzman Loera, known as El Chapo, in the Pacific resort of Mazatlan Saturday morning.
"I recognize the work of the Mexican state's security institutions for detaining Joaquin Guzman Loera in Mazatlan," Pena Nieto wrote on his Twitter account. He congratulated his security forces, saying that coordination between six security institutions was decisive.
"The Government of the Republic works to ensure security and the rule of law in the territory and achieve peace in Mexico," the president said.
Guzman's capture put an end to a 13-year manhunt for the chief supplier of illegal drugs to the United States and much of the world.
Attorney General Jesus Murillo Karam said that Guzman, whose nickname means "Shorty," was captured along with an unidentified woman at 6:40 a.m. (1240 GMT) Saturday by the Navy.
He was caught in a pre-dawn raid on a seaside condominium in his native northwestern state of Sinaloa without causing injuries or a shot being fired, Karam told a press conference, adding that Guzman's identity has been 100 percent confirmed.
Later, members of the Navy took Guzman handcuffed to a helicopter of the Federal Police. Escorted by two Navy helicopters, "El Chapo" was transferred to the Altiplano prison in central Mexico State.
Guzman is the leader of the Sinaloa drug cartel, the most powerful one in Mexico. He was captured in Guatemala in 1993, but escaped from the prison eight years later in the western Mexican state of Jalisco. He is wanted on charges of participating in international drug trafficking.
He became Mexico's top drug leader in 2003 after the arrest of his rival of the Gulf Cartel, and is listed as "the most powerful drug trafficker in the world" by the United States Department of Treasury.
23-Feb-2014