Source:
China Daily
US House votes to delay Obamacare
Published:
27 Jan 2014 22:18:25 PST
29-Sep-2013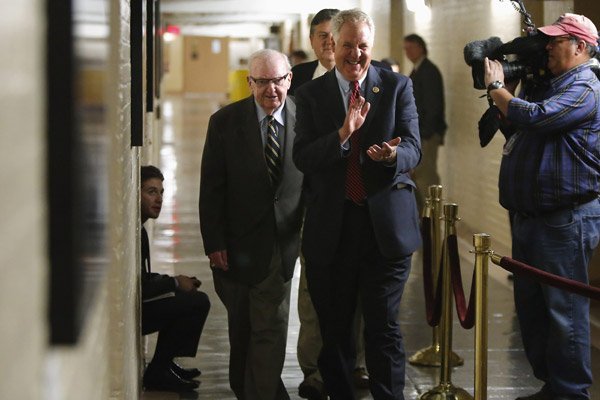 US Representative John Shimkus (R-IL) (2nd L) laughs as he talks to Representative Howard Coble (R-NC) (L) while arriving for a late night closed-door meeting of the House Republican caucus during a rare Saturday session at the US Capitol in Washington, September 28, 2013. [Photo/Agencies]
WASHINGTON - U.S. House of Representatives voted in the early hours of Sunday to pass a short-term government funding bill proposed by Republican leaders to fund the federal government's operations through December 15 and delay the implementation of the Affordable Care Act (ACA), commonly known as Obamacare, for one year.
The bill passed by the lower chamber of Congress contained a one-year delay in the implementation of Obamacare, a repeal of the medical device tax in the ACA to fund Obamacare and a measure ensuring service members to get paid in the event of a government shutdown.
The bill increased the prospect of a partial federal government shutdown on Tuesday, as U.S. President Barack Obama and Senate Democrats have vowed to reject any bill delaying or defunding Obama's signature healthcare law passed in 2010.
The 2.3 percent medical device tax, which took effect in January, is levied on manufacturers and importers for sales of medical devices in the nation to fund the implementation of Obamacare.
After the House vote, the road to avoid the first government shutdown since 1996 has become tougher. The Senate is not scheduled to be in session until Monday, the last day for negotiations.
|||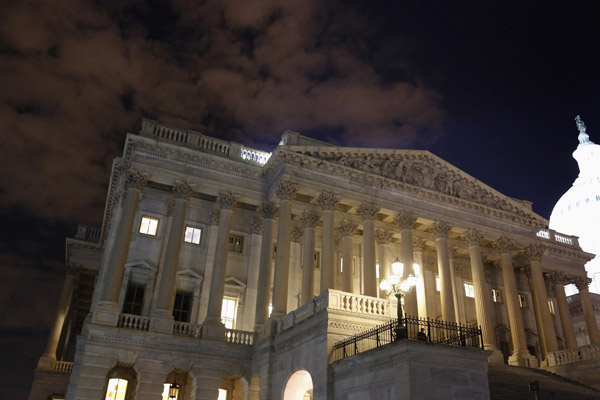 The US House of Representatives remains fully lit during a rare late-night Saturday session at the US Capitol in Washington, September 28, 2013. [Photo/Agencies]